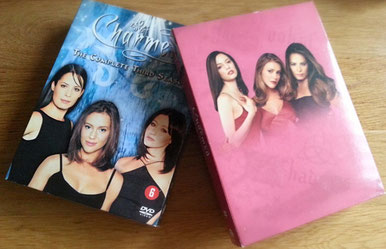 This week's series tip is Charmed. Carola and I are both big fans of the show and we thought we should share this little gem with you!
Charmed aired for 8 seasons from 1998 until 2006 and in that period it was one of my favourite series. I taped every episode and watched them a lot. Later when the dvd enteredour world I bought the whole series on dvd (for a lot of money lol). The last couple of months I've been watching "Pretty Little Liars" (I wrote a series tip about this show a few weeks ago). In the show Holly Marie Combs plays the role of Ella Montgomery and when I saw her in this role, I immediately thought about "Charmed" and how I need to rewatch it. Holly Marie Combs plays the role of Piper in "Charmed"and she was my favourite character in the show.So without further ado here is our "Tip of the Week"! 
What is it about?
"Charmed" revolves around the Halliwell sisters, the most powerful good witches of all time. Initially the show focuses on Piper, Prue and Phoebe, also known as "the Charmed Ones". Later on it is revealed the girls have a half-sister named Paige. The story starts when Phoebe moves back home from New York and discovers the "Book of Shadows". She learns that she and her sisters are powerful witches. Each one of the sisters possesses a magical power, which evolves and gets stronger throughout the series. So what are their powers? Prue is the eldest sister and she possesses the power of telekinesis (she can move objects with her mind). At first she can only do it with her eyes, later on she can move things waving her hands. She also gains the power of astral projection, allowing her to be at two places at the same time. Piper possesses the power to freeze her surroundings. Later on she also gains the power to make things explode by using her hands. Phoebe receives the power of premonition, which allows her to get visions about past and future events. Later on she also develops the power of levitation and empathy (this last one allows her to tap into other people's emotions and powers). And then there is Paige (she is the secret child of the girl's mother, Patty (also a witch) and her white lighter (guardian) Sam). Due to this dual heritage Paige receives the power of telekinesis, when she calls for an object it orbs (teleports) to a desired destination. She can also orb herself and heal others by the touch of her hands. Additionally they can all brew potions and cast spells. While the girls have to learn to deal with their powers, they also have to defend their selves and the outside world against all kinds of evil. All this while keeping their secret identity from the outside world and maintaining a normal life and their jobs.
What about the actors?
When watching the show you will stumble upon a lot of famous faces. Prue is played by Shannen Doherty, also known for her role of Brenda Walsh in "Beverly Hills 90210". The role of Phoebe is played by Alyssa Milano, another famous face. You might know Milano from her role as Samantha Micelli (Tony Danza's daughter) in the immensely popular 80s TV show "Who is the Boss". She also played Arnold Schwarzenegger's daughter in "Commando", Jennifer Mancini in "Melrose Place" and Savannah Davis in "Mistresses". (Fun Fact: The body type and personality of Ariel in Disney's "The Little Mermaid" was based on Alyssa Milano). Moving on to Paige, again a famous face: you might know her for her role as go-go dancer Cherry Darling in the Tarantino/Rodriguez film "Planet Terror" (you know she is the one with the machine gun instead of a leg). My absolute favorite of the sisters however is Piper, played by the wonderful Holly Marie Combs. I didn't know her before Charmed, although" recently I was pleasantly surprised to see her as Ella Montgomery in "Pretty Little Liars".
Initially Piper is the sweet and sensitive middle sister and a real peacekeeper. But as the story develops Piper develops a much more aggressive and protective personality. What I love about her character is the dose of sarcastic humor she adds to the show. But I have got another favorite in the show: Cole Turner (Julian McMahon, also known for his role as Christian Troy in "Nip/Tuck" and a lot of other roles). Cole is a half human/half demon and also known as the demonic assassin Belthazor. He is recruited by the Source of all Evil to kill the charmed ones, but falls in love with Phoebe. Cole is constantly torn between his human side and his evil demonic side. Julian McMahon does a "hell" of a job in his portrayal of the most loveable bad guy ever.
Who will like this?
If you like the whole fantasy/magic thing, you will love Charmed. It's a bit like Buffy the Vampire Slayer and Angel. Essentially Charmed is about the constant battle between good and evil, take this and add a mix of a little romance, a lot of action and a lot of humor "et voila": you've got "Charmed".
How many seasons?
The series has been broadcasted for eight seasons between October 1998 and May 2006, that makes up for a grand total of 179 episodes.
Rating?