Recently Liv & I visited Comic Con Ghent. Number one reason for our visit was Brian Krause. Brian had been announced as a guest and as HUGE Charmed fans, Liv & I couldn't resist the chance to meet him.  Before this year (2019) I didn't even expect to see Charmed guests at a convention. Not sure why. But Dutch Comic Con kicked off well: they invited Shannen Doherty! (It was awesome to meet her). After that, we saw that Comic Con Ghent had announced Brian Krause as guest. We just hád to go. Ever since I saw that Comic Con Gent announced Brian, I just wanted to go. I had already been to CCG once two years ago and I started hinting about it towards Carola. A few weeks before the event, we decided we couldn't miss the chance to meet our favorite Whitelighter.
An autograph an selfie from Brian Krause
We were at Comic Con Ghent for just one day. In that weekend, I already had an appointment on Saturday, so Liv and I left for Ghent on Sunday morning ( very early in the morning). Early mornings are never the easiest. But well, the things we do to see Brian ;).Ugh, the early mornings..even the thought of going to a convention doesn't soften the pain of getting up at the crack of dawn. At least not for the first few minutes... After quite a trip, we arrived at Ghent! We didn't lose a second and went to see Brian. Well, we walked by just to have a peak. Than we ran off quickly again, to see the rest of the con. I was so happy to see Brian Krause. Did we already mention that we are huge fans of "Charmed"?? I always used to tape the show, before there were DVDs (yes I am that old) and watched it whenever I had the time. And after meeting Shannen in March, it was awesome to see Brian standing there and he seemed to have a lot of fun being there. But yes we chickened out the first time...as usual.
However: There was no way around it. We could run, but not hide! We were there for Leo. So let's go! 
We walked over there at a quiet moment to get a selfie and autograph. It was great! Brian was super kind, we had a long chat, made the pictures and chose a photo to get signed. Liv and I both picked a picture from "Charmed" (we mentioned we're "Charmed" fans, right??). We talked about the city, the Comic Con and of course "Charmed". It was so much fun. What a kind guy! Before we left, Liv decided to give it a go and asked if he we could interview him later that day. And well.. If you have kept an eye on our social media channels, you already know the answer! Yes, I knew it was now or never (cue the Elvis song). I knew Brian would not be doing a Q&A on Sunday, so I boldly went where no one...well, that's not true...but I did ask him...
An interview with Brian Krause
So: YES. We did go back. After preparing a little bit (and freaking out a lot!). We returned and Liv asked for another selfie (she didn't like the one she got earlier on, and nope that one is not in this article). She got that selfie (and a whole lot of other ones) and right after that we started the interview. And instead of telling you all about it, we will just show you the video below! 
Don't you just love this interview? I know I do! Brian is just great. Even after the interview we just talked for about 20 minutes more I think. He told stories about "Charmed" and about the "Return of the Blue Lagoon" and how he would go to Fiji the next week for another project. Brian really is a great guy, so funny and very talkative. If you're a fan and you get the chance to meet him, you won't regret it! Absolutely, I think this was my best meet ever. He really took the time to talk to us (even after the interview) and he is really funny. After the selfies, interview and chat, I bought a second autograph. One for my mom. We used to watch "Charmed" together every week and she's a huge fan of the series as well. (I gave her the autograph the week after and she loved it). 
Instagram live with Brian Krause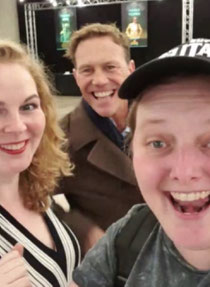 After all this amazingness, Liv and I went to see the panel of Dan Fogler ("Fantastic Beasts", "The Walking Dead"). Towards the end of the day, we decided to vlog some more and do an Instagram live. (We LOVE doing Instagram live!). And..., guess who showed up in our Instagram Live? Yess!! It was Brian Krause! You can see little snapshot here below. Isn't that amazing? He was leaving and he just decided to jump in quickly. That's great! 
All in all, our experience in meeting Brian Krause at comic con Ghent was amazing! There's nothing but positive things to say. He was so kind and enthusiastic. And we saw him interacting with all his fans and really taking the time to have a chat. I've seen wonderful pictures coming by at Instagram. And if we get the chance to see him again, we will certainly do so! Oh hell yeah! The guy rocks! Having said that, there is only one thing we would like to add, just in case we forgot to mention it:
We love "Charmed"!