The convention season is about to start for us and today we are going to talk about FACTS – The Spring Edition (April 1st and 2nd in Flanders Expo). We have been visiting FACTS for a few years now and we have and we always have an amazing time.
What is FACTS?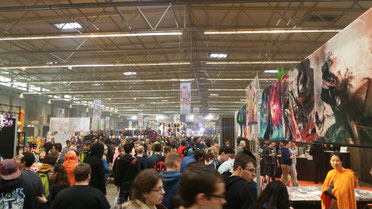 For those of you who don't know what we are talking about, we will start with a short introduction. FACTS is an acronym for Fantasy, Animation, Cosplay, Toys and Sci-Fi. The story of FACTS started back in 1993 as a small meeting for fans of the sci-fi and fantasy genre. This first edition took place in a pub in Ghent, called "Het Tonneke" and it had forty visitors. Throughout the years FACTS kept on growing and it had to move to bigger locations; like "Centrum ten Berg" and "ICC Ghent". In 2009 FACTS moved to Flanders Expo in Ghent and has stayed there ever since. Nowadays FACTS welcomes over 30 to 40.000 visitors each edition. 
The Actors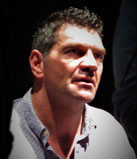 First one up is Spencer Wilding, a Welsh actor and special creature performer. Because of his imposing posture he mostly plays impressive and strong characters. Most recently Spencer put on the suit of all time badass Darth Vader in Rogue One (Check out our review), but he also played roles in: Guardians of the Galaxy, Doctor Who, Wrath of the Titans, Harry Potter and the Deathly Hallows-Part 2, Game of Thrones and Batman Begins. This is not the first time we are going to see Spencer Wilding; he also attended Dutch Comic Con in Utrecht (The Netherlands) in 2015 (like you can see on the picture). We didn't get a chance to catch a Q&A back then and since Spencer portrayed Darth Vader in Rogue One, we are glad to get a second chance.
The second guest is Amanda Tapping. She is best known for playing Samantha Carter in Stargate SG-1 and Stargate Atlantis. I've never watched Stargate (I am planning too), so I don't really know her. But after Richard Dean Anderson last year, FACTS has another big Stargate star this year. She also played Dr. Helen Magnus in Sanctuary (59 episodes) and Naomi in 8 episodes of Supernatural.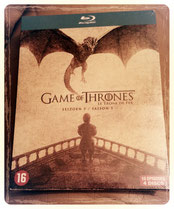 The next guest is a Game of Thrones guest and you know how much we love them. When I say "Hold the door!", most Game of Thrones fans will know who I mean. Ladies and Gentleman....Hodor is coming to FACTS! He is played by Northern Irish actor: Kristian Nairn. He will be attending FACTS on both days to sign autographs , do photo ops and Q&A's, but that's not all. Besides being an actor, Kristian is also a very talented house DJ (he has collaborated with bands like Scissor Sisters and Alphabeat). He will be showing his skills in Ghent, because this edition of FACTS will be the first one to have an after party; FACTS The Sequel. This event will take place on Saturday and more information is to be found on http://party.facts.be/ . Last August Kristian was announced for Amsterdam Comic Con, but unfortunately he had to cancel on the day of the convention. But we did do a countdown vlog back then, check it out...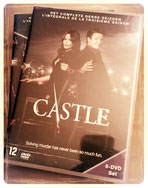 A few weeks ago Tristan & I went to Malta for a few days and at one moment I got a message from Carola saying: "OMG! Hold on to something! Have I got news for you...!", followed by a screenshot of the actual guest announcement of: Nathan Fillion. Well I can tell you, that news made me jump up and down. Carola knows I love Castle and Nathan plays the lead role of Richard Castle. But I've been a fan of Nathan, since his role of Johnny in the comedy series: Two Guys, a Girl and a Pizza Place (1998-2001). He is also known for his role as Mal Reynolds in Firefly/Serenity, which has a very big and loyal group of fans. Furthermore Fillion played in: Buffy The Vampire Slayer (Caleb), Saving Private Ryan,  Slither (Bill Pardy), Desperate Housewives ( Dr. Mayfair) and many more. I am really looking forward to getting a chance to meet the incredibly talented Nathan Fillion.
But that's not all: earlier this week FACTS did another great guest announcement: Morena Baccarin. This American actress of Brazillian descent is known for her roles in: Deadpool (Vanessa), Homeland (Jessica Brody), Gotham (Leslie Thompkins), V (Anna) and many more. Fun fact: Morena also plays in The Flash, although we never see her and she is not credited, she is the voice of Gideon. After this announcement the rumours about another guest announcement began. Morena is married to Ben McKenzie (James Gordon in Gotham); could it be that Mr. Husband would make his way to Ghent too? And last Thursday FACTS came with the final word: YES! Ben McKenzie was announced as the sixth guest of the Spring Edition. Like I said: Ben plays the role of Gordon in Gotham, but he is also known from his roles in The OC (Ryan Atwood) and Southland (Officer Ben Sherman). Thank you FACTS for bringing them to Ghent.
Artists & Authors
Besides actors there will also be a lot of great artists at FACTS. They will be seated in the Artist Alley and these are some of the names on the immense list: 
- Elia Bonetti (The Night of the Living Dead, Dogma, Captain America)
- Marco Turini (Assassin's Creed, Doctor Strange, Dark Souls)
- Goran Sudžuka (Daredevil, Wonder Woman, Outlaw Nation)
- John Bolton (Army of Darkness, Shame, Black Dragon)
- Paolo Deplano (Nains 3: Aral du temple, Les Maîtres Inquisiteurs Tome 2: Sasmaël)
- Claudio Castellini (Batman: Gotham Knights, Marvel vs DC, Star Wars Tales)
- Giuseppe Cafaro (Suicide Squad, Catwoman, Batman vs Superman)
- Nicolas Bournay (Nexus, Toute la Ville en Parle)
- Julien Hugonnard-Bert (Star Wars: Agent of the Empire, Masked)
- Lorenzo Palloni (Mooned, The Corner, Il Cugino)
- Giovanni Timpano (G.I. Joe, Lone Ranger/Green Hornet, Hellraiser)
- Ferran Rodriguez (Sonic the Hedgehog, Angry Birds, Nickelodeon's Teenage Mutant Ninja Turtles)
- Rufus Dayglo (Metal Gear Solid 2: Sons of Liberty, Tank Girl: The Gifting)
- Kas & Graza (Halloween Blues, Signé, Thorgal)
- Whilce Portacio (The Punisher, Iron Man, Spawn)
- Joe Jusko (Marvel, Marvel Trading Cards)
- Marco Failla (Harley Quinn, Spiderman and The X-Men)
- Romano Molenaar (X-Men Unlimited, Batman Annual)
...And many more (For the complete list check out: http://facts.be/guests/)
Cosplay, Fanvillage & Props
Besides all this FACTS is also a Valhalla for the Cosplayers and Costume Groups. Of course there will be a Cosplay Contest and you can check out www.facts.be for all the information about it. Every time we visit FACTS we are in awe about all the great Cosplay costumes we see. In the Fan village of FACTS you can find the costume groups and the movie and TV show props. We always have a lot of fun walking around in there. Check out our Insights page for our articles about some great Costume groups.
Merchandise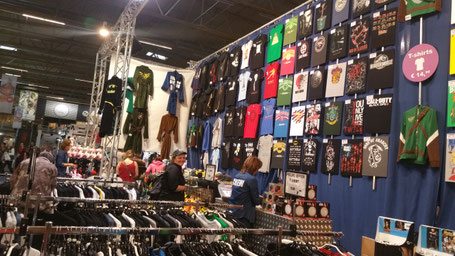 And then there is the merchandise section of FACTS (to completely drain my bank account).  We all love to loose ourselves in all the cool stuff that you can find here.  In the last couple of months we did some Insights articles about the dealers at conventions and you can find them on our Insights page.
Other than all of the above there will be lots of more cool stuff to do at one of our favorite conventions, for example: speed dating, workshops, karaoke (Asgard Sings) and Gaming!
See you at FACTS !?