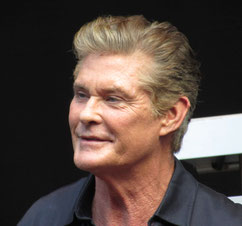 Last October Tristan and I traveled to Ghent to attend FACTS. It was just the two of us because Carola and Sigmund were not able to go. We thought that was a shame, but I just had to go…why? Well, FACTS had some awesome guest and one of them was David Hasselhoff. Yeah that's right The Hoff was coming to FACTS and I had to be there to meet him. I can't imagine there are people reading this that haven't heard of David Hasselhoff, but just to be sure if you don't know who he is just read our special "In the Spotlight" about him. The Hoff starred in two of the shows I grew up with and loved: "Knight Rider" and "Baywatch". Because attending conventions is an expensive hobby, we decided to go for one day (Saturday). I bought my photo op ticket in the week before and I saw that the photo shoot was pretty early in the morning. To get there on time, there was only one thing to do: we had to go on Friday and stay in a hotel near Ghent to get there in time. So we did. I actually recorded a little vlog in the hotel room, check it out below  (it's very short but hey I was tired and I had to save my energy)
So at Saturday we got up at the crack of dawn and made our way to Ghent. At the central train station, we had to take a tram to Flanders Expo and we weren't the only ones taking this tram. There were Cosplayers everywhere and it was great to see. Then the tram came and I'll tell you, you'd be surprised how many people fit in one tram. In the tram, there was a great atmosphere and when we got out at Flanders Expo it was pretty crowded. When we entered the entrance hall I was afraid we were going to be in line for hours, but the organization was perfect and we were in pretty fast. Not long after we got in Tristan and I had to split up (Tristan wanted to browse the merchandise section and I had some actors to get to).
Photo Op with David Hasselhoff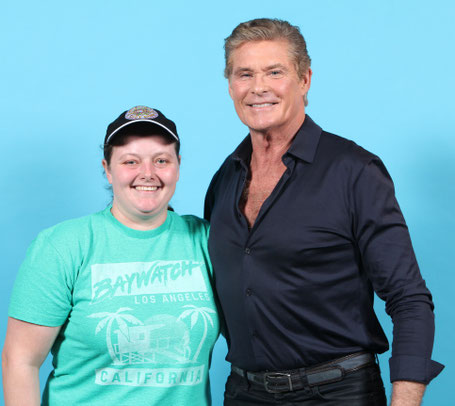 When I entered the Guests Hall it didn't take me long to find out where The Hoff was sitting because there was a pretty big queue already. I walked up front and there he was signing autographs. I walked around some more and then it was time to get in line for the photo op.
I had to be there in time because approximately halfway through the photo shoot Hafþór Júlíus Björnsson would start with his Q&A and I wanted to catch some of that. Because of the huge queue at the signing table, it took a long time for The Hoff to get to the Photobooth and when he finally arrived it was only a few minutes before the "Mountain Q&A" would start. I saw my hopes to catch some of it go up in smoke, but not long after it started I was at the entrance of the booth ready to meet David Hasselhoff. And then the nerves came…I could not believe I was going to meet another one of my childhood heroes (after Richard Dean Anderson earlier this year). Of course, I had a lot of big talks beforehand, but when it was my time to step up I pretty much froze (lol), but David was very friendly. He looked at my (Baywatch) shirt and said: "Wow there's a lot of Baywatch going on here..." I would have loved to talk to him a bit more, but before I could pull myself together the photo was taken. So I shook his hand and walked out of the booth. When I was waiting for my picture to print, I couldn't stop smiling. I had just met The Hoff, well that was something I never expected to happen. When I received my picture I suddenly realized I was on a clock and I rushed to the Q&A Room to see if I was in time to catch some of the Mountain's Q&A. Well I was and my day was already great and there was a lot more to come…
Q&A of David Hasselhoff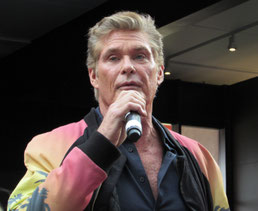 Tristan joined me to attend Hasselhoff's Q&A and it was very cool. He was very active during the whole Q&A and he walked around a lot. He started interacting with the audience the moment he walked in and it all felt very relaxed.
Of course David talked about Knight Rider and when someone asked him what he thought about the script when he read it for the first time, he answered:
"When I got the script of Knight Rider, I thought it was the greatest thing ever. I read the script and I thought: this is the American James Bond. I have to get this! I had just left a television series called "The Young and the Restless". I played Snapper. It was a daytime television show (…) But I saw the script and it was about a talking car. And I called my dad and said: "Dad, I got the greatest script ever". He said: "What's it about?" I said: "It's about a talking car". And he said: "Have you been drinking?" I said: "Nooo…" and he said:"Well you should probably start, because that's the stupidest thing I've ever heard." And I said: "No it's not, it's an amazing show and I wanna turn this show into something magical. Something that's going to last." And now 34 years later, we're still talking about Knight Rider. I mean how cool is that? "
He talked about how he was bullied at school because of his name. And how at that moment he decided that he was gonna make the name Hasselhoff as famous as it could be. And he did. He said that made him very proud, because he could show it to his dad.
Of course he talked about his passion in life and that is singing. David wanted to be a singer since he was 7 years old and in 1989 (the year the Berlin Wall fell) David had a big hit in Germany with his song: "Looking for Freedom".
"On New year's Eve 1989 I got a call saying: "Could you sing this on New Year's Eve?" And I said:
"Only if I can sing above the Berlin Wall." And I thought they would say: "Forget it! No Way!"
But they said yes and I called all my friends and said: "Come on we're going to Berlin "
and I sang about freedom (…) Freedom to me is this. It's the freedom to walk around
in a country and talk about whatever and have people actually care about listening to you.
Freedom to me is happiness; I mean what else is there: music, women and happiness.
I don't know in that order. It's probably happiness first and then … women (starts laughing)…
and then music. But in the end those are the three things I think are most important in life.
Not even my own happiness, but the happiness of my children..."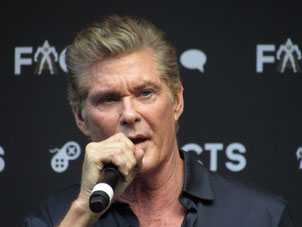 David also talked about what's coming up for him. He wants to make an 80's album:
"I just love the 80's. I miss the magic of the 80's"
He is also doing "Call of Duty" and he is playing Captain Hook in Peter Pan in theaters in London and Wales. He's also working on a "Kung Fury" movie. Furthermore he talked about "Baywatch" and the new Baywatch movie.
Well let's just say he talked a lot and it was a great Q&A to attend.
To make an already long story a little bit shorter: I am so glad I decided to go to FACTS and got the chance to meet this icon of American television in the 80'and 90's. I'd love to meet him again and when I do I will be standing in a queue for an autograph from The Hoff for sure!
Cheerio! 
P.S.: Check out Carola interviewing me about the experience in the video below!