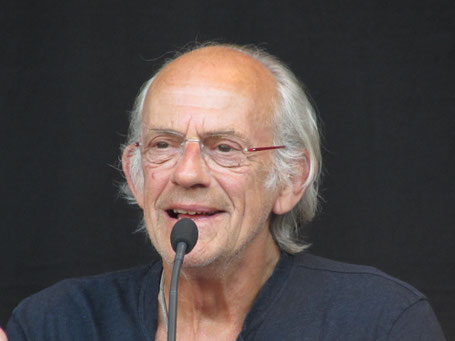 Back to the future is just legendary! Who didn't grow up with these awesome movies. Last year, was a very important year for "Back to the Future" fans. In the movies, Marty McFly and Doc Brown  travel to october 21st in 2015! Ofcourse, lots of activities were organised all over the world. For us, it was an awesome opportunity to see all 3 of the movies once again and even see them in the cinema. The cinema Foroxity (Geleen) organised a special "Back to the Future" marathon, playing all 3 movies. And we had a great evening. It was lovely to watch the movies again.
Christopher Lloyd - Back to the Future
Especially because we had met Christopher Lloyd a month before at FACTS convention! Oh yes the "Back to The Future" marathon, that was great! And Foroxity had a great surprise, because when we walked in, there it was: the DeLorean. I'm a big fan of the the "Back to the Future" movies, I grew up with them! I was born in 1980, so I was 5 years old when the first movie came out. In the first movie Marty McFly (Michael J. Fox) and Doc. Brown (Christopher Lloyd) travel thirty years back in time to 1955.  Although I must have seen this movie a thousand times by now, I still think it's absolutely fabulous. After the first movie, ofcourse it was time for Back to the Future II. And there it was: the moment Marty travels to October 21st, 2015. It's great to see, how they imagined life would be in 2015. I'm glad the fashion part of this imagination was way off! By the time the third movie started it was well past 22.30 PM and my bottle of coke pulled me through the last 10 minutes of the movie, but it was a great night.
When FACTS announced Christopher Lloyd as a guest, we were thrilled! I think I peed a little! (LOL) We already bought a photo op ticket on forehand. Just in case it would sell out. It's such an unique opportunity to meet him! 
Meeting Christopher Lloyd
At FACTS convention it was, without exception, busy at this table. There was a huge queue for an autograph throughout the day. It was absolutely great to see all these "Back to the Future" fans. Many people brought something with them to sign. And Christopher Lloyd was sitting there all day, chatting with people, signing all the items. We would have a photo op with him, so we decided not to queue for an autograph since we only had one day at FACTS and we would lose too much time.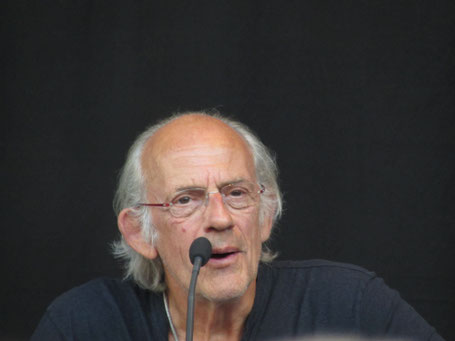 And then, it was time for the photo op! We were so excited. And we weren't let down. In the queue we were psyched, as usual. Just couldn't believe we were going to meet Christopher Lloyd!  The queue went on quite quickly. I had a brief conversation with one of the volunteers who knew someone with my exact name and surname, also from the Netherlands. And quickly it was our turn. I remember that you needed to  hold your photo op ticket in your hand during the photoshoot. Which felt a bit weird (We were told not to put it into our pockets). But meeting Christopher Lloyd was awesome! He was very kind, greeted us and we took the picture. And I'm very glad I did. As am I! 
Christoper Lloyd Q&A
But that wasn't all, we also attended his Q&A. Of course we wanted to know more and hear everything about the movies he starred in! Ofcourse there were a lot of questions about Back to the Future. And that was fun to hear. It was about how it was to shoot the film, but also what Christopher Lloyds plans would be on october 21st 2015 (He told he would be attending a Back to the Future event). 
But, Back to the Future is not the only thing worth mentioning. Christopher Lloyd also played a role (Max Taber) in "One Flew Over the Cuckoos Nest". An amazing film!! It was his first movie and Sig asked him how he got involved. Christopher smiled and started telling about it. He always wanted to do film but hadn't had success untill that moment. He thought he'd stay a theater actor and would never make the transition to movies. Then there was the casting for "One Flew Over the Cuckoos Nest" and it clicked and he got the part. He described Jack Nicholson as a mentor to him and the movie  as a milestone in his life. 
More than 40 years of acting later Christopher has a whopping 211 credits on his name. You might also know him as Uncle Fester in "The Adams Family" and "The Adams Family: Values". Or as Judge Doom in "Who framed Roger Rabbit?". On television Mr. Lloyd played the role of Reverend Jim Ignatowski in the immensly popular tv show "Taxi" from 1978 untill 1983. For this role he won 2 Emmy's for best supporting actor.
 Great Scott! It was great to meet the man who played one of my favourite movie characters and one of the most iconic actors of the 70s and 80s!
Cheerio!