It really seems to be the season for guest announcements! We can keep typing guest announcements all day lol. But I see it as a good thing! There are lot of great conventions. And they have some pretty amazing guests. What's not to be thrilled about? Let's start!! 
Walker Stalker Con London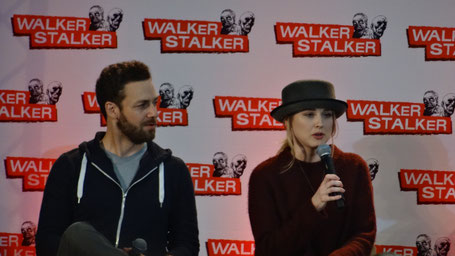 Walker Stalker London is amazing for fans of the Walking dead. Are you dreaming about meeting Daryll (Normal Reedus) or Negan (Jeffrey Dean Morgan)? This is your chance! They're already on the guest list for 2017! We went to Walker Stalker Con London this year and had a great time. We met big "Walking Dead" stars like Chandler Riggs, Josh McDermitt, Melissa McBride and Sarah Wayne Callies! But now, on to next year! There have been some new announcements and I bet you'd like to hear about it! Well, for starters, the photo in this article might be a little hint.. Alexandra Breckenridge (Jessie in "The Walking Dead") and Ross Marquand (Aaron, "The Walking Dead") are coming to London again! And there is more! Irone Singleton (T-Dog, "The Walking Dead") will be there as well! How awesome is that! 
Bloody Night Con
Bloody Night Con Brussels announced Claire Holt as a guest.  Claire plays the role of 'Original'  vampire Rebekah in "The Vampire Diaries" and "The Originals".  People who read our 
in the spotlight
 from a few weeks ago,  already know that Rebekah is my favorite character in both series. When I wrote the spotlight  I had no clue she would be announced as a guest for Bloody Night Con!  You can imagine how happy I was  :).  
German Comic Con
German Comic Con Berlin also announced three new guests.  A "Walking Dead" guest ánd a "Games of Thrones" guest.  That's good news,  isn't it?  Well,  I think so haha.  Chad L Coleman (Tyreese) will be a guest at the convention. He played the role of Tyreese in "The Walking Dead".  We love it! The "Game of Thrones" guest is Ellie Kendrick. She is known for her role as Meera Reed in GOT.  Yes, I know I said 3 guests. I still have one to tell you: Ken Kirzinger! He's the one who plays Jason Voorhees in "Freddy vs Jason"! 
Weekend of Hell
Weekend of Hell announced a few more guests: Richard Brake, Richard Ury, Jason Lively and Natasha Henstridge . Jason Lively plays in the horror movie "Night of the Creeps".  Both Sig and I hadn't heard of it before (that doesn't happen very often). But we will definitely check it out!  Richard Brake plays a night king in "Game of Thrones".  He also plays Doom Head in Rob Zombies new movie  "31". Weekend of Hell already announced quite some names from Rob Zombie's new movie.  I love it.  And I'm lucky: Richard Ury plays a role in "31" as well: Schizo Head! So I will be able to meet lots of actors from this movie! Love that. And last, but not least: Weekend of Hell also announced "Species" actress Natasha Henstridge! So I guess I'll have to watch Species before the beginning of November.. ;). 
Comic Con Brussels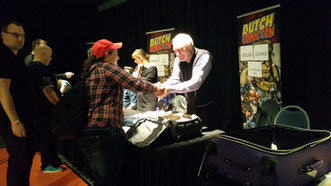 Comic Con Brussels has started with their guest announcements! The first actor they announced is Julian Glover! We already met him at Dutch Comic Con 2015, he's really nice! Did you already read our story? Julian Glover is known for his role as Grand Maester Pycelle in "Game of Thrones" and as Walter Donovan in Indiana Jones and the Last Crusade". You might also know him for being the voice of Agrog in "Harry Potter and the Chamber of Secrets" and for playing General Veers in "Star Wars: Episode V - The Empire Strikes Back" . Great first announcement right? 
FACTS
Erika Eleniak will be a guest at FACTS! She's best known for her role as Shauni McClain in "Baywatch". That makes 2 Baywatch guests at FACTS: Erika and David Hasselhof. With this, FACTS has a very interesting lists of guests. Other guests at FACTS will be Sean Astin, Sylvester McCoy, Paul McGann and Nicholas Brendon. 
Dutch X-Mas Con
Dutch X-Mas con announced their first two guests: James Cosmo ("Game of Thrones", "Chronicles of Narnia") and Steven Williams ("Supernatural", "The X-Files"). Both very nice guests, but it doesn't make me run to and get tickets just yet. 
How about you? Based on the guests, which conventions would you visit?