We shook Grand Maester Pycelle's hand!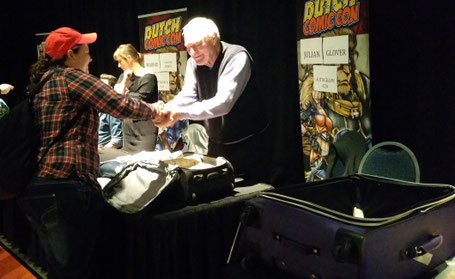 When we were at Dutch Comic Con 2014, one of the guests was no one less than Julian Glover. You might know Mr. Glover from his role as the somewhat eerie Maester Pycelle in HBO's "Game of Thrones".  But this British actor is known for a lot more! You might also know him from his roles in: "Indiana Jones and the Last Crusade", "Star Wars V: The Empire Strikes Back", "Troy", "For Your Eyes Only" and many, many more. All day I was doubting to go and shake his hand and ofcourse at the end of the day the moment came that it seemed to late. But at that moment I threw away all my shame, shoved my camera in Carola's hand and walked up to him.He was already putting away his stuff, so I had to do my best to draw his attention. While trying to make eye contact, I almost had to lay my head on the table. Fortunately Mr. Glover noticed me in time and I told him I would really like to shake his hand. His reaction was very warm and without hesitation he grabbed my hand. I loved the way he reacted and my bold move resulted in a moment I will cherish for the rest of my life. Thank you Mr. Glover! I hope to see you again some time. 
Check out the video of this moment if you'd like.
Cheerio!