Sunday morning, lyrical faces & star bucks coffee. That's the start of our Walker Stalker adventure. We were excited since  we bought the tickets in July, so at this moment we were unstoppable! We were buzzing from excitement and after a very small (but very effective) cup of espresso, my adrenaline levels were sky high. We made a 'plan'. We knew what we really wanted to do and see and the rest would be just extra! And after all the tweets and facebook posts we read about the day before, we knew it would be a jungle in there. So we needed that plan.
(We wrote this article together: Carola and Liv. The regular font is Carola speaking and the italic text is Liv. Enjoy!)
Getting in
When we arrived (at 09:15) there was already a HUGE "queue". People everywhere! It was quite unclear where the eventual entrance would be, so that made people a bit restless. When we first entered the hall I thought I could see something that looked like a line. I saw some tape to lead people in a direction. As soon as something moved on the right everyone suddenly walked to the right. And at that moment the tape was broken and lost his use. After a while, it wasn't a row anymore but more a blur of a lot of people. With every little sound people got more excited. By the time it was 5 minutes until openingtime, I was in full battle mode. I expected a stampede, like the one in the Lion King and I surely did not want to end up like Mufasa. Right in time one gate opened at the left . At that moment (due to low nicotine levels and high adrenaline levels) I felt like William Wallace in Braveheart. I was ready to rumble. But at that moment, something remarkable happened. Security and volunteers began to form one line and everybody started to walk to that line. There were a lot of people, but it all went very quickly. What surprised me, was that security and volunteers sometimes shouted everyone should move quicker, but I just felt this was great. No pushing, no drama or stress. Everyone just walked.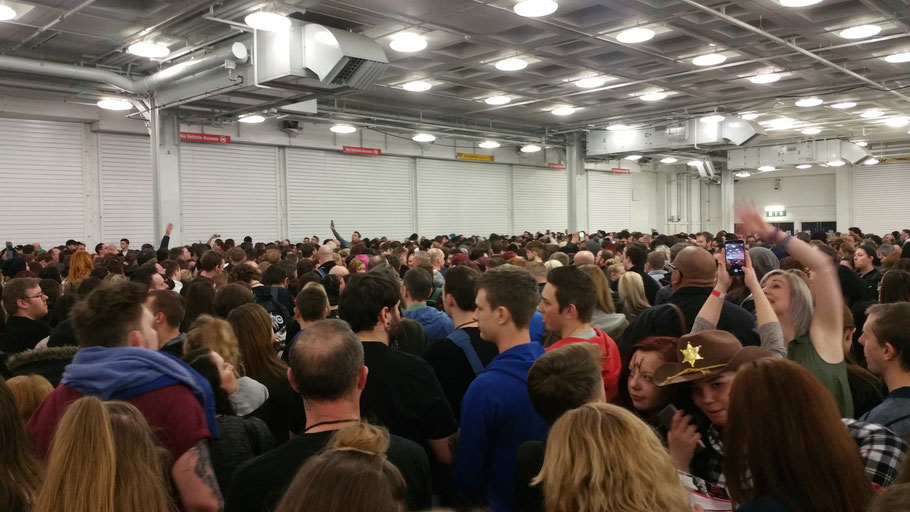 Panels
To enter a panel you had to get in a queue. (Either VIP or GA). As soon as VIP's were seated, GA was allowed in. Only Norman & Andrews panel was restricted for people who had a specific ticket for this panel. But you could watch from upstairs/ the sideline. When we got in, we immediately got in line for the panel of Sonequa and Kenric.  There were not that much people, so we could even sit at VIP seats! We had a great view and enjoyed the panel. 
We also watched Norman & Andrews panel from the sideline, as we didn't have a ticket for that (it was sold out in seconds). It was indescribably crowded. People everywhere! Everyone wanted to catch a glimpse. Yup it was absolute madness. I think almost everyone at the convention was somewhere around that panel area. But everyone was pretty relaxed. No pushing or pulling. 
The last panel was the one with Ross Marquand and Alexandra Breckenbridge. A nice panel to see! What I loved about the panels at Walker Stalker Con was the area it was in (it was very open and accessible) and the light! We were able to make great pictures because of the light. True! I loved this setup. No separate room with bad lighting but a spacious well lit area.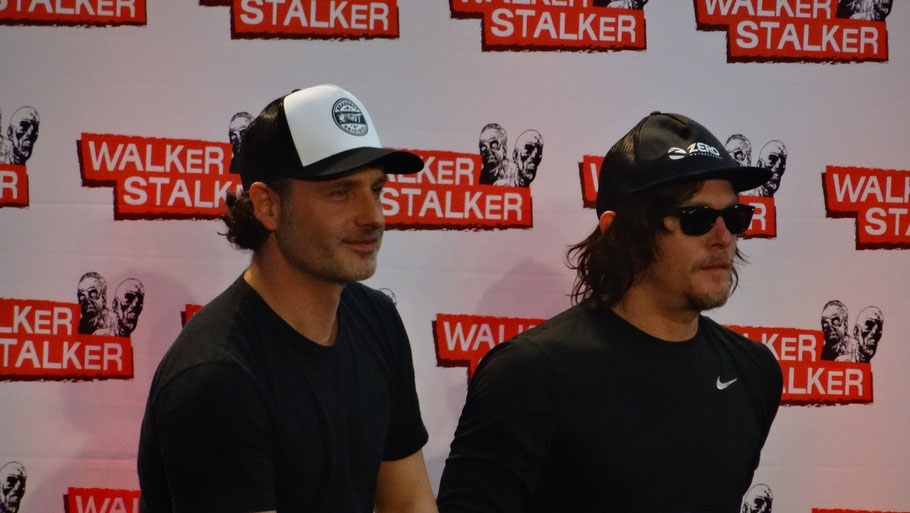 Photo ops
This is an easy one. Great organisation! The tickets for the photo ops were divided in several groups and every group had a time slot. In the photo op area there were multiple numbered queues and when you entered, a volunteer told you which queue was yours. 
We had two photo ops (One with Melissa McBride and the other with Josh McDermitt)  and everything went very smooth. When we walked out of the photo area our photo was handed to us by a volunteer. Once again, great organisation. A photo op can be very time consuming, but this setup was very effective. Hats off to " Celeb photo ops" and Walker Stalker for this one!
Autographs & selfies
For most of the actors/ actresses there were very long queues for autographs / selfies. Not all of them did selfies. We walked around to see the actors (and assess the queues). Taking pictures from a distance was not allowed with most actors. There were volunteers saying that we couldn't. They held up signs and waved them in front of every camera they saw. That was quite irritating; when you come to a con, of course you want to take pictures! And most of all, no one told us why we couldn't. So that frustrated us (and not only us) a bit while walking around. Especially when you bare in mind that taking pictures at panels (the well lit photography walhalla we described) is allowed.   Also some volunteers were a bit too 'enthousiastic', waving and signaling at me while I was just taking photos of something else. 
We decided to get in line for an autograph of Sarah Wayne Callies. I really liked her in Prison Break and she was great in the Walking dead too. When we decided to get an autograph we got a ticket from a volunteer that told us to come back at half past three. So we did and with the ticket we could take our place in line. In my opinion this is the best way to tackle the problem of huge queues with popular guests at a convention. This way you won't waste too much time in line.The woman who was sitting next to Sarah was very nice and explained some things to us/ answered all our questions. That was great. We got an autograph and we could make a picture with her!(Sarah Wayne Callies that is) It was well organised and the woman next to Sarah would talk to one person in line about what they wanted, while another person could talk to Sarah and optionally take a picture. 
At about 5 minutes till closing time, we walked around a last time. And thanks to an awesome volunteer, we even saw Chandler Riggs at the last moment!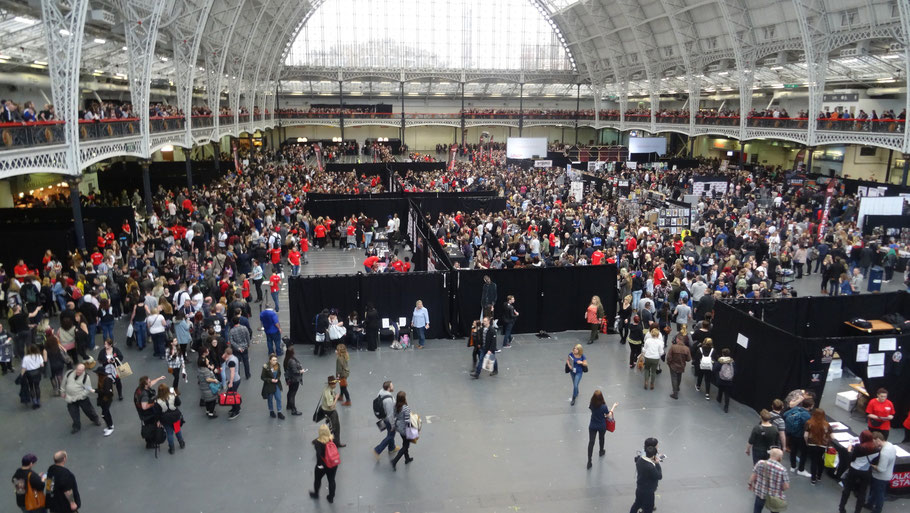 Walker Stalker Con in general
I'm really happy that we went to Walker Stalker Convention. It was awesome to see and meet so many people of the cast of "The Walking Dead". Where else can you do that? Of course there were long queues for Melissa, Norman and many other guests. But we already expected this. I am very happy with everything we could do. 
For me as "Walking Dead" fan, there was enough to do. I wasn't bored for a minute! However, more stands with merchandise are always welcome! I absolutely couldn't agree more. Sure the queues were huge, but what do you expect with a convention about one of the biggest shows on television of the last years. It is all about making a plan, being realistic and enjoy every moment you've got.
There was just one thing I really didn't like. Just before Norman and Andrews panel, everyone was trying to get a spot. Either in the panel area (with a ticket), upstairs or on the sideline of the panel. We were thinking about a good spot as well. But a lot of people were also standing upstairs near the lunchroom of the actors. Maybe Norman or Andrew would get out of that room and we would be able to catch a glimpse. So we decided to stand there for a while as well and just see. Security/ volunteers were constantly looking around, keeping all the fans back (of course it was necessary to keep space to walk). Everyone thought they might come out of this room. So of course were excited too. Security and volunteers went out of their way to make us believe they were in there. But then we discovered they were already downstairs. Bummer, but it was a gamble anyway. What I really didn't like  is that one of the security guys just looked the fans in the eyes and laughed. He was making fun of us and seemed to be very amused about the fact that they were already downstairs. Well, that just felt disrespectfull. Don't make fun of the fans, we're just here to have great day and are paying well. Don't work on a con if you can't appreciate the audience! Amen!
But well, that's just one thing, one guy. I really loved the con and would definitely go again. A lot of things were well organised and the most important thing: The actors/ actresses were great and really kind! 
True! The overall organisation of Walker Stalker was good. The only thing that disappointed me was the small amount of merchandise stands and other things to do. But hey, I had a magnificent day and would surely go again. Cheerio!