Liv and I went to Wolfcon 3.0 the last weekend of July 2017. Wolfcon took place in Amsterdam at the Park Plaza Hotel. Wolfcon is a fan convention about MTV's Teen Wolf and it is organized by The Con Factory. A while ago, we talked to Patricia from The Con Factory. If you want to know all about The Con Factory and how they organize cons,  read our Behind the Scenes article. For those of you who have never heard of Teen Wolf, check out our Series Tip about the show. 
Liv and I left for Amsterdam on Friday July 28th. We were so excited to go Amsterdam & Wolfcon! We left on Friday because registration for Wolfcon took place on Friday, but that would be in the afternoon. Liv and I decided to first enjoy Amsterdam a bit. We went to Amsterdam Lookout and enjoyed the swing on top of the building. (We will write about that in a separate article). We were very excited to go. I always love to go to Amsterdam, it's a great city. We talked about going on the swing in the week before we went and I couldn't wait! Carola, however started to become very nervous, from the moment we laid eyes on the actual building. But you can read all about that in our article soon. Later on, we also did some shopping. Check out our shoplog on YouTube! Oh how I love Primark! Around 5 PM, we traveled to the hotel and checked in. And then we were ready for registration! 
There was a queue for registration, but it didn't seem to big. The only thing was, that everyone was standing still and waiting. The waiting took quite a while. That could have been a bit faster. But there was a lot of Wolfcon staff supervising everything and keeping the mood happy! Oh yes it took a long time and after our article about meeting Nathan Fillion, you may all know how I respond to that. But as Carola already mentioned, the staff did their best to make the wait as amusing as possible. Giving a bit more information on what we were waiting for (what is happening and why is everyone just waiting not moving) would have been nice as well. Eventually, we were done with registration and totally ready for Wolfcon to start! We even went for a little work out session in the hotel's gym on Friday night.
Guests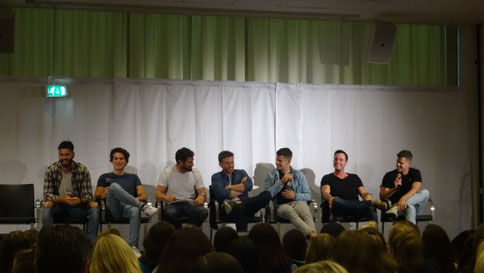 There were 7 guests at Wolfon 3.0! Ian Bohen (Peter Hale), Charlie Carver (Ethan Steiner), Max Carver (Aiden Steiner), Ryan Kelley (Jordan Parrish), Gideon Emery (Deucalion), Casey Deidrick (Halwyn) and Froy Gutierrez (Nolan). I loved the line-up Wolfcon 3.0 had. Not everyone had or has a major role in Teen Wolf, but I can see why these guests were asked to join Wolfcon 3.0. All the guest were fun & spontaneous. They were great with the fans and really made it an awesome and unforgettable weekend. It was a great combination of different roles and big and small parts in Teen Wolf. But all the guests had one thing in common and that is awesomeness! All the guests were polite, kind, fun and enthusiastic. So this was definitely an awesome line up for a con. For next cons, I would love to see Seth Gilliam (Dr. Alan Deaton), Tyler Hoechlin (Derek Hale), Shelley Hennig (Malia Tate) , Colton Haynes (Jackson Whittemore ) and/ or JR Bourne (Chris Argent).  I totally agree! I was looking forward to meeting Ian Bohen a lot. I love his role in Teen Wolf. You know I have a big weakness for the bad boys and Peter is a bad boy, but he also has some good in him. I also looked forward to meeting Ryan Kelley, who plays the role of Jordan Parrish.
Photo ops & autographs
I am really enthusiastic about the way the Con Factory arranged the photo ops and autographs. You were able to buy the photo op tickets online before the event (Awesome!) and at the venue. I always love the possibility to buy the photo ops and autographs beforehand. The photo op and autograph times were clearly stated in the schedule that was handed out during registration. But: You didn't have to wait in line the whole time. You could stay in the panel room and you were called to go for your photo op/ autograph by pass number. So you'd know exactly when to go! Now, I know this is not new. I've seen it at cons before. But: I have to say that the timing at Wolfcon was really on point. I've never seen it go this smooth. We didn't have to wait long at all. When our number was called, there were only a few people queuing. Not only did this mean short waiting times. It also meant not feeling rushed. And that was great. There was time. Actual time. The staff wasn't rushing us through photo ops and autographs. Neither were the actors. There was time for picking a pose and make a great picture! So this really made the experience great and unforgettable.  Oh yes I would love to see this on other cons with the same setup. They only called small groups to the autograph and photo op rooms. The volunteers were very helpful and it all went as smooth as a gallon of buttermilk going through a hound dog.
Panels
There were lots of panels! I always love that. At a series con, you get to see the actors quite often. There were panels with all of the actors, the actors alone and in duos or trios. I loved that! The panels were well scheduled and well lead. Everyone was able to ask their questions, with strict rules. That was nice because there wasn't any time lost on people asking for hugs and kisses. Exactly I hate when that happens, it takes too much time away from the important things. We all love to hear stories about the show and the actors. There were real sincere questions. And lots of fun! The actors sang, danced and answered all of the questions. The one big disadvantage for me was that filming wasn't allowed during the panels. I really really like to make some short recordings at panels. Just to have a nice memory and make a nice after movie/vlog. So that really was a pity.  Oh yes that was so not cool. We asked Patricia about it and she said it wouldn't be too big of a problem if we made a few short videos, but in the room they were very strict. We have made some very short impressions (just a few seconds and you can see them in our video soon, along with some great pictures and our own vlogs. But that was the only thing I didn't like, the rest was awesome! The amount of panels were great. Just as the breaks in between them.
Food and drinks
The location of Wolfcon was the Park Plaza hotel. We also stayed in the hotel for two nights. It was quite rainy, so we actually stayed at the hotel from registration until the end of Wolfcon. We also ate at the hotel. There was a special Wolfcon menu. That was very nice, since it made it easier to eat and drink something at the venue. The hotel is quite fancy and the special menu made it easier to eat at the hotel! I think the choices were sufficient. It was a nice menu. It was a bit overpriced, however, in my opinion. At lunch, you could order a hotdog for €4,50. Which was actually just a small role with a cracking sausage. It doesn't feel like it's an actual hotdog.  Also the pizza at the evening was quite a small one. All in all, it was nice to have a special menu available at the hotel. And the queues weren't long (very important!) So no waiting. It was also nice to be able to have a drink at the hotel in the evening. 
General overview
Now we've discussed a few details, it's time to start talking about the Wolfcon weekend in general. There are few things I'd like to point out: 
Great staff/ volunteers. Very kind ánd happy. Willing to help anytime. 
Patricia herself was on stage a few times and was very accessible. 
The host was Daniel Cardoso and he was great! 
The audience of Wolfcon was younger than at the cons we usually visit. 
It was a very well organized con. 
The breaks were filled with fun: Singing, dancing, karaoke and more!
I couldn't agree more, we had a great time and there was more than enough to do in between panels. We would like to thank everyone involved for this great weekend. But the big question remains? Will there be a WolfCon 4.0? If so...check it out it is great fun! Also keep checking our website for more WolfCon articles coming up!
Want to see more of Wolfcon 2017? Check out our Wolfcon page!