Last weekend, we went to Weekend of Hell in Dortmund, Germany. After visiting Weekend of Hell Spring 2018, I was certain I wanted to visit WOH in November again. Liv would join this time as well (During the Spring edition she attended FACTS), so we were psyched. The guest list was very promising and we already bought quite some photo ops beforehand. Unfortunately, there were some cancellations (also from guests we really wanted to see). But well, you never have influence on that. We were sure we would have a great time anyway. In the meantime we were already making plans about what to do at the con (which panels to see, what photos to make, what to buy). Via Social Media we were in contact with a lot of people who would go to Weekend of Hell as well, so we were also looking forward to seeing them in Dortmund!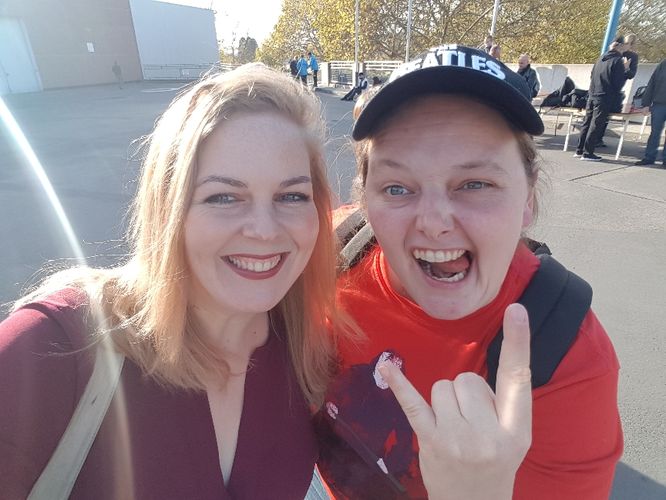 Getting started - General
We arrived in Dortmund on Saturday morning. It was about 9:30 (Weekend of Hell would open at 10) and we were so excited! There was a queue already, but as soon as the doors opened, it went very fast. We didn't have to wait long. We were inside within 10 minutes (even less I think), so that was great!  Even with the press pass, I was in quickly. We decided to take a look around to start with. 
The actors
Of course, Liv & I immediately ran towards the actors. We wanted to see if everyone was there. This resulted in a panic attack, because we saw a lot of the actors, but we couldn't find Alan van Sprang. We walked around 2 times and we really couldn't find him. We were already panicked  and afraid that Alan had cancelled. We didn't know if we should make another round, or ask someone. That was the moment when we realized we had to look around the corner. There, we saw Tyler Mane, Naomi Grossman and yes! also Alan van Sprang. So in the first 30 minutes of the con, we went from panic attack to euphoria haha. After that, we were able to look around a bit more relaxed. It was a very nice set up. The actors were very approachable and you were allowed to take pictures ( I loooooove that!). 
The queues were not too big, except for the ones for Steven Seagal and Robert Englund. Robert was behind a big screen, but Steven Seagal was well visible. I really liked the set up of the actors. It motivated interaction and it was easy to have a chat and check out the prices.  And most importantly: Selfies, hugs & chatting with the actors: everything was possible. 
DVDs and merchandise
The DVD area is always a challenge for us Dutchies. Most of the DVDs sold, are German. We are true DVD collectors and want them in Dutch or English. (The cover needs to be Dutch/English, spoken language original language with Dutch or English subtitles). So it's a challenge to go through all of it and find something nice. I saw a lot of nice things, but mainly with German title or text on it. Sigmund had found some DVDs, also some German ones because that version isn't available in English or Dutch. In the end I didn't buy any DVDs or other merch, I must admit. I didn't find anything I really wanted to have. Liv bought a Blu-ray (a documentary about "Fright Night"). I have to say: There was a lot of choice. There were many DVD stands and also a lot of merchandise stands. I like how much variation there is (not 100 Funko Pop stands).  My only suggestion would be: Sell more Girlie horror shirts :). I can definitely imagine how other people might have bought quite a lot at Weekend of Hell!  
Cosplay groups & props
There were several cosplay groups at Weekend of Hell and some nice props with photo opportunities. We saw the Fright Guys, Umbrella corporation, German Ghostbusters and German Walking Dead group. It was very nice to see them all again. We made some pictures and we also made a picture with the prop of Darryl's motorcycle. I always like some props & cosplay groups at cons. It's so much fun! 
Panels
Of course we attended a lot of panels! There we many actors at the con we wanted to see. So on Saturday you'd find us mainly in the audience of the panels :). During some panels (Nightmare on Elm Street panel & Steven Seagal), it was very busy. Other panels were not too busy, just okay. But usually there was a nice amount of people listening to the panels. And there were even quite some people asking questions as well (Liv and I did our share of screaming and being enthusiastic haha) The lighting at the panel area was very nice. I always love that, so I can make some nice photos haha.  The panel area was situated in the same spot as in the Spring Edition. The only disadvantage is that the panels are situated in an open room, close the merchandise stands. Sometimes, the noise is a bit irritating. But overall, it was a nice setting! I also enjoyed the amount of panels. Almost all guests did a panel. And when there wasn't a panel scheduled, there were screenings. 
Photo ops
Liv and I had bought several photo ops.We were both so excited to meet Rutger Hauer and Alan van Sprang. So excited. But, we will tell you all about meeting them in separate articles ;). Now I'll just stick to talking about the photo ops. It was possible to buy photo ops online before the event. Buying online was a bit cheaper than buying the photo op on the con. Of course that's a very good marketing strategy, which resulted in Liv & me buying several photo ops. Unfortunately some guests cancelled, But there were still a few photo ops left! We both bought a photo op for Rutger & Alan and Liv had also bought a photo op for Chad L. Coleman. Getting the photo op went smooth and easy. No long lines, everything was well timed and we received the photo immediately after the photo op. Oh and we also did a selfie with IronE Singleton. Pretty great! 
Weekend of Hell November 2018
Weekend of Hell November 2018, was definitely a big success for us! It's really one of my favorite cons and absolutely my favorite horror convention. I like the atmosphere: I always have fun. I have met so many great people again at Weekend of Hell. And I really love that. The guest list was nice. There were definitely some actors I was thrilled to meet. The cancellations were a pity, but the communication around that was good. That's very important for me. Also getting back the money for photo ops of cancelled guests went without any trouble. I didn't have to do anything myself. 
I really enjoyed the whole weekend. There was so much to do. We attended panels, got autographs, got photo ops, made a lot of pictures and vlogs, I loved seeing the merchandise, DVDs and cosplay groups. We had a great weekend! Curious to see our vlog? Check it out below!