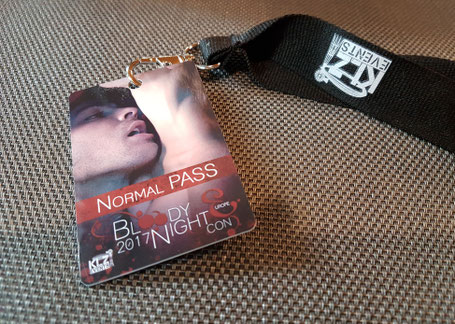 Last month (May 20th&21st) we went to Bloody Night Con (by KLZ Events) at The Egg in Brussels (Belgium). BNC is a fan convention that focuses on The Vampire Diaries and its spin off The Originals. We had been looking forward to it for months and that was mainly because of the amazing guest list. In the weeks leading up to the convention there were three cancellations: Ian Somerhalder (Damon Salvatore, TVD), Daniel Gillies (Elijah Mikaelson, TVD & TO) and Claire Holt (Rebekah Mikaelson, TVD & TO). Of course we were very disappointed , but the girls from KLZ made sure there were some great substitutions. Because of this the final guestlist was the following: Paul Wesley (Stefan Salvatore, TVD & TO), Kat Graham (Bonnie Bennett, TVD), Michael Malarkey (Enzo  St. John, TVD), Riley Voelkel (Freya Mikaelson, TO), Nate Buzolic (Kol Mikaelson, TVD & TO; Saturday only) and Charles Michael Davis (Marcel Gerard, TVD & TO; Sunday only). In the upcoming weeks we will tell you all about the convention, the guests, the meetings (photo& autographs), the panels and of course the fun we had. Today we will talk about (and show you some of the highlights of) the panel of Paul Wesley on the first day (Saturday).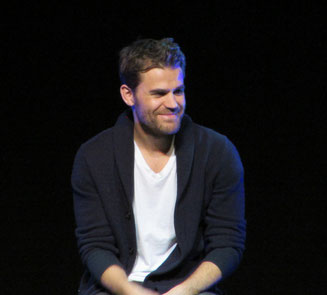 Paul Wesley plays the role of Stefan Salvatore in The Vampire Diaries. Stefan is one of the main characters of the show. He and his brother Damon (Ian Somerhalder) were born in Mystic Falls and turned into a vampire in 1864 by their love interest Katherine Pierce (Nina Dobrev). When Stefan returns to Mystic Falls he falls in love with Elana Gilbert (Nina Dobrev), who turns out to be a doppelganger of Katherine. When Damon also decides to return to Mystic Falls it turns out that the brothers aren't the best of friends. Things worsen when Damon appears to have an interest for Elena too. I won't tell anymore, if you don't know what happens next just start watching the show. It's great! There might be spoilers in the rest of the article, just so you know.
Back to Bloody Night Con. Let's talk about the first Paul Wesley panel on Saturday. Although Paul just arrived in Brussels (he got of the plane early on Saturday morning), he seemed to be very happy to be there and he was very talkative. So here are some of the things we'd like to share with you: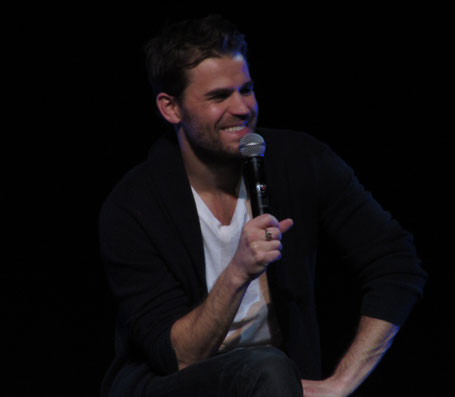 IF YOU HAVEN'T SEEN THE LAST SEASON OF THE VAMPIRE DIARIES DON'T READ WHAT'S COMING NEXT:
- Paul is happy with the way the story ends. he thinks there it's somewhat poetic to see the hero of the story die. He thinks it's poetic justice. Paul even thinks Damon should have also died, but he thinks it was necessary for one of the brothers to end up with Elena. And one of the brothers had to die. Paul says he thinks it's more interesting that Stefan dies, because he is the "hero" of the story.
- When the show first started Paul thought the "Stefan and Elena" story line was very interesting. He thinks the show was rooting itself with that special love story. He thinks that this romance was the basis of The Vampire Diaries. But when Nina (Elena) left the show it was time for a new relationship and that is when "Stefan and Caroline" happened. And he thinks that was also great. He finds it hard to compare these two love stories. 
- When someone asked Paul, who he would choose in real life (Caroline or Elena), he laughed and answered: "Or Katherine?"That's the question. The me in real life would fall for someone like Katherine."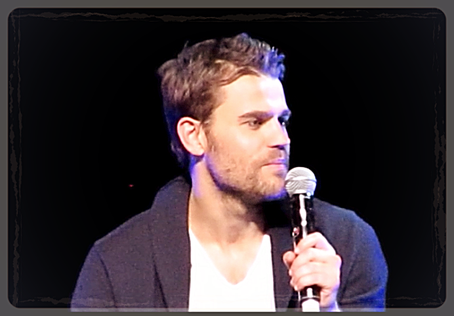 THERE ARE NO SPOILERS ABOUT THE LAST SEASON OF THE VAMPIRE DIARIES BEYOND THIS POINT, SO EVERYONE CAN READ THIS!
- In a game of  "Who would you marry, kiss and kill?", Paul got three of his colleagues to choose from, being: Chris Wood (Kai), Ian Somerhalder (Damon) and Daniel Gillies (Elijah). And this was his answer: 
"I would marry Chris Wood.....and kiss Daniel Gillies and I would kill Ian.  It's a close call though...I might kiss Ian and kill Daniel, but Chris for sure I am gonna marry."
- The most bizarre thing a fan ever asked him was, if  he would sign her baby. He actually hesitated for a moment and then Ian was like: "You can't sign a baby!".
- He still thinks it is weird that he gets so much attention. But he also knows that it is the character he plays that people are attracted to and not the man behind it. And when he looks at it that way he gets it and that makes it a little bit less weird.
- The only impression he does is "The Damon Glance". He just squints his eyes, like there is a lot of wind blowing in your eyes. He says that is "key to acting".
- If he could only eat one thing for a month, Paul would choose Sushi.
- One of the best memories from his teenage years: "I remember I auditioned for a school play and I didn't really get the part. But then they decided to give me a understudy. And I remember that I got one performance and I loved it so much. And I remember afterwards feeling so accomplished(...)I felt like I discovered something that I really liked and enjoyed. That is a great memory..".
- Paul bought a house for his grandfather, so he can live closer to his family.
Curious about what else Paul said? Just watch the video below, but beware of spoilers!