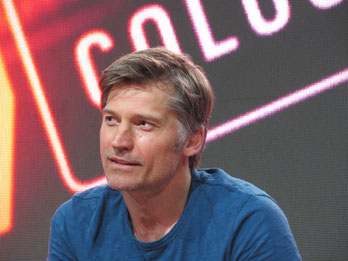 A few months ago, one of the most popular and (in my opinion) best shows ever came to an end. After eight seasons, "Game of Thrones" had its finale on the 19th of May 2019. It can be seen as the end of an era...for 8 years we followed the story of Westeros and its main families: the Starks, the Lannisters, the Targaeryans and many more. Every "Game of Thrones" fan can remember the moment he or she watched "The Red Wedding" episode and the phrase "Winter is Coming" got a whole new meaning. We all loved Tyrion with his witty remarks and we all loved to hate Cersei. There was one guy we all hated at first, but over the years we all grew to love him. This man was Jaime Lannister and the man behind the character known as The Kingslayer is Danish actor Nikolaj Coster-Waldau. You can imagine how excited we were when CCXP Cologne announced that Nikolaj would be a guest at this brand new Comic Con Experience. We would be there on Saturday and Sunday and so would Nikolaj. When we saw the autograph and photo op prices we were a bit shocked about how high they were, but we were still happy to be able to attend his panel. We will talk about that later, but first let us tell you something more about the man behind the Jaime "the Kingslayer" Lannister....let's talk about Nikolaj Coster-Waldau.
Who is Nikolaj Coster-Waldau?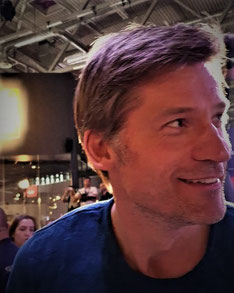 Nicolaj Coster-Waldau was born in Rudkøbing (Denmark), 27 July 1970. After his parents divorced, Nicolaj (and his two older sisters) was raised mainly by his mother. When asked about his childhood, Nicolaj mentioned that his mother was a great. She was a librarian and worked very hard to make ends meet for him and his sisters. His father was a alcoholic and worked in Greenland (he died in 1998). Nicolaj also said that when his father wasn't to drunk, he would play football and cards with him. So he does have some happy memories about his dad. Nicolaj was raised in Tybjerg, a small village of just 40 people. In 1989 (at the age of 19), Nicolaj was the youngest actor to enter the Statens Teaterskole (Danish National School of Theatre and Contemporary Dance). In one of his earliest stage productions, he played Laertes in Hamlet. After his graduation in 1993, Nicolaj did not have to wait long before his star would rise to fame in his native country. In 1994 he landed the main role of Martin in "Nattevagten" ("Nightwatch"). After this he played some roles in Danish movies and in 1997 he made his debut in a British movie called "Bent" (alongside Clive Owen, Jude Law and Mick Jagger).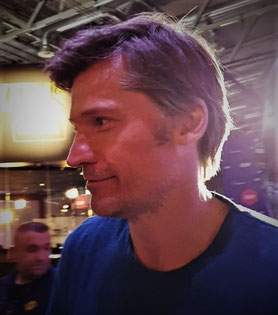 Four years later, he took the step to Hollywood and landed a role in Ridley Scott's "Black Hawk Down". When talking about this, Nicolaj mentioned that a friend helped him to put himself on tape (for an audition) in the attic above his apartment in Copenhagen. They shipped it out and he got the part. In the following decade, Nicolaj kept on taking roles in Hollywood productions, as well as in Scandinavian productions. He played in movies and TV shows like: "Enigma" (2001, as Puck), "Rembrandt" (2003, as Kenneth), "Wimbledon" (2004, as Dieter Prohl), "Kingdom of Heaven" (2005, as Village Sheriff) "New Amsterdam ( 2008, as John Amsterdam). In 2011, Nicolaj made his final brakthrough, when he landed the role of Jaime Lannister in HBO's "Game of Thrones". Nicolaj appeared in 55 episodes (over 8 seasons) of the show and is one of the main characters. During the eight years of "Game of Thrones", Nicolaj kept on taking other roles in movies like: "Mama" (2013, as Lucas/Jeffrey), "Oblivion" (2013, as Sykes), "Gods of Egypt" (2016, as Horus) and many more. One of his upcoming projects is "Domino" , a police thrilller directed by Brian DePalma. Nicolaj will play a Copenhagen police officer and the movie will also star (GOT co-star) Carice van Houten and (her husband) Guy Pearce. For more information about his past and upcoming projects, check out Nicolaj's IMDb page.
CCXP Cologne
Of course we were excited (excited is an understatement) to go to CCXP Cologne and the fact that we had a Creators Pass for the weekend only made us more excited (if that is even possible). It was the first edition of CCXP in Europe, so we did not know what to expect. CCXP Cologne was brought to Europe by the organization behind CCXP São Paulo, which can be seen as one of the biggest comic con events in the world.  The first edition of CCXP São Paulo was held in 2014 and approximately 100000 people visited this first editon. At their latest edition in December 2018 a whopping 262000 visitors made their way to the São Paulo Expo. For the Cologne Edition they had an amazing guestlist (especially taking into account that it was the first edition). Besides Nicolaj Coster-Waldau, there were: Zachary Levi ("Shazam!"), Benedict Wong ("Dr. Strange", "The Avengers" - franchise, "Marco Polo"), Rebecca Mader ("Once Upon a Time"), Ashleigh Murray ("Riverdale"), Mark Pellegrino ("Supernatural", "Quantico", "Lost") and Ben Barnes ("The Punisher", "The Chronicles of Narnia" franchise). Furthermore, Jason Statham ("Snatch", "Lock, Stock and Two Smoing Barrels", "The Meg", "Fast&Furious" franchise) and Idris Elba ("Luther", "Fast&Furious" franchise, "The Dark Tower") made a flash visit to Cologne on Friday.
Panel Nikolaj Coster-Waldau
As I already mentioned the prices for the autograph and photo op for Nikolaj were pretty high and I had decided that it was not meant to be to meet Nikolaj at CCXP....but if you know me a little you know that I can be persuaded fast when I am at a con. We had seen Nikolaj signing on Saturday, but only for a few minutes and from a distance. We knew Sunday was Kingslayer day and the first thing up was the "Hear me Roar" panel. Carola and I were hell bent on getting good places for this and the fact that we were allowed to enter the convention earlier on Sunday helped! We were in front of the line, but there was a delay, so the panel would start a bit later. With every minute that went by, the crowd behind us got bigger and Carola and I got more prepped to fight the war for the chairs. We had our own little "Game of Thrones" going on there, with the Thrones being the best seats at the panel. When the panel area opened up our worst fears became true, people started running and the fact that we were in front of the line did not seem to bother them. But Carola stood her ground and managed to get to the seats before anyone else. We were so happy...
The panel consisted of two parts and the first part of the panel brought Mark Spindler to the stage. Mark is a German Compositing artist and he is currently employed by Pixomondo, Germany. As Lead Compositing artist, Mark worked on the visualization of Daenerys' dragons on "Game of Thrones". At CCXP he gave a special presentation about the way Drogon, Viserys ann Rhaegal came to life. It was strictly prohibited to make any kind of recordings during this part of the panel. However, at the end of his presentation there was a possibility to take some pictures. Hearing Spindler talk about how the dragons came to life was great and everyone was listening in awe. Mark also had a visual presentation to go with it. After this very amusing warm-up, it was time for the man himself: Nikolaj Coster-Waldau. It was so cool to see and hear him talk about the show that was a part of our lives for more than 8 years. He talked about Jaime's relationship with Brienne and Cersei, the way the show ended and the end of Jaime and Cersei. We recorded the biggest part of the panel and you can watch it below.
To meet or not to meet???
Before the convention I had made up my mind...it was not going to happen. Because of the high price of the autograph/photo op I had made my peace with the fact that I was not going to meet Nikolaj and that I had to be content with the chance to attend his panel. But by now, you should have a slight idea of how my mind works at a comic con. During the first day I began to think about how cool it would be to meet the man behind Jaime and it took all I had to resist the urge to just do it. After the panel on Sunday, my wall of determination began to crumble and by the time of the last chance to get a photo op I thought: "The hell with it....you only live once!". So I did it...I had my photo op with Nikolaj Coster-Waldau. During the panel I wanted to ask a question, but I seemed invisible to the girl with the mic. This was my chance to ask Nikolaj what I wanted to ask. As you know our tagline is "Excited is an Understatement", so I asked Nikolaj what he gets excited about? His answer was: "People who are passionate about what they do...". It was so cool to meet Nikolaj and ask him aquestion and I am so glad I eventually bought the photo. I asked for my go-to pose and I am very satisfied with the result.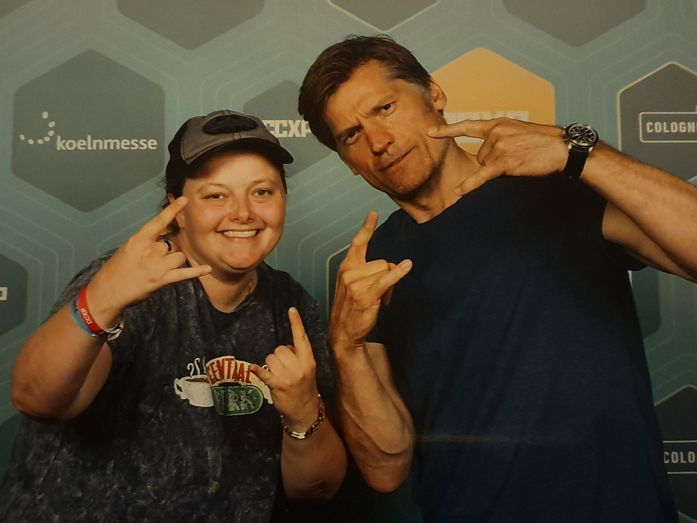 The Red Carpet
Besides the panel and the photo op, we had one more chance to see Nikolaj on Sunday: the red carpet. I love the idea behind this. Every day two of the celebrities, make their way to the red carpet. They walk past their fans and shake some hands. Then they go to a glass house where they give an interview and after the interview they make another round shaking hands and doing selfies. Unfortunately, during Nikolaj's Red Carpet walk it was very crowded and we did not manage to get a selfie, but it was very cool to see him up close again. Below you can see some screenshots of the video made by CCXP (the quality is bad but hey) and you can also see some of our own Red Carpet pictures.