Oh YES! After an amazing first day at CCXP Cologne, we were psyched for Sunday. CCXP would start at 11.00, so that gave us the time to sleep a bit longer and have a nice breakfast. We stayed in a hotel without air conditioning (And it was 35 degrees celcius!) and a VERY crowded breakfast room. But hey, we slept, showered and ate. What else do you need to start your day fresh at comic con? 
Ready... GO!
"I crossed a thousand leagues to come to you, and lost the best part of me along the way. Don't tell me to leave." (Jaime Lannister, GOT), that's about the description of the start of our second day. We went to CCXP Cologne early, knowing that Nikolaj Coster Waldau would have his panel at the beginning of the day. As soon as we were in, we rushed to the Thunder Theatre (Which I kept calling the Thunder Dome hahahaha) and YEAH, we were at the front of the queue. We were determined to get good seats. Nikolaj's panel was the most important thing to see for us at CCXP Cologne. We couldn't enter the Thunder Theatre instantly. They were still preparing things. And that waiting time: not having our seats yet, was tearing us apart. Even though the volunteers were great and the panel wasn't starting yet, we just wanted to get in. And then finally, when we had lost our best parts.. we were allowed to get in. And it was crazy! Even though we were the first, people started to run and even pass us by.. (Seriously though.. #confrustration). But well, we managed to get our seats and were ready to enjoy the panel! 
The panel didn't start with Nikolaj, but with a presentation about the special effects in Game of Thrones. And that was great! Totally loved seeing it. After that, Nikolaj came on stage and did an awesome panel. We were SO excited to see him. Curious to see the whole panel? Check it out below! 
Create!
It sounds like we hadn't done much yet. But time had passed quickly! We had been waiting for the panel for about 45 minutes and the panel (including special effects presentation), took about 1,5 hour. But.. it was all worth it. We had an amazing time. We continued by going to the creators room to make some vlogs and discuss our plans. Of course we couldn't resist the ballpit. Again, we had tons of fun. 
After the ballpit, we discussed our plans. And ....... ....... .......... *feel the suspense* ...... ......... ....... Liv decided to get a photo op with Nikolaj. Well we didn't see that coming right ;) lol. And let me repeat what I said in our vlogs often enough: This was nót and impulsive action. I knew this was coming from the very moment CCXP Cologne announced Nikolaj as a guest. But hey, who cares. She was getting a photo with the KINGSLAYER. Wooooohoooooo. Amazing!!!!!
Nikolaj... and Rebecca .... and Nikolaj
While Liv instantly bought the photo op ticket for Nikolaj, I went to the red carpet. I knew Rebecca Mader had *a thing * there. But I didn't get what the red carpet was about AT ALL. I was just chillin' there until Liv was done. Then, while I was staring at an empty stage and a glass house with Rebecca and interviewers in there, Liv came back. She was super happy with her picture (Awesome!!!!).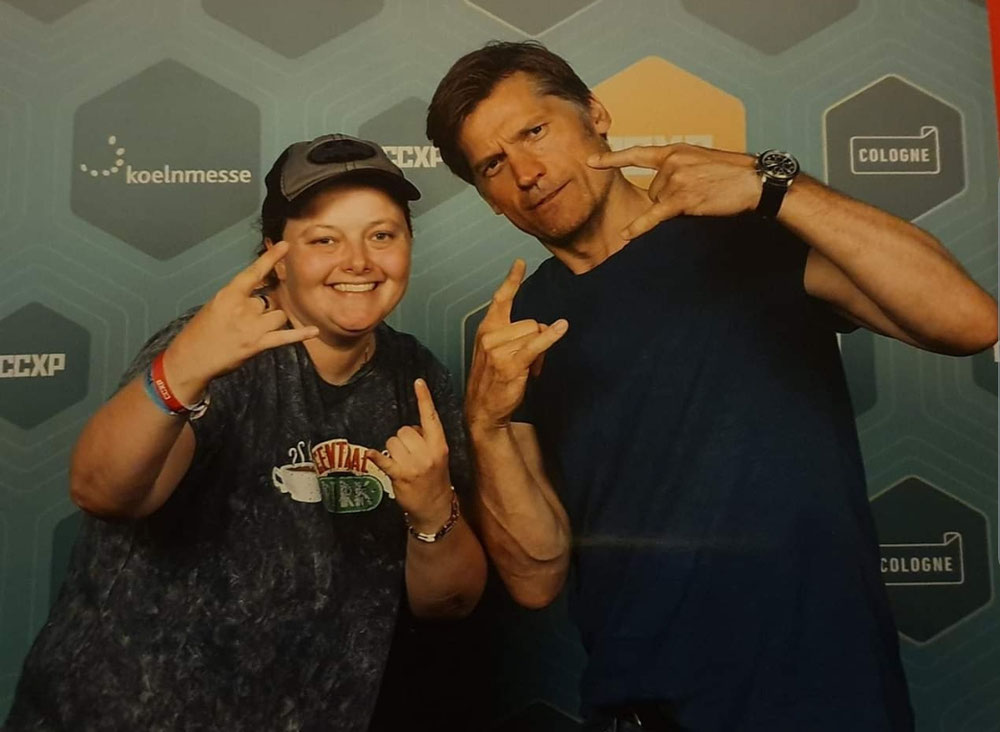 We decided to keep standing there for a minute and see what Rebecca would be doing there. Her interview had just finished and she came out of the little glass house. And Oh yeahhhh, something TOTALLY unexpected happened. It was probably not unexpected at all, but for us it was. We had no clue what the "red carpet" was about. But Rebecca walked around and did selfies with everyone who was standing there for her. It was awesome!! 
I mean, she's pregnant and she she had so much energy. She really took the time to still have a selfie with everyone, even though she already done an interview. Rebecca really is amazing. 
We knew Nikolaj also had a red carpet planned (about 30 min later) so we decided to wait. For Nikolaj's red carpet, it was even busier. Crowded even. People were everywhere. When Nikolaj came in, he made a few selfies but went to the interview quickly. Meanwhile we were annoyed by a camera man who was just blocking a couple of fans by just sitting on the fence right before them. While they were waiting there to see Nikolaj for such a long time already! Unfortunately, our try for a selfe didn't succeed. Nikolaj did a couple after the interview as well, but there wasn't enough time for everyone. A pity, but CCXP Cologne was already amazing! So it definitely did not ruin our day. 
Seeing more of CCXP Cologne
After this, we had some "free" time. We made a plan again in the creators area (where we also made some vlogs again) and after that, we went back to explore CCXP Cologne some more. Which meant: Making a LOT of extra pictures. And having so much fun again. We knew we would have time until 19h. Then we would have to leave, because we still had to travel back to the Netherlands. So our last hours were full of enjoyment. Jut watch the pictures below. 
And last but not least.... we ended our day with some last vlogs (including making another tip for our coming soon video: how to fight the after comic con dip). And there we also made some last happy CCXP Cologne selfies. I must say: We enjoyed this convention A LOT. We had an absolutely great time.  The staff was amazing, the facilities were great. An awesome guest list, numerous movie photo opportunities and great panels: We are already excited for next year. And you know what? Excited is an understatement. As an extra: below some extra selfies of us at CCXP Cologne!