Once Upon A Time is a TV series about fairy tales. I found the series on Netflix and just thought, well let's give it a try. I was a bit afraid that I wouldn't like it. I usually don't like to watch fairy tale kind of movies or series. But because some people recommended the series to me, I decided to start watching. At the very beginning of the series, we see Emma, a woman of 28 years old. One day a kid is in her house and claims to be her child. She drives him home. He lives in a small town called Storybrooke. Her goal is to bring him home and return to her home as quick as possible. But it doesn't turn out like that. Emma sticks around in Storybrooke for a while. Her child, Henry, claims that everyone in the town is actually a fairy tale character. All of them have been transported to the real world by a curse. None of them can remember who they really are. And Henry tells Emma she's the only one who can save them. She's the daughter of Snow White and Prince Charming. And Henry's adoptive mom is the Evil Queen...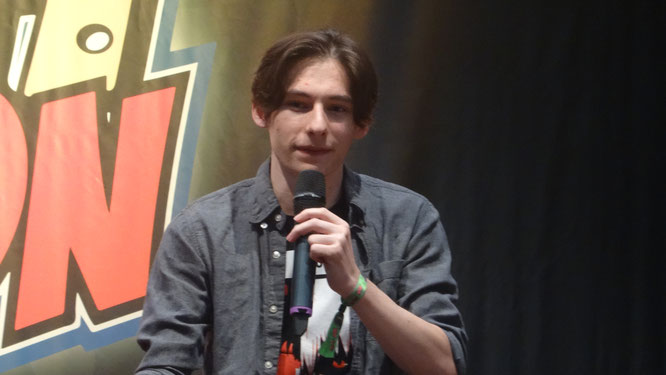 How about the actors?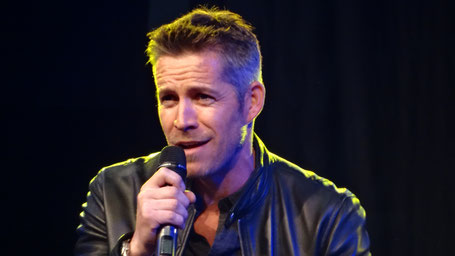 Oh, this is really great! There are so many characters in this series! It's unbelievable. You see every fairy tale passing by. So that means a lot of characters. Like: A lot! And in this series, it also means a great cast. And a recognizable cast. I recognized so many actors! I love it. 
Let's start with Emma (Jennifer Morrison). I know Jennifer mainly for playing Dr. Allison Cameron on the TV series House M.D.  The next familiar face was Ginnifer Goodwin who plays Mary Margaret/ Snow White. I saw her recently in He's Just Not That Into You. She plays such a different type of girl there, I really had to get used to her being Snow White. But now I think she's great! 
And I won't stop. Have you watched Lost or the Hills Have Eyes (2006)? Then you might recognize Emilie de Ravin as Belle. I was happy to see Giancarlo Esposito (Breaking Bad, Revolution) as Sydney Glass/ Magic Mirror. And Sonequa Martin-Green (Sasha in the Walking Dead) plays the role of Tamara. Oh and for fans of Charmed: You can also see Rose McGowan as a young Cora (Cora is the mother of the evil queen). I was also pleased to see Ernie Hudson as Poseidon. And Elizabeth Mitchell plays the Snow Queen! 
But it's not only familiar faces that do well. I've also 'discovered' some other awesome actors and actresses. Most of them are already quite well known. But I didn't know them (very well) before watching Once Upon a Time. I'm very impressed by 'evil queen' Lana Parrilla. I didn't know her yet. But you might have seen her in Miami Medical, Swingtown or 24. I also think Robert Carlyle is doing an awesome job. He plays Mr. Gold/ Rumplestiltskin. He plays a major role and I love it!
Who will like this?
Once Upon a Time is an adventure/ Fantasy/ Romance series according to IMDB. I thin that's correct. But I'd like to add that there's also some action to it. What I mean is: A lot is happening. It's not like there are sword fights all the time. But there are many story lines and a lot is happening. In season 1 series shows the present: Emma who goes to Storybrooke and gets to know Henry. And the series also show the past: Who was everyone as a fairy tale character. It's nice to see the fairy tales as well. I think the series is nice for people who like the fairy tale side but also for people who are a bit more into the drama/ action part. I usually don't really watch anything fairy tale related. But I love it because it's a combination of the real world and the fairytale world. It's nice how the story develops. 
How many seasons?
The sixth season aired in 2016. 
My opinion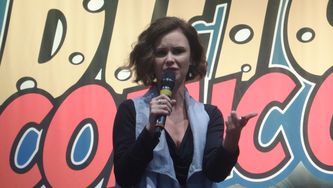 I totally LOVED season 1. I really got hooked. Great characters. And I love the story lines about the present and past. It's so much fun to discover who is whom in the fairy tale. [Spoiler alert!!] I loved the next seasons as well. But they are a bit different. the series changes a bit when both worlds meet each other. I didn't like the beginning of season 3 a lot. I'm not a big fan of the Peter Pan story line. I didn't like the (literal) darkness. And I missed Storybrooke and missed the variety in story lines a bit.  However, I would recommend this to everyone. It's a great watch! After the Peter Pan part, it got interesting for me again. I like the story lines with Ariel and Robin Hood. But I had to get used to Zelena. In general I love the relation between the 'real people' and the fairy tale characters. And it was lovely to see the character traits of the fairy tale characters in the 'real people'. I also think the story line with Henry's moms is very well done. Regina/ the Evil Queen is such an interesting character!
Rate
Who's your favorite character from Once Upon A Time? Or, if you don't watch it: Who's your favorite fairy tale character? If you would be a fairy tale character, who would you be?