If you would have told me 5 years ago that I would see Elijah woods 3 (!!!) times, I wouldn't believe you. And I mean actually 3 times. In real life. Not in the movies (Because then, the Lord of the Rings movies would be enough hahaha). At different comic cons. 3 times! And can you believe it, we didn't even write a meeting Elijah Woods yet. Well, that can not be happening! Time for change. Let us tell you all about meeting the amazing Elijah Woods! 
New York Comic Con
A few years ago (2017), I went to New York Comic Con! I was so excited! My first comic con in the United States. And you can imagine my excitement when I heard that there would be a 'Dirk Gently' panel, starring a part of the cast of Dirk Gently! And Elijah Wood would be part of that panel. Excited is really an understatement. Okay, no photo ops. No signatures. But Elijah Woo would be there! But, it's New York... Would I be even able to attend the panel? I expected it to be super busy! 
And there really were a lot of people at New York Comic Con. A lot. For the Dirk Gently panel, you had to queue in the morning to tap your badge and get entrance. Since there was already a huge queue and it was my first day at comic con, I decided not to do it. I was afraid the queue and then the panel would already take most of my day.. And there was so much more to do and see. 
But around an hour before the panel, I saw on twitter that there was still some space (I thought it would be completely full already in the morning because you could reserve a seat by tapping your badge). Quickly I decided to attend the panel anyway. They were going to show the first episode of season 2  and have small Q&A with cast members afterwards. 
The panel room was huge! So many seats. I would see the cast from quite a distance. But that doesn't matter! I was there!! It was awesome to see the new episode that hadn't aired yet, at NYCC! However, it was a pity that just 10-15 minutes of the panel now consisted of questions. So it was a very short time to see the guests: Samuel Barnett (Dirk Gently), Elijah Wood (Todd), Hannah Marks (Amanda), Jade Eshete (Farah), Mpho Koaho (Ken), Fiona Dourif (Bart) and Ma Landis (creator). Even though it was short, it was absolutely incredible to see the cast. And I thought this would be as close as I would ever get to meeting Elijah!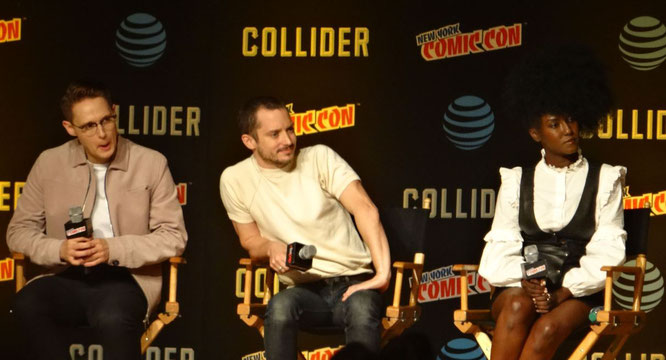 Comic Con Los Angeles
And then... There was Los Angeles! We decided to go to Los Angeles. Liv and I would go to Comic Con Los Angeles. WHOOP WHOOP. There was a nice guest list already when we decided to get tickets and go. But things even got better when they announced Elijah as a guest. And he would really be there for a few days. doing panels, signing autographs and doing photo ops. Excited was even more an understatement at this point. Where I already over excited that I had seen him in New York, I couldn't believe we would actually get the opportunity to have a picture with him. Liv and I didn't blink an eye and we booked a photo op! We were going to do one together. We absolutely didn't want to miss this opportunity and it would be awesome to share that moment. 
We were super super nervous when we were queuing for Elijah's photo op. I couldn't even believe this was actually happening. We were going to meet Elijah together. Liv and I were excited, afraid and hyped. And we couldn't wait to get the picture. We hadn't seen Elijah yet at this comic con, his panel would be after the photo op. So when we stepped into the photo area, we were speechless. Elijah Wood was actually standing there. He was really nice, greeting everyone with a big smile. Laughing constantly. It really made us feel a bit less nervous. We are so happy that we met him and we love our photo! 
In the afternoon, we also decided to watch his panel ( of course). It was a standing panel, also quite busy. But still, we were closer than I was at New York Comic Con. (But further away than during the photo op of course hahahaha). The panel was great, the theme was "Horror cinema in the new era & the films of SpectreVision". And we loved hearing more about the horror movies Elijah was working on. One that is still on my watch list, is the movie Daniel Isn't Real. Watch the video below to hear Elijah talking about this movie. 
Comic Con Liverpool
Recently (March 2020), Liv and I visited Comic Con Liverpool! We were super excited to go Comic Con Liverpool. Especially since we would be there for 2 days! We were in the UK a bit longer, a week before we already flew to Manchester. We stayed a few days in Sheffield, followed by Liverpool. And yes, also at Comic Con Liverpool Elijah Wood was announced as a guest! It's really incredible. Some actors, it seems like you never get the chance to meet them. They're not announced at comic con, they cancel, or you're not able to go. (For example, it was very hard for us to meet Ryan Hurst). And sometimes... what you think is impossible, happens! Over and over again! Seriously. I can't even believe it. This time, we didn't have a photo op. And we were not there on the day of his panel (unfortunately). But we did see Elijah Wood again! And we really love that. He's such a great actor and having a photo with him in Los Angeles was something to never forget. Seeing him again here, was a big bonus!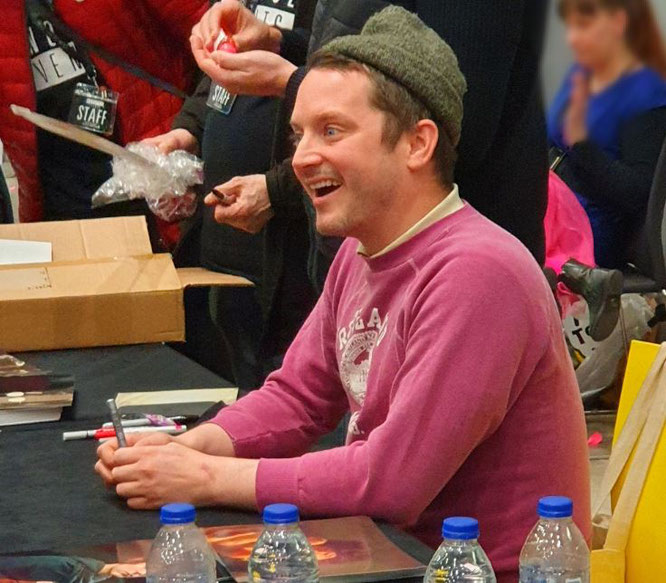 Meeting Elijah Wood
We are really excited we met Elijah Wood. It was absolutely great and we are so happy with our photo. And we succeeded to see him 3 times... Who knows what will happen in the future? We can't wait! 
Meanwhile, we bought lots of 'Elijah Wood DVDs' and keep watching them! In Liverpool for example,  bought Come to Daddy and Maniac. And I hope to buy Daniel Isn't Real soon too! May we meet again!