FINALLY I found a series again that got me hooked from the first second. I was desperately looking for a new series to watch after "The Handmaid's Tale".  I watched a few (a few seasons of series I needed to catch up and I started with "Chilling Adventures of Sabrina"), but nothing that got me totally hooked. Okay, except for "La Casa de Papel" ("Moneyheist")! Now I found a new series to binge: "Lucifer"! I (Liv) have been watching "Lucifer" for a long time and just like I did with "The Big Bang Theory", I already told Carola to watch "Lucifer" on several occasions. Now finally she listened!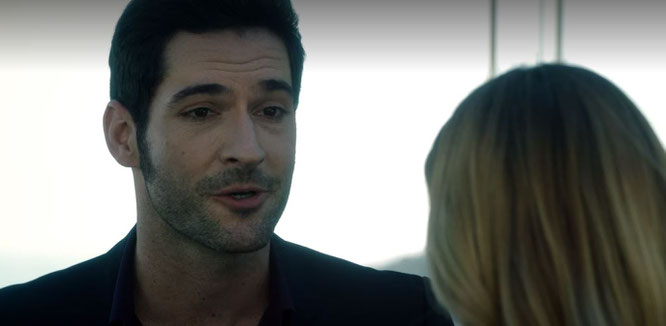 Lucifer Morningstar is the Devil. But he's bored after spending so much time in Hell. So, he decides to go to earth and take a vacation there. He decides to go to Los Angeles for a while, He starts a nightclub called "Lux". When he gets involved in a murder case, he's acting as a consultant for the LAPD. 
My thoughts
I love it! I'm so happy I found a series again that I'm this enthusiastic about. And the best thing is: there are 5 seasons! So I have something to watch for a while. I love that. It's always a pity when you start on a new series and there's just 1 season to watch. I like to be occupied a little bit longer (than a day, lol). 
The story of Lucifer interests me from the first minute. The chemistry between Chloe and Lucifer is awesome and I enjoyed seeing some familiar faces.  The cast is really great! Love seeing them all in this series. 
A few of the things that I like the most in this series are the humor, the cast, the variety in story line (following Lucifer/ Chloe and the cases they are involved in) and the chemistry between Lucifer and Chloe.  I'm always curious to tune in and see what the next case will be like. And I also love how Lucifer is so open about being the Devil. No one believes him anyway. Lucifer is arrogant, but really funny. The series really makes me laugh! 
Exactly, it sort of reminds me of "Castle". The role of the Devil is perfect for Tom Ellis. He is funny, charming and like Carola said very arrogant (but in a charming way).
Quotes
"No, I can't read peoples minds. I'm not Jedi. People like to tell me things." (Lucifer)
"Look, if you have come to lecture me, can you just save it for later? I'm annoyingly sober right now and it takes ages to poor a drink when you're around."(Lucifer)  
"Thanks for being super cryptic in a really unhelpful way." (Chloe)
"Just call me when you got a murder with a pulse, or at least someone good looking." (Lucifer)
"What do they say? Laugh like no one is listening, dance like you're standing on the corpses of your enemies?" (Lucifer) 
"Don't worry brother, it feels like a good day to die." (Lucifer)
"Remember: All work and no play, makes the detective a shoe."(Lucifer)
The actors/ actresses
When I started watching Lucifer, I knew I was going to see at least 1 familiar face: D. B. Woodside, who I know for his role in "Suits" as Jeff Malone. You might also know him as Robin Wood in Buffy the Vampire Slayer. When CCXP Cologne announced him as a guest earlier this year, I was super excited (excited is an understatement). Unfortunately CCXP has been cancelled because of the corona virus. Nevertheless, I still wanted to wanted to start watching "Lucifer"!  
When I started watching "Lucifer", I saw another familiar face from "Suits" right away in the first episode: Rachael Harris. In "Lucifer", she plays the role of Linda Martin. I know her as Louis Litt's big love: Sheila Szas! Since I have watched season 7 of "Suits" recently, I was excited to see some 'Suits' faces here! I love the chemistry between Chloe and Lucifer, but I love the chemistry between Dr. Martin and Lucifer even more maybe..
Lucifer is played by Tom Ellis. I know him a little bit. I can just say that in "Lucifer", he's great! He's a convincing Lucifer. You might know Tom Ellis for "Miranda" (as Gary Preston), "EastEnders" (as Dr. Oliver), "Rush" (as William P. Rush) and more!   
Lauren German plays the role of Chloe Decker in the series. I love the chemistry between Chloe and Lucifer! It's what made me instantly love this series! They're great together. You might know Lauren already for "Chicago Fire" (as Leslie Shay), "Hawaii Five-0" (as Lori Weston), "Happy Town" (as Henley Boone / Chloe) and more! 
Later on, I noticed another familiar face, Lochlyn Munro! In 2018 I met Lochlyn Munro at Weekend of Hell. I knew him for his roles in "Riverdale" (Hal Cooper), "Freddy vs. Jason" (as Deputy Scott Stubbs) and more! In "Lucifer", he plays the role of Anthony Paolucci. 
Other roles are for: 
Kevin Alejandro as Dan Espinoza
Lesley-Ann Brandt as Mazikeen
Scarlett Estevez as Trixi Espinoza
Aimee Garcia as Ella Lopz
and more.. 
How many seasons?
Season 5 is the final season.
Grade