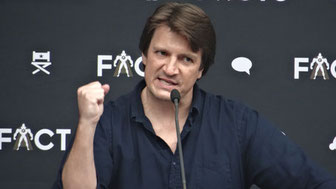 Today we've got yet another Series Tip for you. Yesterday we wrote about Gotham as part of our FACTS week, today we've got another FACTS-related Series Tip: Castle. Nathan Fillion will be a guest at FACTS this weekend and one of his most popular roles is the role of writer/investigator: "the ruggedly handsome" Rick Castle.
Like I already said Castle revolves around Richard Castle. He's a best-selling writer of crime novels, but he suffers from a writer's block. He kills off the main character. He's brought in by the NYPD, because of a striking similarity between his novels and recent murders. During this visit he gets intrigued by Detective Kate Beckett, the detective assigned to the case. He decides to use her as a muse for a new novel, starring Nikki Heat. He uses his friendship with the mayor to get permission to help with the investigation of the murders and to shadow Detective Beckett in her work as part of the research for his book. Beckett is anything but happy with this, but she reluctantly agrees. Castle is very enthusiastic and basically a child in a grown up's body, while Beckett is very serious and a true professional and of course this results in a lot of funny moments. 
How about the actors?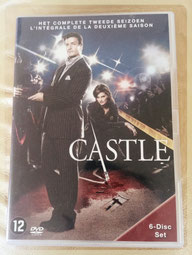 Well, Nathan Fillion is great as Rick Castle and I love his interactions with Stana Katic. The on-screen chemistry between these two actors is magnificent. I already knew Fillion from his role as Johnny Donnelly in Two guys, a girl and a Pizza Place and I loved him in this role. You might also know Nathan Fillion for his role as Malcolm Reynolds in Firefly (TV series) and Serenity (movie). But the rest of the cast of Castle is excellent too. I love Seamus Deaver and Jon Huertas as Detectives Ryan and Esposito. Their on-screen chemistry with each other ánd with Fillion&Katic is just wonderful. Furthermore it's great to see veteran Susan Sullivan as Martha Rodgers (Castle's mom, she lives with him). I knew Susan from her magnificent role as Kitty Montgomery in Dharma&Greg, but like I said she is a veteran. You may also know her from Falcon Crest, Another World, It's a Living and many more. Molly Quinn does an outstanding job as Alexis Castle, Rick's smart and responsible teenage daughter. The last actress I would like to highlight is Tamala Jones as Dr. Lanie Parish, the medical examiner of the NYPD.
Who will like this?
If you like crime series like CSI or Bones, you will absolutely like this one. Just like these two shows; Castle is a "one case per episode show" and although it's usually a murder investigation, it's real fun to watch. The great chemistry between the main characters leads to very funny moments. 
How many seasons?
There are 8 seasons, which adds up to a grand total of 173 episodes. It premiered in March 2009 and the last episode was aired on May 16th, 2016
My opinion
I love Castle. I am a big fan of Nathan Fillion and I like the perfect balance between suspense and comedy in Castle. Although I have not seen the last seasons of the show yet (it stopped airing in The Netherlands), I do own some of the earlier seasons on DVD and I am planning on buying the last seasons very soon.
Rating