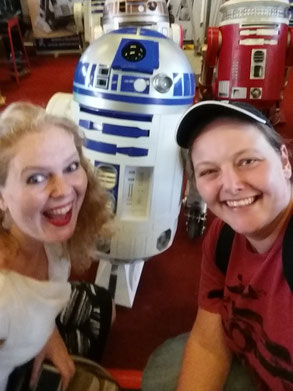 Finally! After two long, long years; the moment has finally arrived! This weekend (November 6&7), the FACTS mothership will return to Ghent (Belgium) and Flanders Expo will be turned into a Walhalla for fans of movies, series, video games, board games, cosplay, merchandise, anime, comics, superheroes and everything else that makes our hearts beat faster. No need to tell you that we are excited (excited is an understatement), because we are going to be there on Sunday! For a long time, it was unclear if we would be able to make it, but it's going to happen! Our last visit to FACTS was three years ago and we can't wait! We had such a great time during past editions and we met a lot of great people. What started as a small gathering of 40 like-minded fans in "Café 't Tonneke" in Ghent back in 1993, grew out to be (one of) the biggest fan convention in the Benelux, with more than 45000 visitors at the last edition in October 2019. Now let us tell you some more about who you can expect in Ghent this weekend!
The movie and TV guests
Bob Morley
Any (fellow) fans of "The 100" out there? Brace yourselves, because we have some good news! Bob Morley will be at FACTS this weekend...Bob plays the role of Bellamy Blake in this immensely popular show. But there is more behind this Australian actor...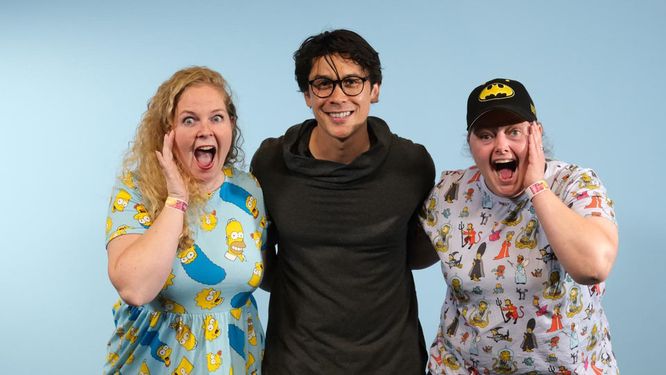 Robert Alfred Morley was born on 20 December 1984 in Kyneton, Victoria, Australia. He grew up on a farm and was interested in acting from a young age. He started to study drama during his school days. His parents asked him to stop at one point, because his school work was suffering. When he was 17, Bob moved to Melbourne to study engineering. However, this was not what he truly wanted and after a year he dropped out. He decided to enroll in the Creative Arts study at the La Trobe University in Melbourne. He also decided to get an agent. During his university years he starred in the university theatre productions. He also did some plays and multiple short films.
In 2005, Morley appeared in the low budget horror movie called "Dead Harvest" and in "Angels With Dirty Faces". This last role brought Bob under the attention of some casting directors. Among them were the casting directors of the long running Australian soap "Home and Away". In 2006 they casted him for the role of Drew Curtis. In 2007 Morley participated in the Australian celebrity singing competition "It Takes Two". In 2008 his journey in "Home and Away" came to an end. In the same year he was casted for the role of Tony Moretti in the action series "The Strip", but unfortunately the show was cancelled after the first season. In 2011 Bob returned to daytime television with the role of Aidan Foster in the popular Australian soap series "Neighbours", revolving around the lives of the residents at Ramsay Street. In the show he played the love interest of Chris Pappas. Aidan and Chris became the show's first gay couple. He stayed on the show until 2013 and did some other projects in the meantime. In 2013, he was cast for the role that would become his big global breakthrough...we are of course talking about the role of Bellamy Blake in CW's "The 100". The show (and Bob's character) became immensely popular and the final season aired in 2020. In 2018 he completed the Television's Directors Workshop at Warner Brothers. In 2021, Morley joined the cast of "The Rookie" as Half-Life.
Fun Fact: In 2019 Bob Morley secretly married his co-star (from "The 100") Eliza Taylor. They were both announced for FACTS, but unfortunately Eliza had to cancel due to renewed filming schedule conflicts.
Bob Morley will be at FACTS this Saturday and Sunday.
Photoshoot: €45 
Autograph: €40
Selfie: €40
Combo Autograph & Selfie: €70
Meet & Greet: €200
Q&A Saturday: 11.00-11.45
Q&A Sunday: 12.45-13.15
Covid measure: Plexiglass
Mark Sheppard
Calling out to all (fellow) "Supernatural" fans! "The King of Hell" is coming to FACTS. A few years ago, Mark Sheppard was a guest at Dutch Comic Con. At that time, I hadn't watched "Supernatural" yet, so I had no idea how cool his character is in the show. In the meantime, I started watching and man do I love to hate Crowley!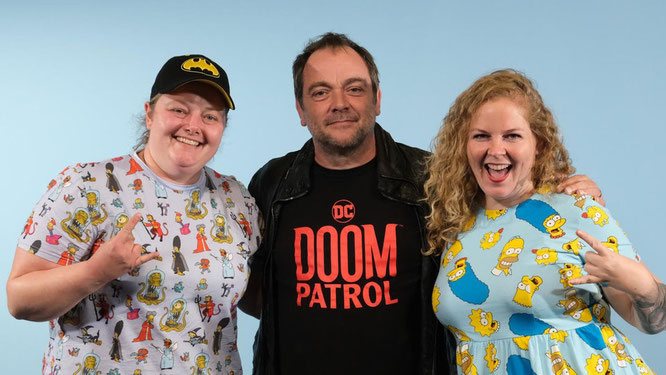 Mark Andreas Sheppard is a British actor and musician. He was born on the 30th of May 1964 in London, England (UK) as the son of W. Morgan Sheppard (also an actor) and his wife. There is little to be found about his early life and education. At the age of 15 Mark became a musician and played in bands like Robyn Hitchcock, Television Personalities and Light a Big Fire. He played the drums and recorded albums for many European music groups (as a session musician). In the mid-eighties Mark moved to the United States. One of the biggest highlights of his music career was opening for U2 during their Joshua Tree tour in the late eighties. At some point however he couldn't handle the life on the road anymore and he decided to stop drumming, to pursue a healthier lifestyle. He didn't touch a drum, but when he was asked to join Louden Swain on stage at a "Supernatural" convention. His passion for music came back and Mark is still known to 'raise some hell' behind the drums. 
In 1993 Mark made his movie debut in the critically acclaimed "In The Name of The Father". In this biopic about Gerry Conlon, he plays the role of Guilford Four- member Paddy Armstrong. From 1997 to 1998, Mark played Christopher 'CJ' Yates in the Jerry Bruckheimer action show "Soldier of Fortune, Inc.". In the years that followed, Mark played roles in movies and TV shows, like: "Sliders" (1999, as Jack), "Star Trek: Voyager" (2000, as Leucon), "V.I.P." (2001/2002, as Nero), "Charmed" (2002, as Arnon), "Firefly" (2002, as Badger) and "CSI: NY" (2005, as Kevin Hannigan). In 2006 he landed the recurring role of Ivan Erwich in "24" and from 2007 to 2009 Mark played the role of Romo Lampkin in "Battlestar Galactica". Mark kept on appearing in movies and TV shows and from this point on and had roles in shows like: "Leverage" (2008-2012, as Jim Sterling), "White Collar" (2009-2014, as Curtis Hagan) and "Warehouse 13" (2009-2014, as Benedict Valda). Also in 2009, Mark embarked on a journey of 8 years, when he joined the cast of the fantasy show "Supernatural". He played the role of Fergus Roderick McLeod/Crowley/The King of Hell. Currently he has a recurring role in "Doom Patrol" as Willoughby Kipling. Fun Fact: Sheppard was cast in the same character as his father (at different ages) on three occasions: in "Doctor Who" (as Canton Everett Delaware III), "NCIS" (as Marcin Jarek) and in "Jules Verne's Mysterious Island" (as Captain Nemo).
Mark Sheppard will be at FACTS this Saturday and Sunday.
Photoshoot: €40
Autograph: €30
Selfies: €30
Combo Autograph & Selfie: €50
Meet & Greet: €150
Q&A Saturday: 13.00-13.45
Q&A Sunday: 14.15-14.45
Covid measure: No Plexiglass
Jack Gleeson
He gave a face to most hated character in "Game of Thrones" and possibly one of the most hated characters in television. There were memes of his face going around the internet saying "If Monday had a face"... I am of course talking about (King) Joffrey Baratheon. Jack Gleeson received much critical acclaim for portraying the character in the popular TV show "Game of Thrones". Unfortunately, he was so convincing in his role of the villain, that he received a lot of hate mail and even death threats.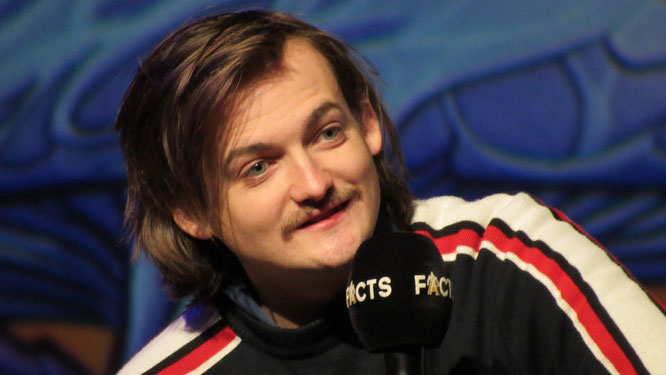 Jack Gleeson was born on 20 May 1992 in Cork, Ireland as the youngest of three children (he has two older sisters named Hannah and Rachel). Gleeson was raised in Ranelagh, Dublin, where he attended Gonzaga Collage (a private Catholic Boys Secondary school). But when he was still in primary school (at the age of 7) Jack was already interested in acting and he began to attend drama school together with his sisters. At age 8 he joined the local community theatre, The Independent Theatre Workshop. He played some shows and this led to some small roles in (short) films, like: "Reign of Fire" (2002, as Kid), "Moving Day" (2002, as Jack) and ultimately to a minor role as a kid in "Batman Begins" (2005).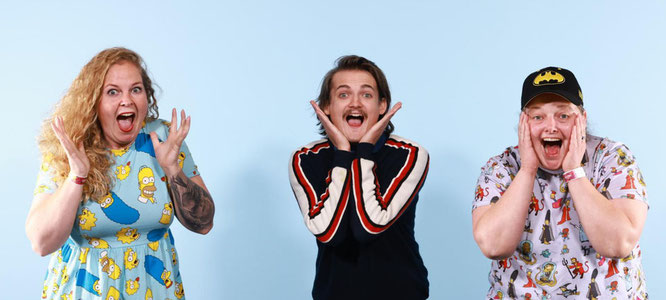 From 2006 to 2008 he played the role of Pa Connors Jr. in the comedy "Killinaskully" and in 2007 he appeared in the horror movie "Shroom". In 2009, he played the role of Seamus in "A Shine of Rainbows". His role as Dara in "All Good Children" (2009) paved the way for his breakthrough. Magazines started writing about Gleeson and he was seen as the biggest discovery of the movie. Not long after this, Jack was signed for the role of Joffrey Baratheon in HBO's "Game of Thrones" and we all know how that turned out...critics praised him about how much fans hated him. He was nominated for numerous prizes. In 2014, Gleeson left the show and retired from acting. He had already hinted about it in 2012 and when he finished up his work in "GOT" he did it. He was studying philosophy and theology at Trinity College in Dublin, since 2010. During his time at Trinity College (2010-2015) he was a member of the DU Players (the drama society of the University). It was also here that he met the co- founders of Collapsing Horse Theatre Company. Throughout the 2010s Jack was a member and producer (next to co-founder) of this company. He toured the world and they had a great deal of success, but in 2019 the Company came to an end. In 2020, Jack picked up screen acting again and recently he appeared in "Out of her Mind"(2020, as Casper) and "Rebecca's Boyfriend" (2021, as Rory).
Jack Gleeson will be at FACTS this Saturday and Sunday.
Photoshoot: €45
Autograph: €40
Selfies: €45
Q&A Saturday: 16.00-16.45
Q&A Sunday: 12.00-12.30
Covid measure: Social Distance/No Plexiglass
Rebecca Mader
Something wicked this way comes....and it comes from the West!
"Once Upon a Time" may have closed the book for good about three years ago, the show is still very popular. The 'OUAT' fandom is huge and one of the most popular 'bad girls' of the show is Zelena, the Wicked Witch of the West/Kelly West. The woman behind this popular character is Rebecca Mader and she is to FACTS 2021 in Ghent. We have already seen Rebecca at multiple cons and she is always a lot of fun. We also met her at CCXP Cologne in 2019...she is awesome.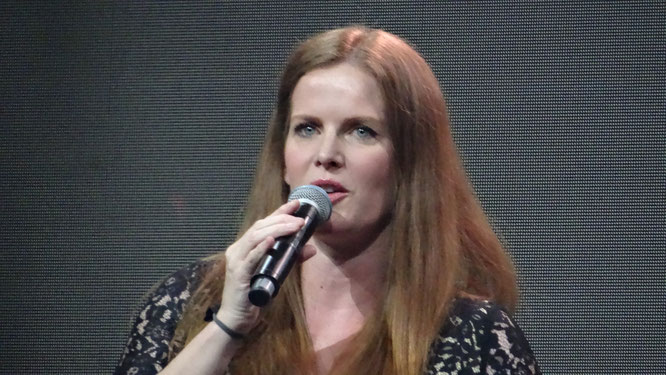 Rebecca Leigh Mader was born on the 24th of April,1977 in Cambridge (UK).  While she was still in school and working in a supermarket, her grandmother entered her in a beauty contest (behind her back). Rebecca came in second and she was offered a modeling job. Rebecca later said she was bullied for the most part of her time in school and couldn't wait to finish it. She travelled the world as a model, but being a model was never her big dream...she always dreamed of being an actress and she saw modeling as a necessity to get her into the acting world. When she was a model, she dreamed of going to New York to model, but her agency told her that her portfolio was not strong enough to take that step yet. At first, she listened to them, but at one point she had enough of it and she decided to just do it. Rebecca made her way to New York (with only £250 in her pocket), to chase the American Dream and that dream was...to become an actress!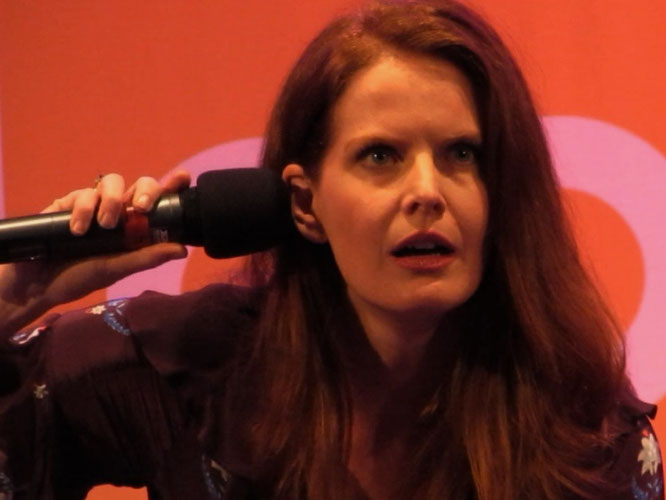 Rebecca did modeling jobs for big brands, like L'Oréal, Wella and Colgate. In the meantime, she kept on chasing acting roles. Her New York agency had a small acting department, where she started auditioning. In 2003 she got her first break, when she stepped into the world of soap operas: playing Morgan Gordan in "All My Children", Margaret Cochran in "One Life to Live" and in "The Guiding Light". In the years that followed, Rebecca made guest appearances in multiple TV shows. In 2006 she got a role as series regular in Fox' "Justice". With this role of Alden Tuller in her pocket, she could officially stop modelling and she was (in her own words) thrilled! The year 2006, got even better when she landed a role to play opposite Anne Hathaway and Meryl Streep in "The Devil Wears Prada" (as Jocelyn). Unfortunately, "Justice" was cancelled after just one season and Rebecca went back to auditioning. In 2008, she landed a role in the TV series "Lost" (as Dr. Charlotte Lewis). At that time "Lost" was one of the biggest shows on television, so this job was a big deal. Mader later stated that she really needed the role in "Lost. She was at a point in her career she almost wasn't able to live from it anymore, so getting it was a "drop-to-the-knees, burst-into-tears" moment. In 2012 Rebecca got a recurring role on "No Ordinary Family" and in 2013 she played in other shows like: "Fringe" and "Work It". She also made her stage debut in "The Third Date" at the Hollywood Fringe Festival. In December 2013 it was confirmed that Mader was going to play the role of Zelena in "Once Upon a Time", which she sees as one of the most fun roles she played. "Once Upon a Time" came to an end in 2018 and Rebecca lived happily ever after with her husband Marcus Kayne. In November 2019, she gave birth to their son Milo and in September 2021 the couple had their second child with a girl named Bailey....but we are more than sure that Rebecca's story hasn't come to an end just yet! If you have a chance to catch one of her panels at FACTS, be sure to go...she is hilarious!
Rebecca Mader will be at FACTS this Saturday and Sunday.
Photoshoot: €40
Autograph: €30
Selfies: €30
Combo Autograph & Selfie: €50
Q&A Saturday: 12.00-12.45
Q&A Sunday: 13.30-14.00
Covid measure: Plexiglass
Tomer Capon
Things are gonna get diabolical in Ghent! We are big fans of "The Boys" and we are so excited about this next guest. Not only does he have one of the main roles, he plays one of our favorite characters! We are talking about Frenchie and he is played by Israeli actor Tomer Capon!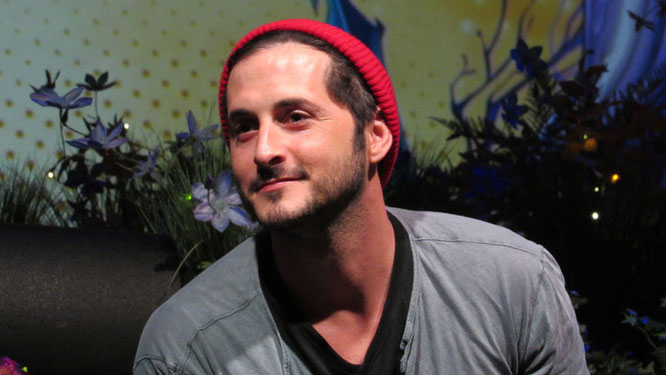 Tomer Kapon was born on the 15th of July 1986 in Holon, Israel and grew up in the city of Rishon LeZion. Tomer is the second born child of an Iraqi father and an Algerian mother. His parents were both business owners. According to Tomer he got his first acting job when he was no more than 8 years old, when he was trying to impress a girl in his class. The girl had gotten the role of a queen in a school play, so Tomer auditioned for the role of King. His plan worked, because he got the role and the girl...After he graduated from high school in 2004, Tomer was enlisted in the Israel Defense Forces (IDF). At first, he was a combat soldier and later on he was a squad commander at the Paratroopers brigade. About his time in the army Capon says that although it was a profound learning and growth experience, he wishes that there was no need for armies to exist.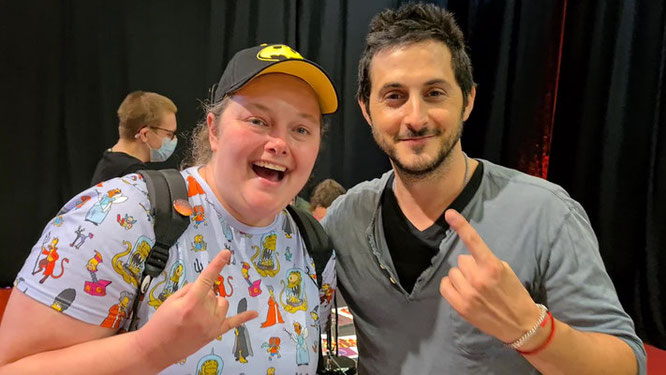 After his time in the army, he went on to live in Hativka Quarter in Tel Aviv. At the age of 25 he took a drama course with a friend. He attended the Yoram Loewenstein Performing Arts Studio for a year before he was kicked off. For a time he worked with horses, but in 2013 (at the age of 27) he made his acting debut in the show "Hostages" (original title: "Bnei Aruba"). He played the role of Guy from 2013-2016 in a total of 22 episodes. In 2015 he got a role in another Israeli TV show called "Fauda". The show gets a lot of critical acclaim, Tomer played the role of Boaz in season 1 of the show. Also in 2015, Tomer made his movie debut in the drama film "A Tale of Love and Darkness" (written by, produced by and starring Natalie Portman). He played the role of the Pioneer. In 2016, he landed his next role in a series called "Charlie Gulf One" (original title: "Taagad"), he played the role of Daniel for 40 episodes. He also played the role of stoner Zooler in the awarded Israeli movie "One Week and a Day" (original title: "Shavua Ve Yom"). From 2017 to 2018 he played Idan Perri in the daily drama series "Fullmoon". In "When Heroes Fly" (2018) he plays Aviv Danino, a soldier haunted by PTSD and he did a lot of research for this role. 2019 was the year of Tomer's international breakthrough when he landed the role of Frenchie in the Amazon Original series "The Boys" (which is currently filming the third season). In 2020-2021, Tomer also played the role of home tutor Moti Mor in the Israeli drama series "One on One"...
Tomer Capone will be at FACTS this Saturday and Sunday.
Photoshoot: €40
Autograph: €30
Selfies: €40
Q&A Saturday: 14.00-14.45
Q&A Sunday: 10.30-11.00
Covid measure: Plexiglass and no touching
Dante Basco
This next actor is mostly known for his role as Rufio in the movie "Hook", but you might also know his voice. His name is Dante Basco and he is coming to FACTS!
Dante R. Basco was born on 29 August 1975 in Pittsburg, California (United States). He was raised in different cities throughout California. He lived in Cerritos for a few years, before moving to Paramount. Performing was in Dante's blood, because in the eighties Dante was a B-Boy and he was part of the Street Freaks breakdancing crew. His break-dancer name was Poppin Fresh and later he changed it to D Fresh. During his early acting career Dante was attending the Orange County High School of the Arts and he graduated in 1993 from the Music and Theatre Conservatory. In the late eighties and early 90s, Dante had already played some roles in Tv shows and movies. In 1991, he played the role of Rufio in the Steven Spielberg movie "Hook" starring Robin Williams as Peter Pan. and Dustin Hoffman. Rufio was the leader of The Lost Boys and Dante got a lot of credits for his performance. Throughout the nineties Dante appeared as a side character in a lot of TV shows and movies like: "The Fresh Prince of Bel-Air", "Hangin' with Mr. Cooper". "Nash Bridges" and "Moesha".
In 2000, he played the role of Ben Mercado in the indie film "The Debut". What is special about this role is that he played alongside his siblings (three brothers and a sister). Dante and his brothers also starred together in the sitcom "Naked Brown Men". In 2006 he returned to his roots, when he played break-dancer Ramos in "Take the Lead" also starring Antonio Banderas. It was around 2005 that Dante discovered that he was quite a talented voice actor and over the years he built up an impressive resume, with voice roles in (among others): "Avatar: The Last Airbender" franchise (Prince Zuko), "American Dragon" franchise (as Jake Long) and "Star Wars Rebels"(as Jai Kell). He also kept on acting on screen, but at the moment he is mostly known as the voice behind Prince Zuko.
Dante Bosco will be at FACTS this Saturday and Sunday.
Photoshoot: €30
Autograph: €30
Selfies: €30
Voice recording: €50
Q&A Saturday: 15.00-15.45
Q&A Sunday: 11.30-12.00
Covid measure: Plexiglass 
Comic Artists
Besides these amazing actors and actresses, there are some amazing (comic) artists waiting for you in the Artist Alley. Among them are international artists, like:
Josef Rubinstein (The Infinity Gauntlet Saga)
William Simpson (Game of Thrones storyboard)
Dan Parent (Archie Comics)
Bill Morrison (The Simpsons)
Benelux artists, like:
Kenny Rubenis (Dating for Geeks)
Lectrr (Hara Kiwi)
Romano Molenaar (Storm)
And many more.
Besides all of this there are Cosplayers (Hartigan & Pretzl), a lot of merchandise at the geek market, a gaming hall, The Fan Village, Props and a lot of other great stuff to do!
Tickets are still available on the FACTS website. We will be at FACTS this Sunday...will we see you there?