When Comic Con Brussels announced Holly Marie Combs as a guest, we were sure! We HAD to go to Brussels. Liv and I both are HUGE Charmed fans. It's the first series I bought on DVD. As a teenager, I loved watching Charmed and I always watched it with my mother. Liv and I have already been luckily enough to have met Shannen Doherty (Prue Halliwell) and Brian Krause (Leo Wyatt). Meeting Holly as well, was definitely high on our wish list. We love Holly in the role of Piper as Charmed (especially together with Leo!). But we also love Holly in for example Pretty Little Liars (as Ella Montgomery). Same goes for me, it was one of the first shows I bought on DVD and before that I used to tape it everyday when it was on TV. We used to watch Charmed with the family and it is one of my favorite shows ever. Piper has always been my favorite Halliwell sister, although I loved them all. At that time I could never have imagined that I would be able to meet the actors of the show in real life. I was so happy that Holly was announced in Brussels. Last year she was announced at German Comic Con, but we were not able to go back then. But now Brussels Comic Con gave us a second chance!
Via twitter, Lisa has been trying for a while already to get Holly to the Netherlands. But she hasn't been announced for a Dutch con yet (unfortunately!). So we knew we had to grab this chance to meet Holy in Belgium. (Still hoping she will come to the Netherlands too though). 
3...2....1.... GO
Queuing for Comic Con Brussels was not fun! At all. And that is an understatement. It was a huge queue, so there was a long waiting time. And above all it was super chaotic. People were jumping the queue everywhere, leading to people like us, waiting for over 1,5 hour to get in. I hate it when people do that and I don't get it. I mean we are all there with the same goal and that is to have fun, but this was not funny at all. While we had been standing there for 1,5 hour in the cold wind, some people just walked past the queue when leaving the parking garage and they joined the queue at the entrance. But hey at least we don't have to be ashamed of ourselves. We were so happy when we finally got in! It was really, really crowded. We watched a little bit of Set Gilliam's panel (he was on stage when we entered the con) and then we went straight to Holly! Excited is an understatement. Liv and I both knew we wanted to get an autograph (I wanted to get one for my mom). So Liv and I started queuing (again). Luckily, this queue wasn't too bad and we didn't wait for too long before meeting Holly. WHOOP WHOOP. Finally, this was the moment. 
I wasn't nervous till that point. Up until then, we had been buy queuing, getting in the con, orienting. And then we were there. We saw here. There. was. Holly. For real! Of course the nerves kicked in! I brought my own picture to sign (one that Briand Krause had signed already) and told Holly about how I loved Charmed and that the autograph was for my mom. Holly was very kind and it was so amazing to see her in Brussels. I also told her about the Twitter account of Lisa and Holly responded that she had seen the Twitter account and that she would love to visit the Netherlands as well. 
Then I walked away, Liv was going to get her autograph as well. And then I realized I could still stand next to Liv and see Holly a bit more. So I turned around quickly and joined again :). Just like Carola I was nervous as hell, I mean it was Holly Marie Combs! She had been on our meeting wish list ever since we started going to comic cons and there she was! I was wearing one of my Charmed shirts and when Holly saw it she said she loved the shirt. Well, thank you Holly...I quite like it too. She was very nice and ofcourse I also told her about how we loved watching Charmed and how great it was meeting her. She must have heard that a million times already, but hey I was nervous...I think it's safe to say we were both impressed by Holly and it was definitely epic to see the actress who played Piper Halliwell. So many childhood memories. We were super excited (excited is definitely an understatement) that we got the autograph. And we still had a photo op to look forward too! Below you can see Liv's autograph.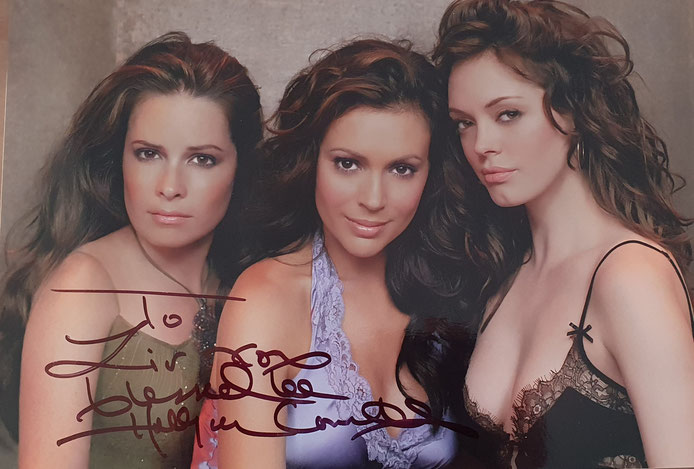 Yay! A photo op
Unfortunately Holly's Q&A was on Sunday and were only there on Saturday, so no Q&A for us (which is one of the many reasons we think Holly should come to the Netherlands). But we were glad that we still had the photo op to look forward to. We had bought the ticket for the photo op a few months earlier, when we decided to go to Comic Con Brussels...we really did not want to miss this opportunity. There was a huge queue for Holly's photo op, but we had a lot of fun during the queuing. We were very much excited (which is of course the understatement of the year) and you know how we get when we are excited. The closer we got to the photo booth the more nervous we got and finally it was our turn. When we walked up to Holly she recognized the shirt and mentioned again that she loved it. Have I already told you how nervous I was? Well, nerves make people do crazy things and when the picture was taken I thought it was a good idea to cheer...afterwards we laughed so hard about it. It was so cool to meet the lovely Holly Marie Combs and we hope to meet her again some time soon! Below you can see the photo op and for now 'Blessed be"!