Welcome to a new series of Conmose articles! WHOOP WHOOP. On one night, I was writing a 'Movies we watched this month' article when it suddenly hit me. We have quite some classic movies we love. We watch the movies, meet the actors, buy the merchandise, watch the documentaries and so much more! Well,we thought it is time to have a little talk about that and share our love for these movies! And not just that: let's start talking about these movies. Tell us about your love for the classics too. Tell us about the merch we haven't bought yet. The documentaries we can still watch... We want to hear it all hahaha. Today we're kicking off with 3 incredible movies... the Back to the Future movies!! 
What does Back to the Future mean to us
Carola: What is Back to the Future to me? Well, I am asking myself really tough questions today hahaha. The movies mean a lot. When I think of Back to the Future, I think of time traveling, hover boards, the sports almanac, a time machine and way more! And of course Michael J. Fox, Christopher Lloyd and Lea Thompson. 
 I have always loved the movies. Instantly. Back to the Future has a great and unique story and an amazing cast. I love the actors & the characters. Time traveling is a great subject for a movie, if you do it well. And it's done very well! When I think of time traveling, I think of Back to the Future. For me this is THE time traveling movie. I love to see how they thought the future would look like (and they way it actually looks now).
 Ohh I wish some things from BTTF were real hahaha. It's just such a great journey to do with Marty and Doc! It feels a bit like traveling with them. Not just having a big adventure, but also have a look at the past, present and future. Besides just enjoying the movies, it also makes me think about the concept of time. And about the future, the past and the way time determines choices sometimes.  
Liv: I couldn't agree more! I have watched the movies numerous times and they never get boring. When I was younger, we used to watch these movies with the family and I never stopped watching. Why is it that the movies never get boring? I guess the answer to that is the fact that it's one big adventure (like Carola said). The story sucks you in instantly and at the moment the end credits start, you get out of this roller coaster of fun, action and adventure!
Michael J Fox is awesome as the main character Marty McFly and I could not imagine that anyone else could have done the job better. Also the chemistry with Christopher Lloyd (as Doctor Emmett Brown) is gold! But the rest of the cast is amazing too, especially Thomas F. Wilson as Biff. When I was younger, I hated the character, but now I also look at the acting and Wilson does an amazing job.
I love the humor in the Back to the Future movies and especially the way they bring back certain things from previous movies. For example: the way they keep coming back the bad luck the Tannen family has when it comes to manure. 
The Back to the Future movies are among my favorites, they are timeless and true classics!
Watching Back to the Future
Carola: I have seen the Back to the Future several times. On DVD, but luckily in the cinema as well. A few years ago (October 21st, 2015) there was a marathon in the cinema. Liv and I went to see it and it was great! There was a DeLorean time machine, we loved that! We made some pictures and watched the trilogy n the cinema. Definitely a day to remember. Seeing them all in 1 evening, on the big screen and together with Liv...that's awesomeness. And yes, excited is an understatement!
I have also watched the movies several times on DVD over the years. As for the DVD I own the 4 disc collector's set. It contains the three movies, but also a lot of extra's. Like the making of Back to the Future, deletes scenes, cinema trailers and way more. And when I'm now writing this, I can't wait to look at all these extra's again. I love it! This edition also includes a bonus disc with for example an interview with Michael J. Fox, the secrets of the Back to the Future trilogy, storyboards and more. A great edition to have in my collection. 
Liv:  I have this exact same box and another DVD from the first movie. It has different extras, so I kept it. We also both have the Back to the Future documentary, called "Back in Time" on DVD, but more about that one later. As I already mentioned, I have watched the movie numerous times on television, VHS and DVD. The Back to the Future marathon Carola mentioned was amazing. It was so cool to watch the movies on that day (October 21st, 2015). For those of you that don't know, this is the date Marty and Doc traveled to in Back to the Future II. You might wonder why the makers have chosen that date? Well, on that day the Cubs could win the World Series (theoretically). Bob Gale (co-writer of the  movie) said they were thinking about what would be the most absurd think for someone to bet on. That's when the idea of The Cubs winning the World Series came up. Back in 1988 (when the movie was written), there was only one set of play offs. So they started calculating and came to October 21st as a date that the Cubs could possibly win the World Series in 2015...Anyhow, like I said it was awesome to watch the movies together in the cinema. There was even a DeLorean in the concessions area!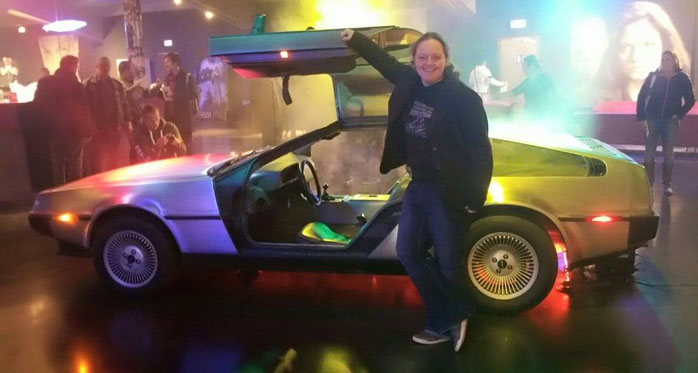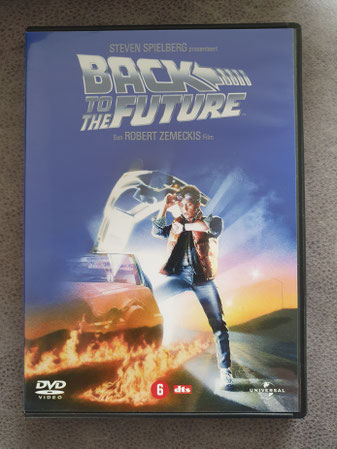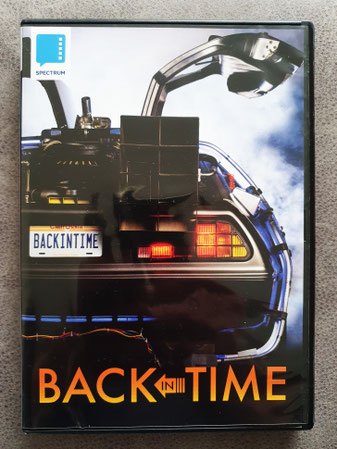 Meeting Christopher Lloyd
Carola: We love Back to the Future, and we're so happy that we already got the chance to meet Doc Brown himself, Christopher Lloyd at Comic Con! Of course we would love to meet other cast members too. Meeting Christopher was  epic! We met him at FACTS convention in Belgium. AT FACTS, there was a huge queue for Christopher Lloyd when he was signing autographs. It was absolutely great to see all these "Back to the Future" fans and the things they brought  to get signed. Christopher Lloyd was sitting there all day chatting with people, signing all the items. We had a photo op planned with him, so we decided not to queue for an autograph since we only had one day at FACTS.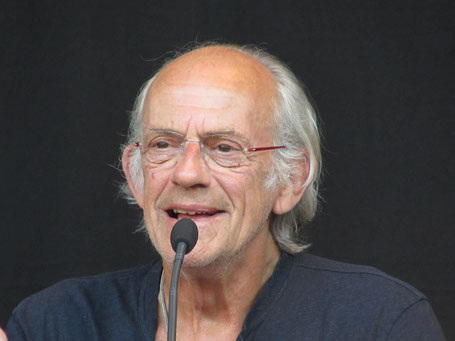 Meeting Christopher Lloyd was awesome! He was very kind, greeted us and we took the picture. And I'm very glad we did. Such an epic moment, which makes the trilogy even more special to us. Want to read all about us meeting Christopher Lloyd? Check out the article about the meeting. 
Liv: Oh yeah, that was one awesome day! It was our third comic con ever and to meet one of the most iconic actors of one of our favorite movie franchises was amazing! We also met Ernie Hudson that day, who plays in another classic franchise ("Ghostbusters") and also one of our favorites. I remember sitting in the panel room at FACTS and I couldn't believe I was in the same room as the man behind Dr. Emmett Brown....Great Scott!
Meeting Elijah Wood
Carola: You might wonder why we're talking about Elijah Wood in an article about Back to the Future... Well, not everyone is aware that Elijah had a role in Back to the Future II, oh yeah! It was actually his acting debut. He played the role of a video game boy. Okay, it's not a major role, but still. He did play in a Back to the Future movie! Want to know all about how it was to meet Elijah (we met him 3 times!)? Read our article about meeting Elijah Wood! 
Liv: Oh hell yeah, we take every chance we get to brag about the fact that you met Elijah Wood! It really is a minor role, but hey that is a minor detail. Elijah is an amazing actor and a really nice guy!
Claudia Wells and James Tolkan
Carola: And we met more people from Back to the Future! We're so happy. We also saw Claudia Wells an James Tolkan at Comic Con. Claudia Wells played the role of Jennifer Parker in Back to the Future. We saw her at Dutch Comic Con 2015. James Tolkan played the role of Mr. Strickland in Back to the Future! 
Liv: When we were at Dutch Comic Con 2015, it was the Back to the Future year (the year Marty and Doc travel to in Back to the Future II and the year the first film had its 30th anniversary), so Dutch Comic Con had two Back to the Future guests. When we were making our way outside on Sunday, we caught a glimpse of a special group photo, with Claudia Wells and some of the other guests all wearing a special "Save The Clock Tower" shirt.  Can you spot Claudia Wells, Julian Glover, Spencer Wilding, Marnix van den Broeke, Christopher Atkins and Mark Ryan?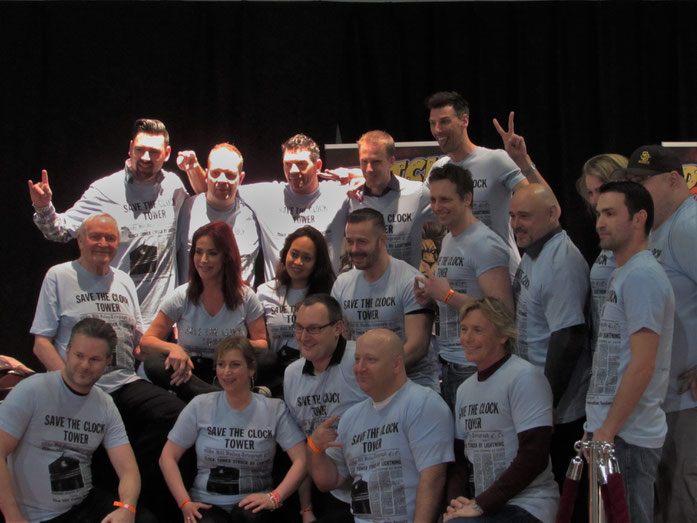 Last February, we went to Comic Con Brussels and since this year it's the 35th anniversary of the movie, James Tolkan and Claudia Wells were also a guest in Brussels. Unfortunately we haven't spotted them in Brussels. We were only there for the day and we had a tight schedule. Just a thought: Michael J. Fox at a 40th anniversary??? Haha.
Back in Time
Carola: I LOVE Back to the Future. I really, really do! I love all 3 of the movies. And since I have watched the movies a couples of times already, I'm always looking for more haha. I was looking around for DVDs to buy (I bought so many lately, lol) and then I stumbled on this one. I was so excited! I didn't even know this documentary existed. And at that point, I wasn't even looking for something Back to the Future related specifically. 
The documentary discusses a lot: from the making of the movie and struggles that were there, the actors, the fandom, the DeLorean time machine and way more! I won't go into detail: Just have fun watching the documentary yourself. I definitely heard some things about the movies that I didn't know.  So it was a big success for me and I'm so happy I bought the DVD. 
Liv: When Carola mentioned this one to me, I knew I had to have it, so I also ordered it. This documentary film is directed by Jason Aron and it features a lot of the cast members. Besides this Zemeckis, Gale and Spielberg talk about the franchise. It covers all of the aspects of these classic movies!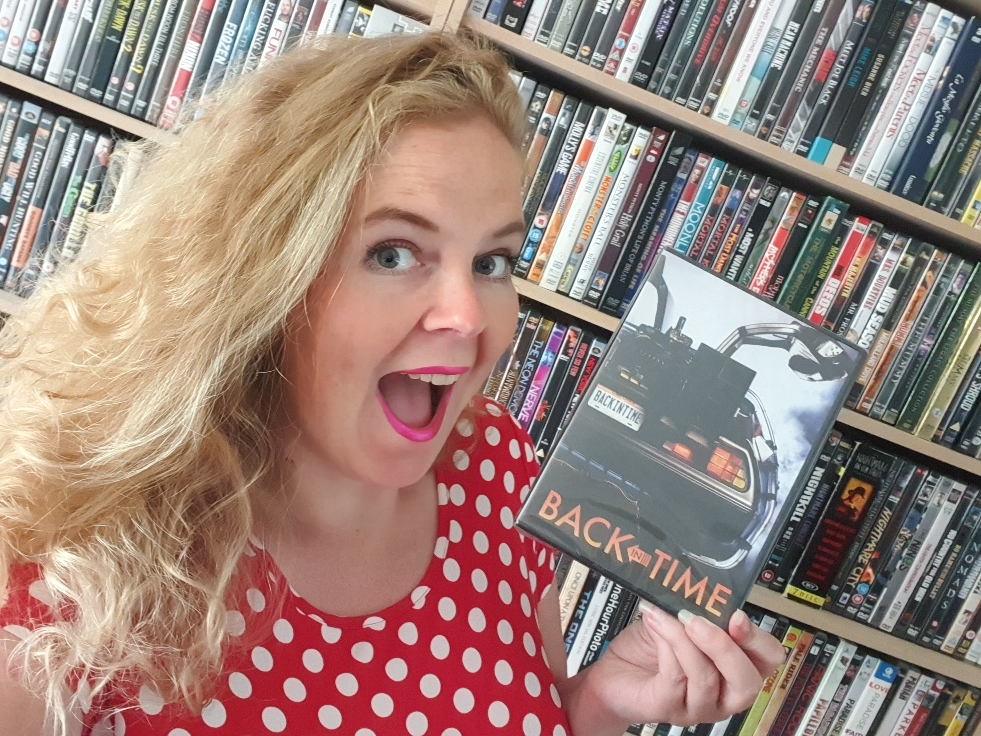 The merch
Let's also talk a little bit about Back to the Future merch. I know there is a lot! I mean, in the documentary I learned that some people build their own DeLorean (How cool is that?). The merch I have a *slightly* smaller hahahah. But nevertheless, things I'm really excited about :). Of course I have the DVD's and the documentary like mentioned above. But that's not it. 
In the living room, I have OUTATIME license plate and I love it. I was thrilled to see this item in the BAM box a few years ago.  This incredible "OUTATIME" full-size prop is replica license plate. Not every BAM box contained this item. You would either get this one, or receive the bar code full-size prop replica license plate from "Back to the Future". Both are great, though I'm really happy I received this one.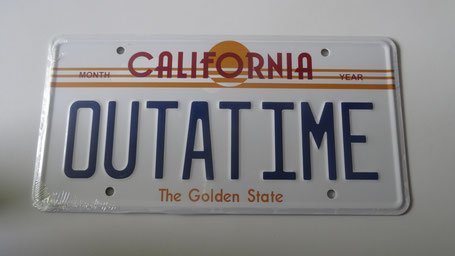 Recently, I bought a mug and t-shirt of Back to the Future. So excited about that! Love it. Just take a look at the photo to see it. It's a DeLorean shirt, I am wearing it so often hahahaha
Liv: Oh yes! The merch.... I have a lot of Back to the Future merchandise and it's nearly impossible to show it all (especially the shirts), but get ready for some very cool items!
First of all...the shirts!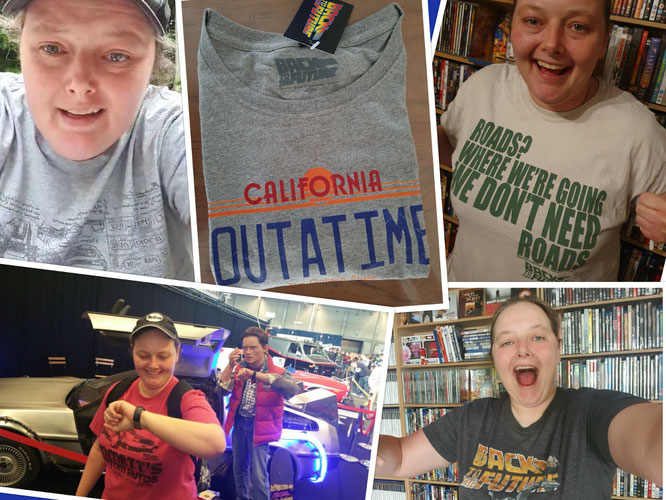 These are some of my Back to the Future shirts. I don't know for sure where I bought them all, but the "Roads?" shirt (the picture where I look like I just came out of an egg) I bought at Universal Studios in Los Angeles. When I saw it, I just had to have it! The "Outatime" shirt I bought at Zavvi as part of a bundle, with a mug (which you can see below).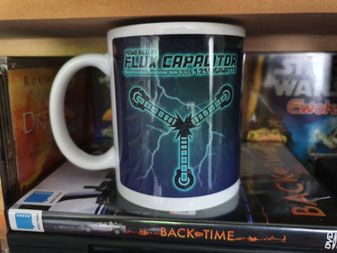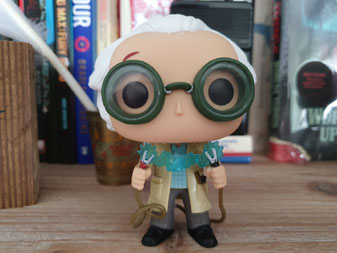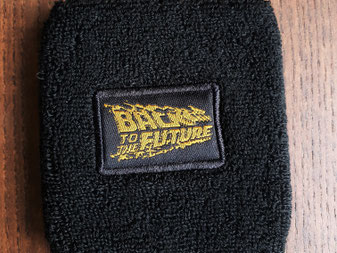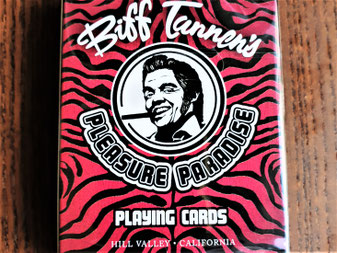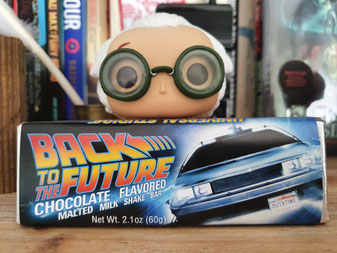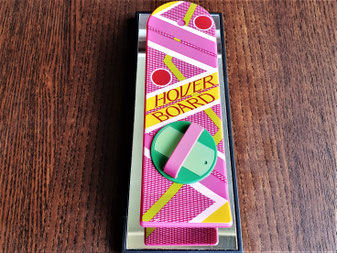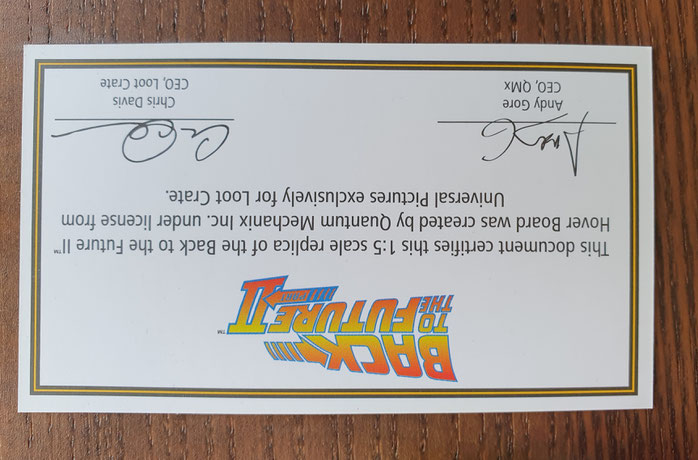 And this is some of the other Back to the Future merchandise I have. A Zavvi Flux Capacitor mug, a Doc Brown Funko! (one of the few Funko's I own), a BTTF sweatband, the Biff playing cards, a BTTF chocolate bar (boght in Universal Studios in Los Angeles) and a 1:5 scale replica of Marty's Hover Board (by Quantum Mechanix Inc. and Lootcrate).
Back to the Future props
Okay, so we might now own a DeLorean... We have seen a DeLorean a few times. Often at comic cons, we get to see the car and take pictures. But also that time we watched the movie in the cinema, there was a DoLorean there! Here, just a few pictures we took over the years.