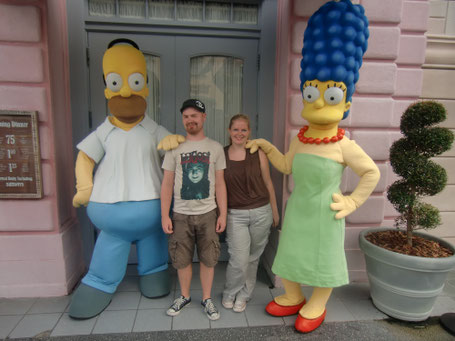 In 2014, Sig and I went on holiday to Florida. It was a great trip! We traveled around and visited multiple cities. We started in Miami Beach and traveled to Titusville (Because the Kennedy Space Centre is located near), followed by Orlando, Fort Myers and Key West. It was a trip to never forget! 
A while ago, I already wrote about our experience at Halloween Horror Nights at Universal Studios. That was great, but mainly focused on the Halloween Haunted Houses. So we decided to go to Universal Studios two days later, to check out the theme park in daylight! We chose to visit Universal Studios Florida (there are different Universal Studios theme parks). 
When we entered the park, I wanted to get an express pass at first. Because at Halloween Horror Nights, we experienced very long waiting times (Because of that we weren't able to do all haunted houses). But we decided to walk around for a bit first to check out if was just as busy. And we were lucky it wasn't! We didn't need an express pass and we were able to almost all the attractions! And, as you can see, we also had time enough to go on a picture with Marge and Homer. How cool i that? 
Universal Studios Orlando - The Park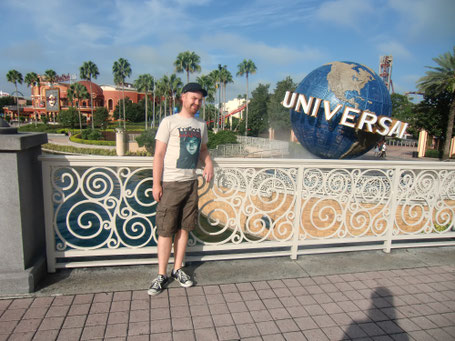 We were thrilled to arrive at Universal Studios! I really like how the park looks. It's very spacious. And like I said, we were lucky to visit on a relatively quiet day. There were almost no queues. (We didn't have to wait longer than 15 minutes!). The park looks beautiful. And for film lovers like us, there's so much to see! I loved all the references to movies and all the rides. I could spend a few days there and not get bored. I just love looking around. It was great that were characters you could take a picture with. It wasn't just the Simpsons. We also saw Sponge Bob, Popeye, Marylin Monroe, Dora, Scooby Doo and more! And there was a specific place for horror as well. There are 2 things I'm always excited to find: Stormtroopers and a Child's Play doll/ reference.  And I found a Chucky! Made my day haha.  The park has the complete package: It's spacious, there are nice rides, enough places to eat, many movie related items, many possibilities for pictures and great shows! 
Universal Studios Orlando - The Rides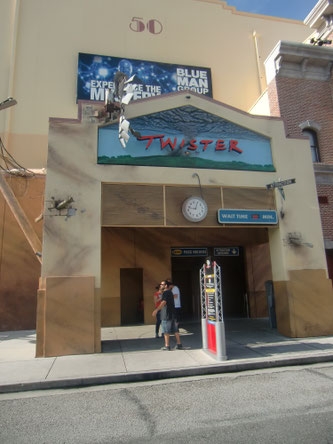 The rides were great! We enjoyed it a lot. We started with the Twister ride, since I'm a big fan of the movie. I saw the movie when I was a lot younger. I was really intrigued by tornado's after seeing the movie! The ride was.. Okay. Haha, I thought it was fun. But nowhere near scary. Or real. It was just fun to see. The ride I loved the most was The Simpsons Ride. I won't tell too much about it.. Try it out and be surprised. We had a lot of fun! It's not scary, it's very cool! I have to admit that we really like the Simpsons, so we were a bit biased. But I'm sure you'll like it as well. 
The Transformers ride was also very nice. I haven't watched Transformers. But the ride was a lot fun, even if you haven't seen the movie. I didn't feel the same for the ride of the Terminator. Back then, I hadn't seen any of the Terminator movies. And I didn't really get the complete ride.
The ride E.T. adventure was great! Well, who hasn't seen the movie? I loved doing the ride and it was fun. The same goes for the ride of Despicable Me.  We had a lot of fun doing all these rides. I was happy that the queues weren't too long. We tried out everything we wanted and it was great to see all the rides. I like that the rides are related movies.
Universal Studios Orlando- The shows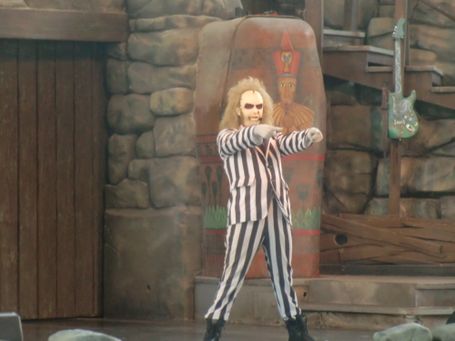 Sig and I also decided to check some of the shows. The first one we watched was a show with Beetlejuice, Frankenstein, Dracula and more. Sounded like some awesome horror character would take part. So we definitely wanted to see this. It turned out to be completely something different from what we expected hahahaha. It was a dance show. I thought I would see a scary Dracula or Frankenstein. But they were dancing and singing! It was SO strange to see. I've seen so many horror movies. But seeing these character singing and dancing happily was so weird. And I will never forget it! 
We also decided to attend a horror make-up show. That was interesting to see. But also had a large humorist side. They would pick people from the audience to do assignments. Ooooh I'm so glad they didn't pick me. He would say: 'I'm going to pick someone from the audience'. And then you'd see everyone duck. But then he said: 'I like picking someone who doesn't want to be picked. So if you duck right now, I will definitely pick you. And then you saw everyone getting up again. Looking like: 'Pick me', but don't really pick me. I just don't want to look like someone who doesn't want to be picked. That was quite the strategical show! If I learned something, it was that they LOVE engaging people in the shows. I'm not used to that at all. So it made me freak out a couple of times. But I enjoyed watching the shows! 
Picture time - Universal Studios Orlando!
To end this post, I'll share a few more pictures with you! We enjoyed our visit to the park a lot! Great rides, nice shows. And being in an environment with movies everywhere just made me really happy. My favorite part was Springfield. There were so many Simpsons things to take a picture with! I'd love to go again to one of the Universal Studio Parks. Have you ever been there? What were your thoughts? Well.. Enjoy the rest of the pictures!