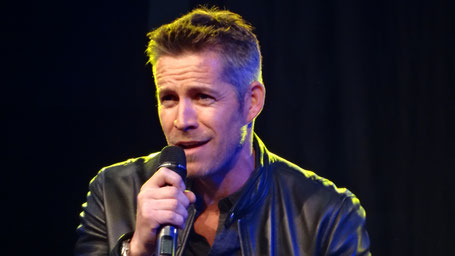 Ooooooh Yeah! We are gong to Dutch Comic Con 2017. And we can't wait. One of the guests is Sean Maguire. And because it's Dutch Comic Con Week, we decided to write about Sean today.  
I got to now Sean because he plays Robin Hood in Once Upon A Time. I started watching the series last year. And when Dutch Comic Con announced him, I didn't know him as Robin Hood yet.  He doesn't play in the first seasons. But of course I kept watching Once Upon A Time and suddenly there he was: Robin Hood! I loved the story line and became more and more excited that I would be able to see him at Dutch Comic Con. Now I'm up to date with OUAT (As far as Netflix allows me). And I can't wait for Dutch Comic Con! 
Once Upon a Time - Robin Hood
I'll start talking about his role as Robin Hood. Sean has done a lot of other things. But I got to know him as Robin Hood. Once Upon A Time is a TV series about fairy tales. I found the series on Netflix and just thought, well let's give it a try. I was a bit afraid that I wouldn't like it. I usually don't like to watch fairy tale kind of movies or series. But because some people recommended the series to me, I decided to start watching. At the very beginning of the series, we see Emma, a woman of 28 years old. One day a kid is in her house and claims to be her child. She drives him home. He lives in a small town called Storybrooke. Her goal is to bring him home and return to her home as quick as possible. But it doesn't turn out like that. Emma sticks around in Storybrooke for a while. Her child, Henry, claims that everyone in the town is actually a fairy tale character. All of them have been transported to the real world by a curse. None of them can remember who they really are. And Henry tells Emma she's the only one who can save them. She's the daughter of Snow White and Prince Charming. And Henry's adoptive mom is the Evil Queen..
As from season 3 we get to meet Robin Hood! The big question is: Is he really the true love of the Evil Queen? I love the plot and the way characters come together in Once Upon A Time. It's so much fun to watch! In general I love the relation between the 'real people' and the fairy tale characters. And it was lovely to see the character traits of the fairy tale characters in the 'real people'. I also think the story line with Henry's moms is very well done. Regina/ the Evil Queen is such an interesting character!
Sean Maguire - acting
Sean hasn't just played Robin Hood. Even though he had played Robin Hood before (in Once Upon A Time in Wonderland) and he also played Prince Charming in the movie Prince Charming. 
But, Sean has played in a lot of TV series as well. Just take a look here: 
Scott & Bailey (as Sean McCartney)
The Class (as Kyle Lendo) 
Eve (as Donovan Brink) 
Off Centre (as Euan Pierce)
Dangerfield (as Marty Dangerfield)
Eastenders (as Aidan)
Dodgem (as Simon Leighton)
Grange Hill ('Tegs' Radcliffe)
Let us know in the comments: How do you know Sean Maguire? 
Sean Maguire - singing career
I was surprised to find out that Sean has had a singing career as well! He made several hits. I have to admit that I'm not familiar with his music. But I made sure to listen to some songs today.  
If you want to know more about his singing career, you might want to check out some of the songs I listened as well: 
Someone to love
Take this time
Don't pull your love
Today's the day
More about Sean Maguire
Sea Maguire also id some stage work: Romeo and Juliet, Loot and Funny About Love. Sean is married to Tanya Flynn since October 2012. Together, they have a son called Flynn Patrick