Oh yeah! The conventions season has started again! We will have a busy agenda the upcoming weeks. Of course we'd like to share our plans with you already. We have, at this moment, planned to go to 4 comic cons: Dutch Comic Con, FACTS, Weekend of Hell and Bloody Night Con! Well, let's talk conventions! 
Dutch Comic Con 2017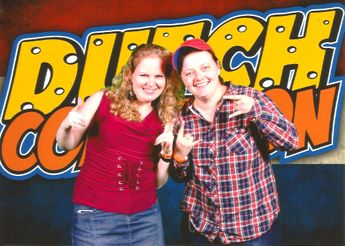 First one up is Dutch Comic Con in Utrecht. We've already attended this convention multiple times, so we know what to expect. We are attendig DCC next Sunday. As you might have read in our earlier article, DCC has an amazing guestlist...again! At that time DCC already announced Lennie James, Sean Maguire and Gates McFadden..to name a few.But in the last couple of weeks they announced two more amazing guests, being: Dirk Benedict and Alexander Ludwig. When they announced Dirk Benedict I was jumping from joy. Benedict plays Templeton "Face" Peck in one of the greatest series of all time: The A Team. You may also know him as Starbuck in Battlestar Galactica. And then there is Alexander Ludwig, he is mostly known for his role in the immensly popular series Vikings, but you may also know him from movies like: The Hunger Games, The Lone Survivor and Grown Ups 2.
I've already been preparing for DCC by watching Battlestar Galactica, The Lone Survivor and Grown Ups 2. And by re-watching The Hunger Games. On my watch list for the upcoming week are: Snatch (I can keep re-watching that one), Star Trek: First Contact, Swelter, Meet the Spartans, Once upon a Time (although it is impossible to go through multiple seasons in a week) and maybe some more. I love the Ace Ventura movies, so I'll probably re-watch When Nature Calls (Ian McNeice), when and if I find the time for it. Yesterday I already bought my photo op ticket for Dirk Benedict and I definitely also want to do something with James and Ludwig (autograph or Photo).
I'm so excited we're going to Dutch Comic Con!! I really can't wait. Next week on Sunday We'll be there. I'm really happy with the guestlist. Though I'm still doubting what to do. I really love it that Sean Maguire (Robin Hood, Once Upon A Time) and Lennie James (The Walking Dead) are attending DCC. I think I'll get an autograph from Lennie. Because his photo op is at the same time as Sean's Q&A. And I don't want to miss the Q&A! I do think I'll buy a photo op for Sean. A photo would be just great! So.. Maybe a photo op with Sean and an autograph from Lennie? What do you guys think? Anything else? 
Oh, and of course I'll check out the merch. It will be awesome. Maybe I an buy a new t-shirt. And Liv an I will definitely check out Dutch Garrison, Jurassic Park Netherlands and Dutch Ghosbusters Division. See you there? 
FACTS - Spring Edition 2017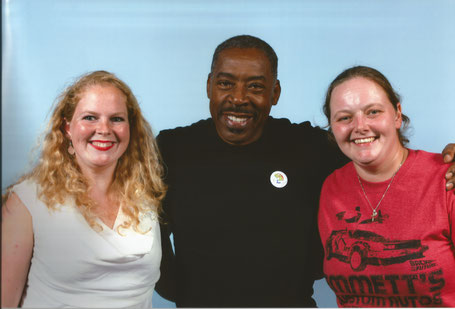 A week after DCC we are going to FACTS - Spring Edition 2017. And that weekend is gonna drain my bank account! We've already told you about their fantastic guestlist and there are a lot of things I want to do this weekend. I definitely want something with Kristian Nairn, Ben McKenzie and Nathan Fillion. And although the prices of the photos and autographs haven't been published yet, that's gonna cost us. What is great about the photo shoots at FACTS is that you can have more people on one ticket.  
FACTS has some awesome guests this year. I'm really really excited. And it's going to be so hard to pick with whom I want to do a photo op an / or get an autograph. I like a lot of the actors they invited. It will depend on the prices how much I can do haha. I think Liv & I will do some photo ops together. That we, we can do more! I'd love a photo op with Ben McKenzie, Nathan Fillion and Kristian Nairn. And maybe an autograph of Morena Baccarin. So many great guests, so little time! We'll be there just 1 day (Saturday). And of course I'love to do 3 photo ops, 4 Q&A's, some autographs and well also see a bit of the rest of the convention: The merch, the props, the cosplay. And on and on.. Did I mention we only have one day?  ONE DAY! I just can't wait!
Weekend of Hell April 2017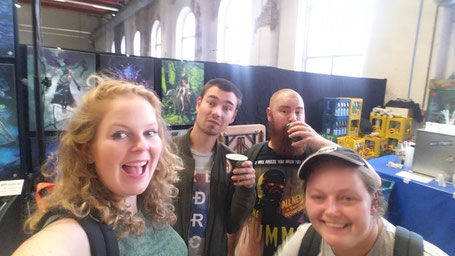 Third one in the row is Weekend of Hell, which will take place the weekend after FACTS (yes it's gonna be a wild couple of weeks). Weekend of Hell has got one guest in particular we are very excited about. It's someone we already met once, but  we would love to meet him again. Seth Gilliam is coming to Weekend of Hell and I definitely want a photo op with him (we already have an autograph). I also want to do something with Linda Blair, because The Exorcist is one of my favorite horror movies. So it would be legendary to meet her. I always find myself to be very impulsive during Weekend of Hell, so I can't really say what more I will do.
Weekend of Hell s always a big party! I have such great memories from other years. So we decided to attend WOH for the full weekend. I'm very glad that they announced Seth Gilliam. We already met him at DCC last year and he's such a great guy. They have a great guestlists again, if you're into horror movies. An I love it. Great to meet Linda Blair there. And I saw that quite some actors/ actresses from the Humand Centipede Movies will be attending WOH. I still have to watch quite some movies to prepare for WOH. To make sure I've just seen some extra things of the actors. It will be so much fun!  
Bloody Night Con May 2017
Bloody night con will be the second convention we attend from KLZ Events. Last year, we attended Arccon and we loved it. I really love watching The Originals and Bloody Night Con. So attending Bloody Night Con was an easy decision. Liv and I will attend the con the whole weekend (Saturday and Sunday). We love the guests: Ian Somerhalder, Michael Malarkey, Nate Buzolic, Claire Holt and Daniel Gillies! Amazing list isn't it? I already bought a photo op with Ian and Claire and an autograph of Ian as well.
Want to know more? Check out our vlog below! The next part of our vlog will follow soon!  
*** KLZ Events just announced Kat Graham as a guest for Bloody Night Con as well! We are sooooo excited! I bought a photo op and autograph immediately.