It's no secret that we love the Walking Dead :). We like watching it and I totally love meeting actors that play in "The Walking Dead". And what I also love is talking about "The Walking Dead": With friends, family, colleagues and via Conmose of course! 
Since we're doing some challenges lately (Like the Movie Tagline Quiz), we made a separate page on Conmose for challenges and quizzes! Today we made a challenge for you about the Walking Dead! Check out your knowledge about the series, about the actors and about the things we wrote about "The Walking Dead"! Let us know in the comments what you thought of the challenge and if it was easy or not. We'll might make another one soon! If you want a challenge or quiz about another series, let us know! 
And... Do you want to challenge us? Let us know in this post: Conmose needs you!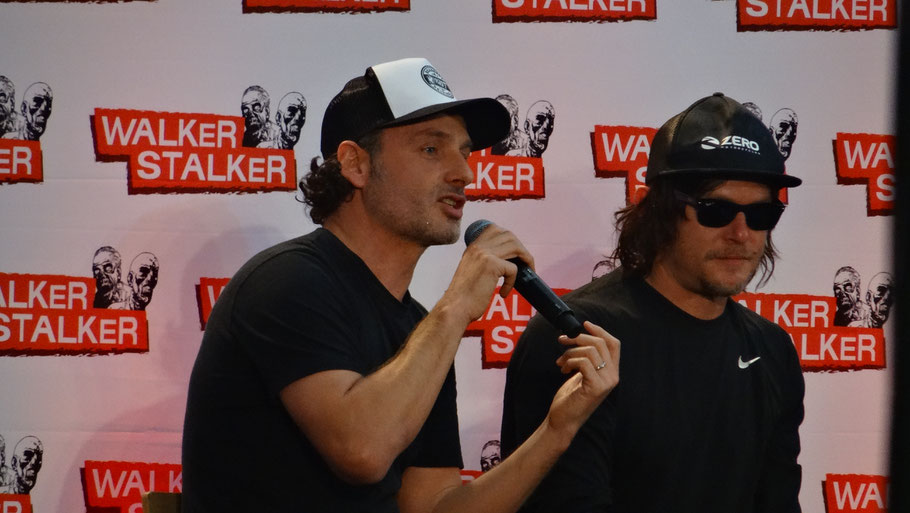 The Walking Dead
1. Who said: "Just Look at the Flowers"? 
A. Beth
B. Daryl
C. Carol
D. Morgan
2. Who was Sasha's brother? 
A. Tyreese
B. Bob
C. T-Dog
D. She didn't have a brother
3. Who said: "Anger makes you stupid. Stupid gets you killed."
A. Judith
B. Abraham
C. Lori
D. Michonne
4. What was Hershel's profession before the apocalypse? 
A. Surgeon
B. Veterinarian 
C. Salesman
D. Farmer
The actors of the Walking Dead
5. Father Gabriel is played by actor Seth Gilliam. In which series did he play the role of Ellis Carver? 
A. Gilmore Girls
B. Revenge
C. Sons of Anarchy
D. The Wire
6. Sonequa Martin Green is married to a guy who plays a small role in the Walking Dead. What is his name? 
A. Kenric Green
B. Michael Green
C. Andrew Lincoln
D. Sean Martin
7. Who played the role of Lori? 
A. Laurie Holden
B. Angelina Jolie
C. Sarah Wayne Callies
D. Sarah Michelle Gellar
8. Which actor, who played Axel in the Walking Dead, recently starred in Rob Zombie's '31'? 
A. Rob Zombie himself
B. Pancho Moler
C. Lew Temple
D. Jose Pablo Cantillo
Conmose and the Walking Dead
9. Who has the softest vest EVER? 
A. Seth Gilliam
B. Michael Cudlitz
C. Melissa McBride
D. Chandler Riggs
10. About which series did I ask a question when I met Seth Gilliam (Father Gabriel)
A. The Walking Dead
B. Oz
C. The Wire
D. Gilmore Girls
11. At Walker Stalker Con, Chandler Riggs was out of photos to sign at the end of the day. What did he do? 
A. Go home
B. Sign on pieces of paper
C. Take pictures with people
D. Just sit there
12. The photo ops for Melissa McBride were sold out for Walker Stalker. How did we manage to still get a ticket? 
A. Send lots of e-mails to Walker Stalker Con
B. Buy a ticket from someone else via facebook
C. Steven Yeun cancelled and we could ask for a photo op of Melissa instead
D. We sneaked in without a ticket and got the photo op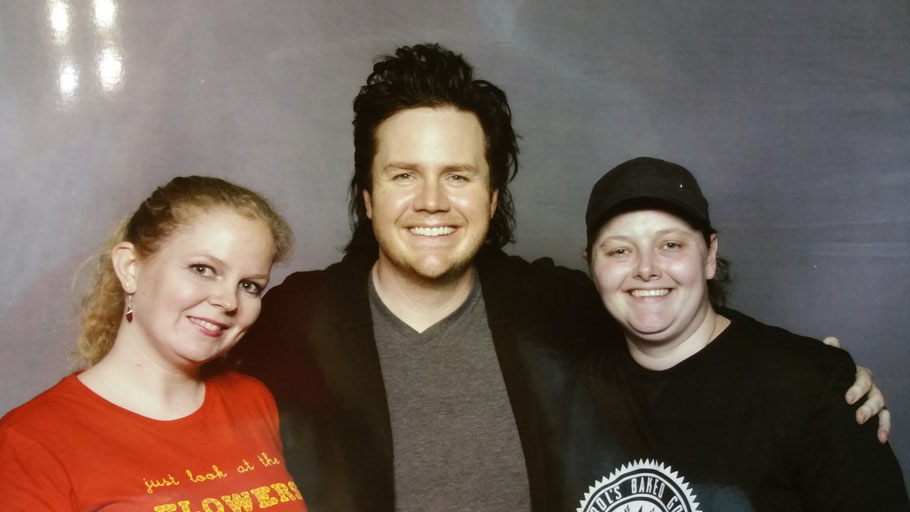 Answers