November 2nd and 3rd it's time for Weekend of Hell! We visited Weekend of Hell earlier this year for the Spring edition. (Check out our overview article).  Since it's almost November, it's about time we take a look at what Weekend of Hell has to offer this time!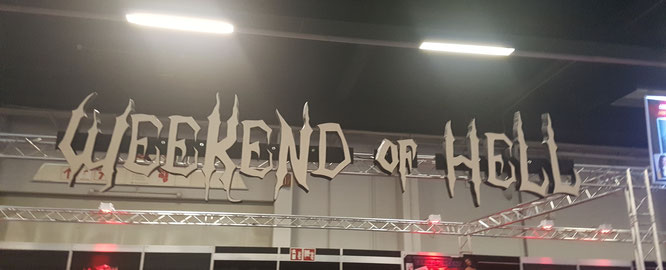 Weekend of Hell
Weekend of Hell describes itself as the ultimate fan event for fans of horror, movies, TV series and entertainment.  We always love visiting Weekend of Hell because there's so much to do! You can get an autograph or photo with your favorite horror actor or director (More about the guest list below in this article!). There are Q&A panels, free film screenings, you can buy lots of merch and movies, see fan movies, attend workshops, have a picture with the cosplay groups and much more! We can't wait, how about you? 
The guests at Weekend of Hell
Weekend of Hell has quite an extensive guest list again. They have announced the following names: 
Danny Trejo: Danny is well known for the Machete movies, From Dusk Till Dawn, Once Upon A Time in Mexico and way more! You might have also seen him recently in the new Rob Zombie movie, 3 From Hell! 
Michael Rooker: Michael is well known for his role as Merle Dixon in the Walking Dead. You might have also seen him as Yondu Udonta in Guardians of the Galaxy and way more!  
Sarah Butler: We have seen Sarah Butler at Weekend of Hell before. She's so nice! We know her for her role as Jennifer Hills in the I Spit On Your Grave movies.  
Dennis O'Hare: Dennis O'Hare is also one of the guests at Weekend of Hell, well know for his role in American Horror Story! 
Dee Wallace - Stone: This week. I watched the new Rob Zombie move, Three for Hell and saw Dee Wallace Stone in this movie as Greta. Dee is also known for her roles in Critters, Cujo, E.T. and much more! 
Scout Taylor- Compton: Scout Taylor-Compton played Laurie Strode in the horror films Halloween (2007) and Halloween II (2009). You might have also seen her as Lita Ford in the film The Runaways (2010).
Brad Loree: Brad played Michael Myers in Halloween: Resurrection.
Lance Henriksen: We have met Lance before, he is such a kind man! He mainly plays in science fiction, action and horror movies. In the "Alien" movie franchise, Lance plays the role of Bishop. 
Kristanna Loken: You might know Kristanna for her roles in Terminator 3: Rise of the Machines, Bounty Killer, The L Word, Burn Notice and more!  
Richard Burgi: When I hear Richard Burgi, I think of Desperate Housewives! There, he plays the role of Karl Mayer. Besides in Desperate Housewives here's a few examples of movies you might know him for: The Green Inferno, Hostel part II, Cellular. 
Eythor Gudjonsson: Eythor played in the movie Hostel! 
Jana Kaderabkova: Weekend of Hell has quite some guests that have played in the movie Hostel, Jana played the role of Svetlana in this movie. 
Barbara Nedeljakova: Also Barbara is known for her role in the movie Hostel. She plays Natalya. 
Zach Galligan: Zach is known for the Gremlins and Hatchet III. I love the Gremlins movies and I'm super excited to see Zach at Weekend of Hell! 
Giovanni Lombardi Radice: Giovanni is known for quite some Italian horror films. A few of the movies he stars in: Cannibal Apocalypse, City of the Living Dead, Cannibal Ferox. 
Ken Kirzinger: Ken played the role of Jason Voorhees in Freddy vs Jason! 
Ari Lehman: Ari Lehman was the first Jason Voorhees! He played Jason in the first movie: Friday the 13th. 
Jeannine Taylor: Here's another guest well know for her role in Friday the 13th. Jeannine played the role of Marcie. 
Ron Milkie: Ron is also known for Friday the 13th, he played Officer Dorf. Ron is also known for New Jack City, Grand Isle and more. 
Robbi Morgan: To continue with the Friday the 13th guests: Robbi played the role of Annie in this movie. 
Harry Mafredini: Harry is a composer, well known for the Friday the 13th movies! 
Scott Reiniger, Gaylen Ross, David Crawford, Leonard A. Lies, Mike Christopher, Bob Michelucci: Yeah! Weekend of Hell has also invited 6 guests from Dawn of the Dead! How awesome is that. I can't wait to see them all. 
See you there?
We're super excited about Weekend of Hell! There's a great guest lists, awesome exhibitors and of course lots of fun visitors. Will we see you there next weekend?