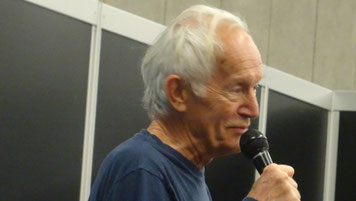 We met Lance Henriksen at Amsterdam Comic Con 2016! Lance is an American actor. He mainly plays in science fiction, action and horror movies. I remember that Liv and Sig were very enthusiastic when Amsterdam Comic Con announced him as a guest. To be honest: For me his name didn't ring a bell. Sig was happy to introduce me to the "Alien" movies. I hadn't watched a single one. So there my "Alien" journey began! In the "Alien" movie franchise, Lance plays the role of Bishop. Have you seen the Alien movies? For the people who haven't: Your "Alien" journey starts here! If you haven't you seriously need to watch these movies, they are true classics.
Let me tell you what "Alien" is about. Don't freak out. It might sound too sci-fi for you if you're not used to it. But I'm not a regular sci-fi watcher and I thought the movie is great. Here we go: The crew of a spaceship receives a distress call from a planet far away. They go searching. But the crew gets attacked by a life form that grows inside the human body. They have to fight to survive! 
Lance Henriksen doesn't play in the first movie Alien, but he plays in Aliens and Alien 3. Bishop is an android executive officer who is a medic and technician. I think he does an awesome job in playing Bishop, it's great! So I watched all 4 Alien films, just to have seen all of them. And I really like it. I was even lucky enough to have an item of Alien Resurrection in my BAM box a while later. 
Lance Henriksen movies
Of course Lance is known for much more than the "Alien" movies. He has starred  in 226 movies! We won't make a list of all of these. You can find that on the internet easy enough. But we will highlight a few: 
- The Terminator. Yes, he also plays a role in Terminator! He's Detective Hal Vukovich. Remember him? 
- Scream 3, as John Milton
- The TV Series Millennium as Frank Black
- Hard Target, he won a Saturn award for his role in this movie 
- Bone Dry: As Jimmy
We already wrote reviews about 2 movies that are starring Lance Henriksen: House 3 and Mansion of the Doomed. 
Meeting Lance + Q&A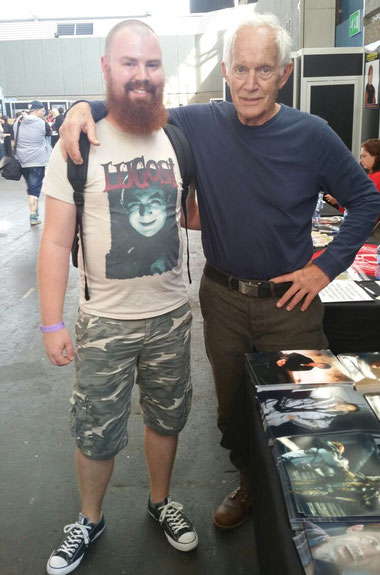 At Comic Con Amsterdam Liv decided to get an autograph from Lance Henriksen. Lucky for you all: We were allowed to make a video of it! Lance turned out to be a really awesome guy. He was very relaxed and both Sig and Liv also made a picture with him. He was fine with everything. I saw him engaging with his fans all day. Nothing was too much. He was energetic and kind. And went on pictures with people numerous times. We loved meeting him and talking to him. He's such a down to earth guy who really wants to make his fans happy and appreciates everyone coming to say hi. He was great, he seemed to have a lot of fun being there. He didn't seem to mind that Carola was filming the whole thing and he was willing to do a picture (without charging for it) He even joked around about how he hoped it was ok, because he doesn't know what do to with his face when a picture is taken. I was very happy, when Mr. Henriksen was announced, because he played in a lot of great movies. And now I know how kind he is in real life, I will enjoy his movies even more. What a wonderful man!
We also attended his Q&A twice. Sig watched the Q&A on Satursday. Liv and I went both days and we watched both of his Q&A. It was so much to listen en we were glad to be there. Did you know he's really into pottery? He told that in his Q&A! We (Carola & Liv) had upgraded our tickets to early bird for the second day and that made it possible to attend the second Q&A. I liked how he talked about how he thought he did not have a Q&A on Sunday, so he had some wine the day before. I guess he was a bit hung over. It was early and when he arrived he thought: well at least I don't have to do a Q&A....and then they told him he did have one, haha. He apologised for maybe being a bit distracted. But like Carola said we attended his Q&A both days and we had a lot of fun. Lance was very vibrat during his Saturday Q&A. There were some little promotional things on a speaker and he immediately wanted to hand them out.He talked about his time on the show "Millenium". He also talked about other and new projects he has been working on and howhe thinks it is very important that a script is well written.To him the movie business is a lot like gambling: you win some, you lose some. He talked about working with Sidney Lumet and Al Pacino on "Dog Day Afternoon" (great movie btw). He had a good time working on that because he said everyone on the movie knew each other. Sidney Lumet is a true New Yorker and shot a lot of his movies in New York. Lance is also a born New Yorker , as is Al Pacino and a lot of other actors in the movie.. So everyone knew eachother and everyone was very supportive  Fun Fact: Lance wanted to play the gay character who was robbing the bank to get a sex change operation. He went to the audition in a bathrobe: "And Lumet said to me: No Lance, not gonna happen; we want you to play the FBI guy. Well I tried..."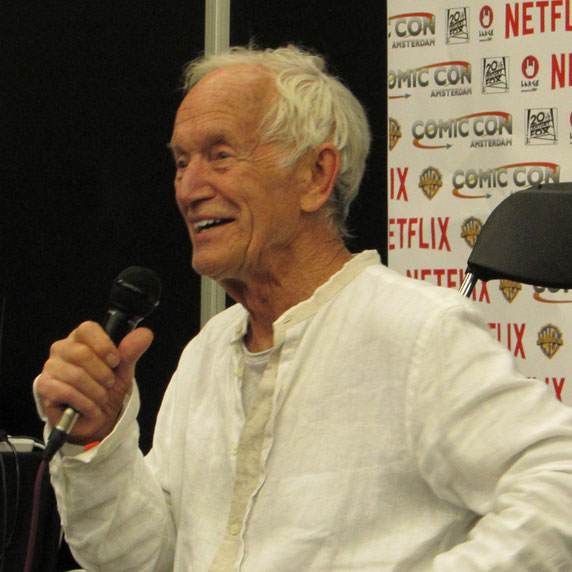 During the Q&A somebody walked away and Lance reacted on this, by telling about doing plays in theatre. 
"When that happens when you are in a play, I did lots of plays, you know something stinks. You don't know who it is; Is it me? Is it him?"
He talked about what he thinks makes a movie, a cult movie and what it's like to be a movie star:
"A movie becomes a cult movie, because of the audience not because of the people in it."
"Movie stars have a window. If you do three movies and the first one that got you the three movies was a hit; the second one you're hoping is a hit. If it's not you've got the third one and you've got a fourth one. And if you don't get another hit: you WERE a movie star. That's the nature of it."
He also talked about how he learned a lot of working on "Close encounters of the Third Kind"
On Sunday we were in the Q&A area ten minutes before the Q&A started and they showed some trailers from upcoming movies on the screen. One of them was the new J.K. Rowling movie "Fantastic Beasts and Where To Find Them". I had already seen the trailer a million times on Saturday,so I was looking around and Lance sat right behind me. He was watching the trailer. When the Q&A started he asked what movie it was and he seemed to like it a lot. The interviewer asked him how many movies he has got coming up and he answered that he did five movies last year (he has got the lead in three of them). One of the movies is a western with Danny Trejo and Tom Berenger ( "Gone are the days"). He liked working with Tom Berenger:
"So I've been busy and maybe they're good... I don't know,
it's not up to me. I do my work and hen they edit it"
He also talked about his love for movies. And how he went to the movie theatres when he was a kid. There was one movie ("The Big Sky"), a western with Kirk Douglas. On his way to the movie theatre Lance stopped at a store and got a sleeping bag and some canyeens and he stored them under the seat in the movie theatre, while he was watching the movie. He wanted to be there so bad and he wanted to get out of New York. He watched the movie so many times that it felt like he went on the journey himself. He says that's when the acting seed got planted. He also talked about how a lot of actors have a damaged background and how he thinks that there is something in acting that is healing. 
(Fun) Facts:
- Mr. Henriksen was illiterate until the age of 30. He worked as a shoe polisher in New York, to support his mom. He never went to high school. So he started to learn how to read when he started acting, he had to be able to read the scripts. Later he started writing and he wrote an autobiography ("Not Bad for a Human") and co-wrote on some Dark Horse Comics.
- When James Cameron wanted to make "Terminator", he asked Henriksen to go in to audition for the role of the Terminator. he asked him to go into a room, with the producer fifteen minutes before James would join them and show the producer what the Terminator would look like.He said he accepted this challenge, because his friend (Cameron) asked it and he had no intention to play the role; he just wanted to shock the producer in a certain way. He went up to the office and kicked the door in. "The secretary grabbed her typewriter and almost fell of the chair"  He had taken the golden foil of a cigarette pack and put it on his teeth, had a cut on his head and was dreesed like a punk rocker (because that's where the Terminator gets his first set of clothes).He sat with the producer for two minutes, just staring at him, without moving. And when James came in he left. James later told him, that the producer said to him he would do the movie, but anybody but him (Lance) does the Terminator. 
- When asked the question if he believes in alien life, he answered: "Ofcourse I do. I mean are we so vain and so egotistic, that we think we are alone in this universe?"....."Steve Jobs didn't fool me, he was an alien."
So let me tell you that Lance Henriksen is the best. He is funny, kind and very down to earth. He is a humble guy and he knows how important the fans are. He seems to be a true movie fanatic himself and it was very interesting to hear his opinions about the whole art of film making. When you are a fan of his work and get a chance to meet him some day , seriously do not hesitate. It was great experience.
Cheerio..