Well hello! Today we have got another 'Insights Article' for you. We love going to conventions and in the past, we've already tried to give you some looks behind the scenes of the organization of a convention, selling merchandise (at a convention), Cosplaying at a convention and much more. We've had interviews with KLZ Events (organizing conventions), The Con Factory (organizing conventions), Zeno Pictures (distribution of (cult) horror movies), Dirtees (merchandise), The Dutch Fredette (Cosplay), Ghostbusters: Dutch Division (Costume Group), Dutch Garrison: 501st Division (Costume Group), Jurassic Park Netherlands(Costume Group), Movie Props NL (Movie Props) and so on. But now it's time to turn the tables. We had a talk with the man, who has been asking the questions at the FACTS Panels for years and years. Please meet Mark Dermul!
Mark and his work for FACTS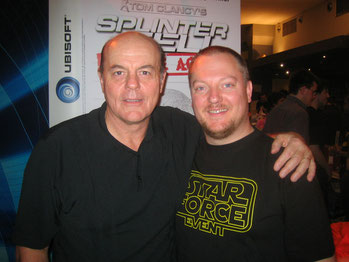 Two times a year the FACTS Mothership lands at Flanders Expo in Ghent. Thousands of people make their way to Ghent to indulge themselves with everything related to movies, series, comics, toys, games, manga and cosplay. Over the years some amazing actors and actresses made their way to FACTS and Mark Dermul has met them all (or at least a whole lot of them).
We asked Mark to introduce himself and tell us something more about his relation to FACTS. 
Mark:  "My name is Mark Dermul, born in 1970 and president of Star Force Events vzw (non-profit organization). It is in that capacity that my team and I are employed by the FACTS organization to take care of the guest stars during FACTS. Star Force vzw has been involved with the organization of movie-related (charity) events for over a decade – initially related to the release of the Star Wars films – and our expertise is what attracted the FACTS organization to us. Believe it or not, we have been working with FACTS in this capacity for 20 years already!"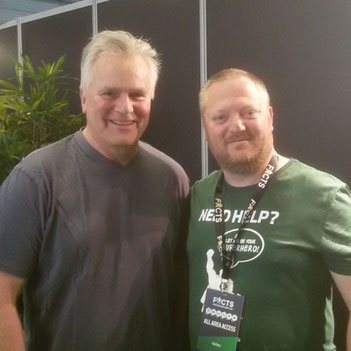 Over the years we have come to know Mark as the moderator at FACTS' Q&A's (that must be a dream job!). How long have you been doing this and how did you get into it?
Mark: "My team and I are responsible for all the activities that are related to the guests at FACTS, which includes providing them with a personal assistant in the signing booth, guiding them through their photo shoots and the Q&A's, getting them to adhere to their daily schedule – in short everything to make their appearance at FACTS run smoothly. So, moderating the Q&A is simply part of the 'job', so to speak. And to be honest, I do enjoy it, because it often leads to some nice banter and almost stand-up comedy-like situations that are really entertaining for the audience."
Being the moderator at a convention means you have to warm up the actor (and the audience) before the audience gets the chance to ask question. It also means that you have to keep the Q&A going, when the audience is shy or nobody has a question. This means you have to know quite some things about the actor or actress and must take some preparation. How do you prepare for the Q&A sessions?
Mark: "I do my homework. It is very important to know who your guest is and what he or she has worked on, has an interest in, is famous for and so on. And I also have a brief conversation with the guests during the Saturday morning briefing to double check what he or she would like to talk about or more importantly what subjects they wish to avoid for whatever reason. But I also get help from the audience. The FACTS website has a feature in which the fans can submit their questions. And of course, during the Q&A, most of the time I simply run around with the microphone collecting questions from the audience. So, my role during the Q&A's is merely limited to warming up the audience, introducing the guest star and getting the Q&A started."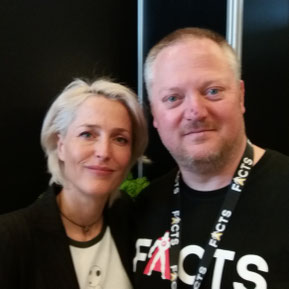 So, you do meet the guests before they get on stage?
Mark: "Absolutely. On Saturday morning (sometimes even on Friday night) before the event, we have a short meeting. Remember that it is much more than just the Q&A. Often the Q&A's start after lunch, meaning we have already worked with the guest stars for half a day and thus they already have had the chance to get to know us. And like I said, we do prepare for the Q&A in a short briefing session."
Mark has been moderating the FACTS Q&A sessions for over two decades. That means he has heard a lot of questions. But what is the funniest/most remarkable question ever asked in the panels Mark moderated?
Mark: "That's a tough question. After more than 20 editions of FACTS with approx. 7 guests per event, I have done over 140 Q&A's! It's hard to pick one out. I do vividly remember the Q&A with Teryl Rothery, the actress that portrayed Dr Janet Fraiser in Stargate SG-1.  We started the Q&A and it quickly became stand-up comedy between her and me and ended with Teryl – all in good jest, of course – proposing marriage! We had a good laugh, and so did the audience. My wife not so much. LOL. But it is amazing how knowledgeable some of the fans in the audience are about the guest stars, coming up with questions about subjects that I was totally unaware of (my bad, I suppose)! Like the activism of Gillian Anderson of X-files fame or some independent movie done by Carice van Houten or stuff like that. What also amazes me is some of the absolutely crazy questions the guests get asked, like 'if you were a cookie, what flavor would you be?' or 'if you had magic, what color would it be?'. It often leaves both me and the guest star absolutely flabbergasted."
Talking about that there were some very nice moments during Cobie Smulders' Q&A at the latest edition of FACTS (April 2018). Click the video below to check it out.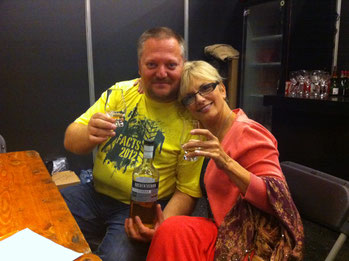 Earlier Mark mentioned that the moderating of the Q&A sessions is just part of a bigger job at FACTS. Can you tell us something more about the other aspects of FACTS you are involved in?
Mark: "There was a time when I was also involved in contacting guest stars, but that was more than a decade ago, when many of the guests were from the Star Wars films. This was of course related to the activities of Star Force vzw. And my team also used to be the guest stars drivers, picking them up from the Eurostar Station or the Zaventem airport. But FACTS has grown and one of the benefits is that we now have a dedicated team of professional limo drivers to take care of that, leaving more time for my team to work on the event itself, like dressing the signing booth and double checking green room and preparing for the Q&A's."
Mark and Carrie Fisher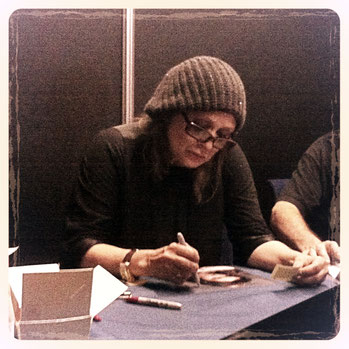 We've already established that Mark met a lot of celebrities over the years. What was your favorite meeting?
Mark: "Again, this is a tough question. And quite unfair in fact. Because there are so many and I was honored to work with many of them.
But being a Star Wars fan for many, many years myself, I did immensely enjoy working with the late Carrie Fisher. This was still at a time when our team picked up the guests from the hotel to bring them to FACTS. Now, Princess Leia was running a bit late, so the other cars had already left with the guests to the show and I stayed behind to bring her to FACTS. On our way, we passed a small market and she wanted to visit it. I told her we were running late, but in that sassy style of hers she came back with 'Mark, who's in charge here?'. I duly pulled over and had to allow her to visit the market for ten minutes. But the funniest thing was the fact that she then found a coffee shop and went inside. I was waiting by the car, going 'oh, no, more delays…' – but suddenly she appears in the doorway of the coffee shop and asks me if I would like a latte too. 'Sure', I stammered. And then we sat for another ten minutes on the terrace, enjoying a cup of coffee together. Imagine that! Princess Leia treated me to a cup! A dream come true.... But all in all, most of the guest stars are quite approachable. They are only human after all and actually quite enjoy the interaction with the fans. We don't often have divas in our midst which is a good thing. And while some guest stars are a bit secluded at first, by the end of the first day, we are often on first name basis and enjoy camaraderie in the green room. I think that is the main reason why my team and I enjoy FACTS so much. We've got the best job in the world!"
The evolution and future of FACTS
Oh yes. You have got a great job Mr. Dermul. Maybe in the future we will get the chance to interview one of our favorite actors. Hey a girl can dream, right? Well, talking about dreams: Who would you like to work with in the future?
Mark: "As for who I would like to work with in the future… the list is endless! But I would certainly like to work with the likes of Daisy Ridley (Rey in "Star Wars VII & VIII") or Felicity Jones (Jyn Erso in "Rogue One"), no doubt about that!"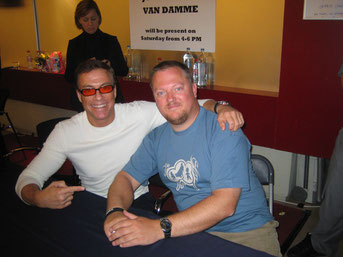 Over the decades FACTS has grown from a small gathering of likeminded fans into one of the biggest conventions in the Benelux. What do you think of this evolution and what will the future bring?
Mark: "There is an up and a downside to that evolution, I suppose. The downside, if you can call it that, is that it has become more 'corporate' and there are therefore more rules and regulations to abide by. But this, by no means, has any impact on the enjoyment for the fans. The upside – and that is a big one indeed – is the fact that the show now has more means, can cater to more fans and is able to bring bigger guest stars to FACTS which – for the fans, but certainly for my team and I as well – is amazing. Who would have thought a decade ago that we would be able to meet with the likes of David Hasselhoff, Richard Dean Anderson, Karl Urban, Gillian Anderson, Carrie Fisher, Christopher Lloyd and the likes? A few years ago, I thought to myself 'I'm getting too old for this, time to let the younger generation take over' – for it is quite exhausting and I'm not 25 anymore, mind you – but it is just too much fun to let it go. Somehow this comes to mind: 'It's not the years, it's the mileage'. LOL.  It is clear that FACTS will continue to grow. The demand from the fans is there. Since a couple of years, we now have two edition every year – one in April and one in October – and both are very well attended by the fans. And I'm sure that also means that we will see bigger guest stars, which I can only applaud. I might even stay on until I retire!"
FACTS aside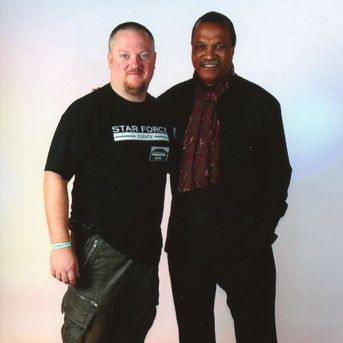 We at Conmose love going to as many conventions/comic cons as possible, but what about Mark?
Mark: "I am an avid autograph collector myself (check out www.markdermul.be), so I used to go to shows all over Europe, like the London Film & Comic Con, Jedi-Con in Germany, Star Wars Celebration and several other shows in Europe, but this has diminished over the past five years, as I have such a huge collection already and have shifted my focus from celebrity autographs to… whisky!  I do still visit the occasional convention, but certainly not as many as I used to." 
Can you tell us something about your favorite movies and tv shows?
Mark: "I think by now everyone understands that I am a big Star Wars fan (I even ran the Save the Lars Homestead project 5 years ago, restoring Luke Skywalker's home on Tatooine in Tunisia – check out www.savelars.com). Keep in mind that I am a kid from the seventies, right? So, Star Wars, Battlestar Galactica, Back to the Future, Knight Rider, the A-Team, that is the sort of movies and series I grew up with. But I also quite enjoy Game of Thrones and The Walking Dead, so I would not mind seeing more of these guests come to FACTS in the future."
Star Force Events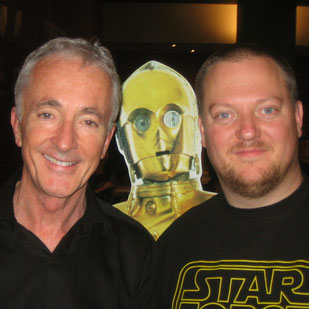 Last but not least: you already mentioned Star Force Events, but can you tell us something about this organization and your work?
Mark: "Our organization was founded to create events around the releases of the Star Wars Prequels. Since then, we have also run a couple of charity events with Star Wars guests in France for Kiwanis. Our complete portfolio can be found www.starforce.be. But as you can read on the homepage of that website, we have decided to slow down a bit since 2009. This was a period in which most of our crew settled down, got careers underway, had children or found other passions to pursue.  So since then the only thing we still work on is… FACTS!"
Well that's it for this interview. First of all, we would like to thank Mr. Dermul for his cooperation and the great stories and pictures. I really had fun writing this article and I literally laughed out loud when I was reading the Carrie Fisher story. Do you want to know more about FACTS? Check out their website (www.facts.be) or our articles about FACTS.