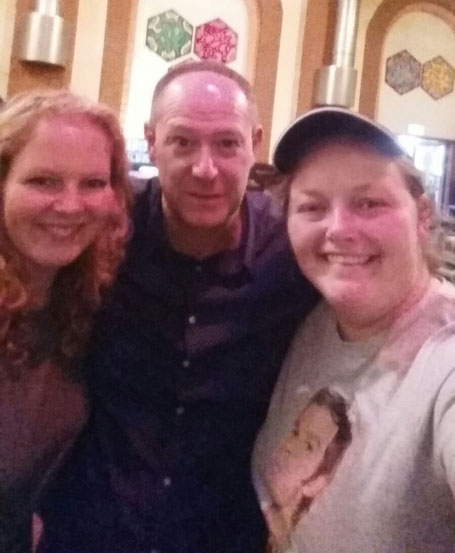 Hi everyone! We've got an exciting post for you today! As you all know, we've been to Weekend of Hell a while ago. We already wrote a few posts about it. We also want to give you guys some more background on conventions and movies. 
At conventions, we all love to buy merch and DVDs! There are some vendors we love in particular. For DVDs, that's the stand of Zeno Pictures. We decided to ask them if they would do an interview with us to tell us more about Zeno Pictures and the DVDs they sell. Gino van Hecke immediately agreed. 
I'll start with our view on Zeno Pictures! Zeno Pictures buys, releases and distributes almost forgotten cult movies, cult hits and unique movies. Sig always knows where to find Zeno Pictures at a convention. Liv and I both love the movies as well. As you all might already know, I like lots of types of movies. I love some big Hollywood movies, but what I truly find interesting is discovering new movies. It's fun to find something different and extraordinary, something that can surprise me. And what I love about Zeno Pictures is that they have a lot of these movies in their collection. 
A few examples of the movies I already own are: "A Serbian Film", "Eat" (bought at Weekend of Hell) & "Rabid Grannies". At Weekend of Hell, Liv bought the movie "Rubber". 
The beginning of Zeno Pictures
  So, we talked to Gino van Hecke from Zeno Pictures! Gino has loved movies since he was a little kid. He studied film in Brussels and specialized in a more technical direction: image and sound editing. He had the intention to work as a cameraman or editor. Movies were his passion, so Gino knew for sure he wanted to do something related to movies. He chose the technical specialization because it gave him the best career prospects. The day after he graduated, he started working in a video rental shop. This was supposed to be a temporary job because it was quite hard to find work in the movie / television industry. Seven years later, he was still working in the shop. He got a lot of responsibility and was able to do the purchases for movies and to attend meetings. 
Because of this Gino met many people in the industry. He always wanted to do something else with movies. He got a job at Moviemax in the Netherlands. He worked there for one year and trained people to work in a video rental store. Because this had less to do with movies specifically, he decided to go and work for Videoland Belgium. He went to fairs abroad to pick movies. He screened them and decided whether to buy them or not. He did this for all the connected movie rental stores (there were 135 connected shops). His boss was a great friend, so it was fun to do this work. He wound up doing it for 12 years. 
In 2003 he attended the Cannes Film Festival for the first time. The thing he wanted to do the most was to distribute movies himself. In Cannes, he learned a lot about buying the rights to movies. This first year, he just learned and networked a lot.  Later, Gino's job became to screen movies. He made a screening schedule and gave advice on whether to buy the rights for the movie or not. 
In 2006, there was a movie that the company he worked for didn't want to buy. Gino was interested though. It was a Thai martial arts movie. He spoke with his boss about buying the rights of it and Zeno Pictures was founded. He founded it together with his boss from Videoland.   
Movies from Zeno Pictures
Gino looks at movies in a different way than most people do. Because of his background in movies and studies, he notices a lot of technical aspects. He likes to watch every type of movies. But in his job he focuses on movies that are different, because those are the movies that people keep on wanting to buy. Nowadays, you don't earn money from putting your DVDs in video rental stores anymore. It's merely from Netflix and Video on Demand. This is not his full-time job at the moment. 
There are two movies he is especially proud of owning the rights:
Gino distributed the most controversial movie of all times: "A Serbian Film". He's proud to be the one, who released such a controversial movie in the Benelux. He thought about it for a long time. He didn't just release the movie because of the content of it, but also because it would be a movie that people would still be talking about years from now; whether you like it or not. Let us know in the comments, have you seen "A Serbian Film" and what did you think about it? Sig and I have seen the movie. 
He's also really proud of the movie "Rubber". It's the biggest cult film of all times. "Rubber" is about a tire that has destructive powers and kills people. He bought the rights for it seven years ago and it just keeps selling. Of course, Gino is proud of all the movies he's distributing. He has a great catalog. And behind every one of the movies, there is a great story to tell.
Zeno Pictures at conventions
Gino has been attending conventions for over 20 years (so that's even before Zeno Pictures was founded). He started at F.A.C.T.S Convention in Ghent when he was still working for Videoland. His dream was to distribute movies himself. And it's great he's still attending so many conventions. How often do you get the chance to buy a movie directly from the distributor? We prefer this above just buying it in a huge store. You can talk about the movie, ask questions and get insights in the movies. I love to buy my DVDs at conventions. This time I bought the movie "Eat" and Liv bought "Rubber"! So, when you're at a convention: Check out the Zeno Pictures stand and have chat. And don't forget to check out the DVD / Blu-Ray collection. There are some great titles you don't want to miss! You can also check out Zeno Pictures online (And order DVDs online)! You can also find Zeno Pictures on Facebook and Twitter.