After watching Turn Up Charlie, I decided to try out Northern Rescue. I recently saw it pop up on Netflix and I was curious. Especially since it's starring William Baldwin, who we met a few years ago at Weekend of Hell.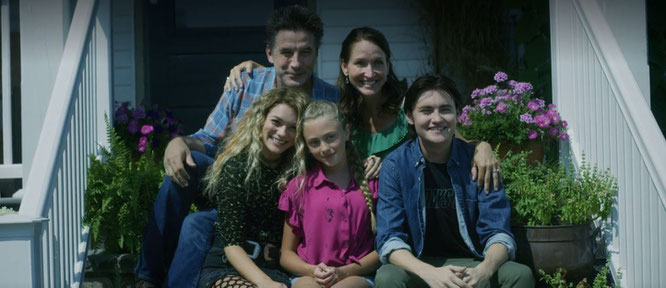 the series kicks off with a happy looking family. But that doesn't last long. When the mother gets ill and dies, John (the Father) decides to move from Boston to Turtle Island Bay with his three children. The series zooms in on their move, the new environment and the way the cope with of the loss of their mother. 
My thoughts
Northern Rescue is a touching drama / family series. It's all about family ties. Everyone copes with the loss of Sarah in his or her own way. Sometimes they can really help each other. Sometimes it results in fights.  I wasn't sure what to expect. A family starting over. Together in a whole new environment. Of course with struggles. 
It's an 'easy to follow series'. The pace is quite slow. There isn't a lot happening at the same time. It's mainly focusing on character development and showing the emotions everyone is going through. Nevertheless, it's interesting to see all four of them adapting to life on Turtle Island Bay in their own way. 
I like watching Northern Rescue, but on the same time it doesn't really stick. It's not that I'm thinking about the next episode already when I finished one. I'm also not looking forward to watching it when I get home. It's more like: oh I have time to watch something, what will I pick. Oh I was watching Northern Rescue, that's fine. To keep watching more seasons, I hope to get drawn into the story a bit more and see some more interesting and exciting story lines. 
The actors
It's great to see William Baldwin starring in a series again! Especially since we met him at Weekend of Hell. He was such a kind guy. I know him for his role in the awesome movie Backdraft. But also as William van der Woodsen in Gossip Girl! And again, he's awesome. He does a great job in portraying John. Struggling with the loss of wife, trying to connect to his children and settling in his new job. 
Another familiar face in Northern Rescue is Spencer Macpherson. I admit, I had to think for a moment. I knew I had seen him in a movie or series before, but I didn't now what yet. I looked it up and now I know: He played Charles de Valois in the amazing series Reign. His role in Northern Rescue is totally different, but great! He plays the son of the family, Scout West. 
Other big roles in this series are for: 
Kathleen Robertson as Charlie Anders
Amalia Williamson as Maddie West
Michelle Nolden as Sarah West 
Taylor Thorne as Taylor West
How many seasons?
Grade