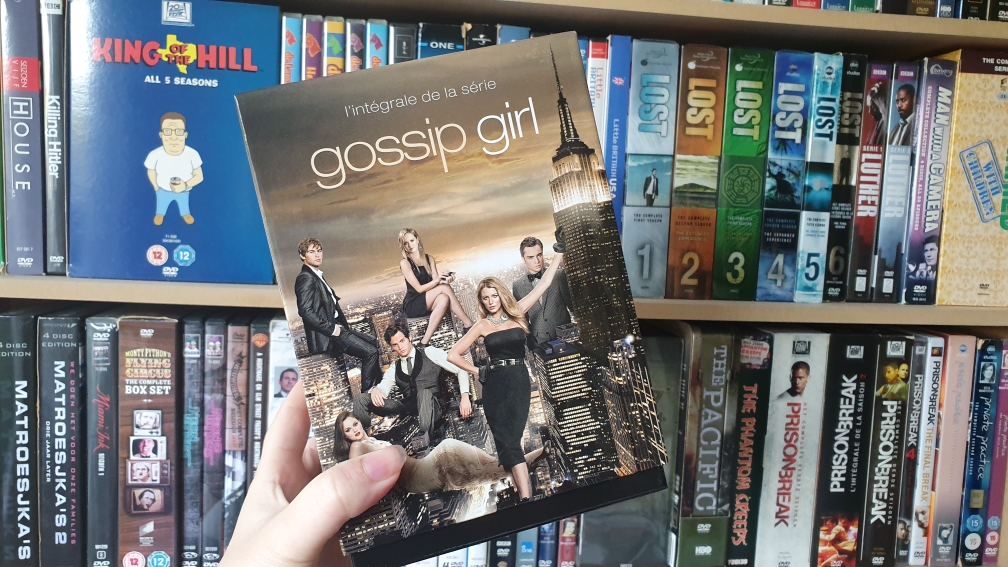 Our series tip of this week is Gossip Girl! It's been a while since I watched this series, but I decided it was time to rite about it. I watched the series a couple of years ago and I really liked it. Let me tell you all about it! 
Gossip girl is an American teen drama series. There's a blogger in Manhattan named 'Gossip Girl'. No one knows who she is, but she knows everything! No one can hide their secret. In Gossip Girl we follow the lives of a couple of rich teens in Upper East Side. The focus is the friendship between Blair and Serena and their friends and family. Most important questions for them are 'Who has the most money', 'Who looks the best' and 'Who is dating whom.' Blogger Gossip Girl makes sure everyone knows everything! Be prepared to step into the lives of the elite teens of Upper East Side! 
The series is based on the book series Gossip Girl, written by Cecily von Ziegesar. Originally they wanted to make a movie out of the books. But that project didn't came off the ground. Later, Stephanie Savage and Josh Schwartz took over the project to make it into a TV series.  
How about the actors?
Let me start with the two main protagonists of the series: Blair Waldorf and Serena van der Woodsen. Leighton Meester plays the role of Blair. Leighton is an American actress, singer and model. I think she is best known for this role in Gossip Girl. But she also has roles in That's My Boy, Monte Carlo, the Roommate and 24. She's also a singer. He debut album Heartstrings was released in 2014. Serena van der Woodsen is played by Blake Lively. Many of you have probably heard of her. Yes, she's married to Ryan Reynolds ( And they have 2 children together)! They met each other while filming the Green Lantern in 2010. Besides all this, you might also know Blake for the Age of Adaline, Town, the Shallows and the Private Lives of Pippa Lee.
Other important characters in the series are:
Dan Huphrey: Played by Penn Badgley 
Nate Archibald: Played by Chace Crawford
Chuck Bass is played by Ed Westwick
Kelly Rutherford plays Serena's mom Lily van der Woodsen
Who will like this?
Gossip Girl is an American teen drama series. You have to like to watch the lives of a couple of rich teens. And you have to love some teen drama! It is entertaining and there's always something happening. There will be fights, drama, betrayal, lies, drugs, romance and more. The gossip plays a big part and when one feels betrayed,  they will do anything for payback! Oh and if you love watching the rich, seeing gorgeous clothes and expensive parties: This is a great series for you!
How many seasons?
There were 6 seasons. The show aired from 2007 and 2012. 
My opinion
For me, Gossip Girl always has been very entertaining. I like the actors and story lines. There's always something happening and it's jut amusing to see the gossip, betrayal and scheming. I loved how they kept coming with better plans for revenge and how it's never perfect. You learn to love and hate them all. I always thought it was a fun how to watch. I love the set up where 'Gossip Girl' starts the episode and tells what happened. It adds that bit of extra to the series. It shows the difference between the rich kids and the teens with less money. And you see how they see the world and look at each other. 
I'll end with some quotes from the series. To give a glimpse of what 'Gossip Girl' tells: 
- Why'd she leave? Why'd she return? Send me all the deets. And who am I? That's the secret I'll never tell. The only one. —XOXO. Gossip Girl.
- I bet you're wondering what Gossip Girl is doing up so early. Truth is, I never went to bed. Why waste precious time dreaming when waking life is so much better?
- It's often said that, no matter the truth, people see what they want to see. Some people might take a step back and find out they were looking at the same big picture all along. Some people might see that their lies have almost caught up to them. Some people may see what was there all along. And then there are those other people. The ones that run as far as they can so they don't have to look at themselves.
Rate
Who's your favorite? What's your favorite series? Have been addicted to a series? What series (or genres) would you like to see in our "Series Tip of the Week"?