It's that time of the month again! Time to show you which movies we watched in May.. What did you watch? 
Carola
Kriegerin
Kriegerin (Combat Girls) is one of the movies we bought quite recently. Sig and I were both curious, so we decided to watch the movie! It's about Marisa. She's young and feels at home in Neo-Nazi gang she belongs to. She thinks foreigners, Jews and police officers are responsible for the decay of Germany. She drinks and fights. But then she meets a young Afghan refugee. Meeting him has an impact on her. Will it change her beliefs? 
Raw
Raw is one of the movies Sig and I watched in the cinema this month! It was great to watch a horror movie again in the cinema. We don't do that too often. (There aren't a lot of horror movies in the cinema that I really want to see). But we watched Raw and I also already wrote a review about it.  Raw is a French drama/ horror movie directed by Julia Ducournau.  The original title of the movie is Grave. Raw is about Justine. She's still living with her parents but now she's moving out to study. She's a vegetarian and wants to become a vet. She's really having a hard time when a particular part of hazing comes up: They all need to eat rabbit kidneys. Justine feels terrible and throws up. But that's not the end of it. She develops a terrible rash. But even that is not the only thing. She starts to develop a huge taste for meat. Justine ha no idea what's happening to her and how to handle this... 
Before I Disappear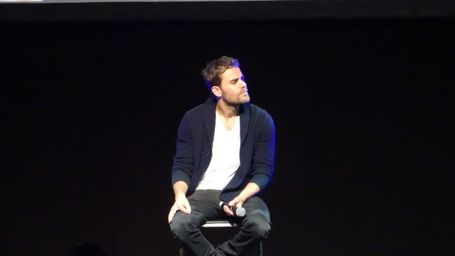 As a preparation for Bloody Night Con Europe I watched the movie Before I disappear. Paul Wesley plays the role of Gideon in this movie. 
In the movie, Richie has to look after his sisters daughter for a few hours. Richie and his sister aren't that connected and he's surprised by the request. He isn't in a good place. And his sister seems to have everything: A great job, perfect life, smart daughter. I read this film is the feature length adaption of the shot film Curfew. Curfew won an Oscar in 2012. 
But I have to admit that I didn't really like the movie. I had expected more and it didn't really live up to my expectations. It wasn't really surprising. And there could have been some more action in my opinion. 
Get Out
Sig and I have been to the cinema a few times this month. And this is also one of the movies we watched in the cinema. Get Out is a horror/ mystery movie. Chris and Rose are a couple. They will go over to her parents next weekend. Chris a little bit nervous. He's African American and Rose is white. He's curious to see how her parents will respond. But Rose is very confident that her parents will love him. So they go over to her parents. They seem to be fine. But they do act a little weird. At first Chris just thinks her parents don't know how to react and respond. But strange things keep happening.. 
I had high expectations of this movie. I saw that on Imdb, the movie gets a 7,9. That is quite good. But I just felt the movie was all right. Some things were just strange> And I didn't feel like all of my questions were answered at the end. Besides that. I thought some elements were too predictable. 
Auschwitz - the destruction trilogy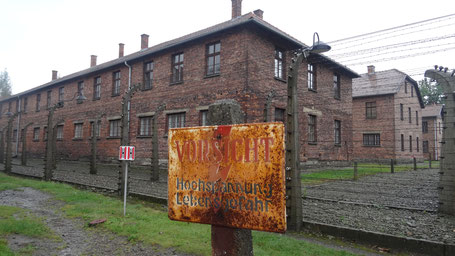 I received this DVD from Sigmund for my birthday. It's a very interesting miniseries/ documentary. It consists of 3 episodes: the First Testimonies, Criminal Doctors and Sonderkommando. The documentary mainly focuses on the process that led to the disappearance of more than a million people. It's a different perspective than most other documentaries have. The documentary is interesting and very informative. Only thing to keep in mind is that it isn't very visual. They show Auschwitz. But you mainly here voices that tell you about the stories. It's not like you the people, or that the story is visualized. 
Y/N You Lie, You Die
This movie is also known as True Love. Kate and Jack are a happy couple! They got married recently. After their wedding, they both wake up in separate rooms. They're abducted. Both of them get to see pictures and videos. And they have to answer questions about each other. It's a test: How well do they know each other? But how certain are you when your life depends on it? 
Alien: The Covenant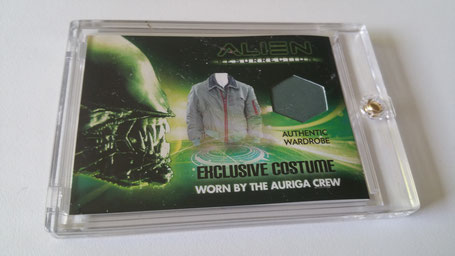 Yeah! We went to see Alien in the cinema. I love all of the Alien movies. So I was thrilled to see new one. In case you're wondering what the picture is showing: Its a BAM box exclusive authentic wardrobe card from the movie Alien: Resurrection! It's in our living room. Just to show that I love the Alien movies. 
And well.. what did I think of Alien Covenant? I've heard different reactions on it. Some love it, some hate it. I definitely don't hate it. I agree that there were some things that could be better. It was a bit predictable. And I thought it was a bit strange that there were so many couples on board of a space ship. But the movie was still entertaining. If you like the Alien movies, I do recommend seeing this one as well!  
Jobs
Jobs is a 2 hours and 8 minutes biography/ drama about the story of Steve Jobs. I wanted to see this movie, because I like watching movies about the start and rise of big companies. I've also watched The Founder and The Social Network. I liked watching Jobs. Apple is an intriguing company (But I have to admit that I don't own a single Apple product). I liked the movie and thought that Ashton Kutcher did a great job in portraying Steve Jobs. it was very interesting to see the struggles, fights but also the courage to keep going on! Very inspiring. 
Fear of the Flesh: The Making of 'The Fly'.
I think it was last year, that I watched the Fly. A movie starring Geena Davis and Jeff Goldblum. And I was very surprised by this movie: I loved it. The fly is horror/ sci-fi movie about a scientist who is experimenting. But as a result of his experiments he's starting to transform into a fly! This documentary is all about how this movie has been made. We learn from the actors what they thought of the movie and what was hard in the filming process. But we also hear the stories of the writers en the film editor. 
Liv
Arrival (2016)
I decided to rent this movie from a Dutch video rental site (Pathé Thuis). Ever since I saw the trailer of the movie, I wanted to watch it. Arrival stars Amy Adams as linguistics professor Louise Banks, Jeremy Renner as theoretical physicist Ian Donnely and Forest Whitaker as Colonel Weber.
When 12 gigantic spaceships land at 12 locations across the world. Of course people are panicked, because no one knows why they are here and what they want. As nations across the world are preparing their selves for a global war, the US Army seeks the help of linguistics professor Louise Banks to try and make contact with the aliens and find out what they want and find out if they are friend or foe. She is teamed up with Ian Donnely and together they start to have regular meetings with the two aliens in the "American ship". They discover that the aliens have a very complex language and Louise compiles a full record of the language (consisting out of complex drawings). Of course this process takes time. However time is running out when the other nations begin to see the visitors as a threat and start to prepare themselves for war…
I really liked "Arrival" and I would love to watch it again. The main characters are very solid and the story behind the story is very interesting.
Duration: 116 minutes
Mean Girls 2 (2011)
I watched this movie as a preparation for Bloody Night Con Europe, because Claire Holt is in it (Holt had to cancel for Bloody Night Con in the weeks leading up to the convention). I hadn't seen Mean Girls part 1, but that it's not really necessary. The movie revolves around Jo Mitchell (Meaghan Martin); a 17 year old tomboy who moves into town with her father (Linden Ashby). On her first day on her new school, Jo runs into "The Plastics"; a popular and very snobbish group of girls. This threesome is led by Mandi (Maiara Walsh) and other than Mandy consists of the germaphobic Hope and the seemingly dumb Chastity (Claire Holt). They terrorize the whole school and especially the nerdy but very artistic Abigail. She lives across the street from Mandi and is seen as a rival, because she comes from a very wealthy family. When Jo runs into Abi's father, he offers to pay for her further tuition if Jo befriends Abi. She reluctantly agrees and of course they become real friends. In the meanwhile Jo and Abi are involved in a war against the Plastics. Mean Girls 2 was ok, but very cliche..
Duration: 96 minutes 
The Secret Life of Pets (2016)
I love animated movies and I was really looking forward to watching this one. Do you ever wonder what your pets do, when you are at work or school? Well, this movie will answer that question for you. The story revolves around Max, a Jack Russel Terrier. Together with his owner Katie, Max lives a happy life in an apartment building in Manhattan. When Katie leaves for work, Max hangs out with other pets in the apartment building, like the fat cat Chloe, Mel the Pug, Buddy the Dachshund and many more. Max' perfect life is turned upside down when Katie comes home with another dog from the pound: the big Duke. Max becomes very jealous, because he isn't the only one getting attention anymore and he acts very mean towards Duke. When they go out for a walk with a dog-walker, they get into a fight and get isolated in an alley. There they run into a mean gang of cats, who steal their collars. Because of this they are sitting ducks for Animal Control. When they get caught, they are saved by a gang of stray pets, led by the fluffy but hard ass rabbit Snowball. Will they ever get back home?
I loved it!
Duration: 87 minutes
The Secret Lives of Dorks (2013)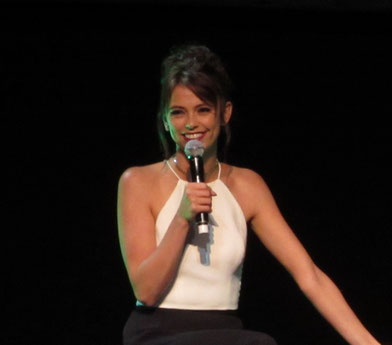 Another preparation for Bloody Night Con Europe. Like I said earlier: Claire Holt had to cancel for BNC, but KLZ came with an awesome replacement guest: Riley Voelkel. She plays Freya Mikaelson in The Originals.
In The Secret Lives of Dorks, Riley plays the role of  Carrie. The movie revolves around the dorky Payton (Gaelan Connell). He has a crush on the popular cheerleader Carrie. However Carrie pays no attention to Payton, she is dating Clark (Beau Mirchoff), the captain of the football team. And then there is Samantha (Vanessa Marano), also a dork and madly in love with Payton. When Clark needs Payton to teach him about comic books, Payton gets a chance to spend time with Carrie. Carrie, however,is only interested in setting Payton up with Samantha.
This movie wasn't very good. I liked Riley as Carrie and I also liked Vaness Marano as Samantha. But overall it was a bit lame.
P.S.: We met Riley Voelkel at BNC, check out the article we wrote about it.
Duration: 91 minutes
Passengers (2016)
Another movie I really wanted to watch, so I was very happy to see it was available for rent. Ever since her role in The Hunger Games I am a fan of Jennifer Lawrence. Same goes for Chris Pratt ever since his role in Guardians of the Galaxy. In Passengers, Pratt plays the role of Jim Preston. We first meet Preston, when he awakes out of a deep sleep in a sleep capsule. Nothing very strange about that you may think, just hang on. It turns out, Preston is one of the thousands of people on the spaceship Avalon, which is on his way to a distant planet called the "Homestead Colony". The voyage will take 120 years and the passengers should be asleep for the biggest part of it. Due to a malfunction in the ship, Preston wakes up 90 years to early. When he realizes this, he also realizes he will probably be dead by the time they reach the colony planet. This means he has to spend the rest of his life alone on a spaceship. After about a year he feels like he is going crazy and then he stumbles upon the beautiful Aurora (Jennifer Lawrence) and it is love at first sight. There is one small problem: Aurora is still asleep. Of course he can wake her up by opening the sleep cabin. But when he does, Aurora will suffer the same faith as Preston, without having a say in it..
Very nice movie, with some very solid acting.
Duration: 116 minutes
The Baytown Outlaws (2012)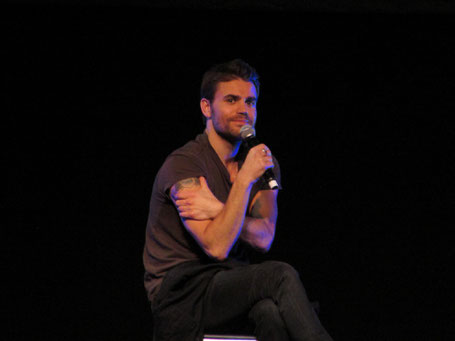 Yet another movie I watched as a preparation for Bloody Night Con Europe. I had never heard of this movie before, but when I was browsing Paul Wesley's filmography I stumbled upon this little gem. When I saw that Billy Bob Thornton played a lead role, I was sure of it: I had to watch it. The movie revolves around the redneck Oodie brothers, consisting of Brick (Clayne Crawford), McQueen (Travis Fimmel) and the mute Lincoln (Daniel Cudmore). They are alsoknown as the Baytown Outlaws and they work as a team of vigilates (for the sherrif), by killing criminals. One day they are approached by Celeste (Eva Longoria). She wants to hire them to kidnap/rescue her handicapped godson Rob (a very solid performance by Thomas Brodie-Sangster) from her mean  ex husband Carlos (Billy Bob Thornton). What seems like an easy job, turns into an all out war, when Carlos sends  a whole bunch of psychos after them to hunt them down. As if that wasn't enough they are also being chased down by Federal Agent Reese (Paul Wesley). I absolutely loved this movie. It has a Tarantino like atmosphere and that means it also has a great soundtrack. I guess it's not a movie everyone will like and I am sure it also got a lot of criticism, but if you don't take it too serious, and you like Tarantino movies just try it!
Duration: 98 minutes
T2: Trainspotting (2017)
Trainspotting is one of my favorite movies of all time, so when a sequel was announced I was very happy.But I also was a bit worried, I was afraid of a deception. T2 is set 20 years after the original. Mark Renton (Ewan McGregor) returns to Edinburgh for the first time, since he left with the money and betrayed his friends Begbie (Robert Carlyle), Sick Boy (Jonny Lee Miller) and Spud (Ewen Bremner). He has lived abroad ever since and seems to have his life together. When he returns to the only place he calls home, his old friends are waiting for him, but not with open arms. Soon he is on the edge of falling back into the life he left behind. Do you want to read more? Check out the review Carola wrote about the movie. 
Did I like it? Of course I did! I think Danny Boyle is an absolute genius and he does not disappoint with this more than decent sequel to oe of the best movies ever made.
Duration: 117 minutes
Fallen (2006)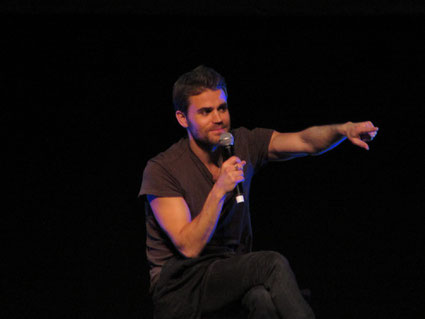 Fallen is a 2006 Tv Movie and it's part of a mini series. It stars Paul Wesley and I watched it as a preparation for Bloody Night Con. Wesley plays the role of Aaron. 
Aaron is a pretty normal teenager. He is adopted into a loving family and he is looking forward to a very promising future in sports. At his 18th birthday, his life changes dramatically, when he finds out he has some pretty incredible powers. Aaron finds out he is a Redeemer (half angel/half human) and he has the power to return fallen angels back to heaven. But he also has enemies and they try to stop him doing just that. 
It was nice to watch and I am planning to watch the two sequels for sure. 
Duration: 81 minutes