It had been years since I watched Trainspotting. I know I loved the movie instantly. and I had heard a while ago there would be a second Trainspotting movie. The news became even better when I saw that the main crew was returning for this second movie. How awesome is that? I was more than excited when I found out that some cinemas were doing a 'Trainspotting marathon'. Sig and I quickly decided to go and bought tickets. 
I really like movie marathons in cinemas. How about you? I just really enjoy seeing some older movies again in the cinema. But it's also nice to watch more movies in a row to really get into the story. I once went to a Saw marathon. That was of only the first 3 movies (The third one was being released at that moment). And it started at 12 o'clock at night. I loved it! It was tiring, but also great! I also watched all 3 Back to the Future movies again in the cinema two years ago. These are just a few examples. I was SO ready for the Trainspotting marathon! Sig and I went to see the marathon at Vue cinemas in Kerkrade, the Netherlands. First, we went to a restaurant called Happy Italy. After that, we went to see the Trainspotting movies. I was excited to see the first one again: it had been so long ago! 
Trainspotting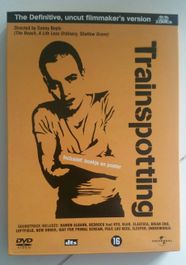 For people who are not familiar with Trainspotting: meet Renton (Ewan McGregor), Spud (Ewen Bremner), Sick Boy (Johnny Lee Miller), Tommy (Kevin McKidd) and Begbie (Robert Carlyle). They're a group of friends. But they don't really have the best influence on each other. They usually go out, drink a lot of alcohol and use drugs. Mark wants out of that life and tries to get clean. He moves to London. But then Begbie needs his help and comes to London. Others follow. It's getting harder and harder for Mark to maintain his new lifestyle. 
I've always been a big fan of Trainspotting. I think the movie is great and the cast is awesome. They way the movie shows the lifestyle of the group of friends is great. But also shocking. Very shocking at times. I bet that people who have seen the movie will never forget the toilet scene. And the baby scene. These scenes really made a big impression! It's devastating to see how drugs ruin them. It's original, striking and dramatic. 
The actors
I love the actors in Trainspotting. It's such an interesting cast. And before watching it again now, I didn't realize I had seen so many of them in other movies or TV series as well. Did you know Kevin McKidd (Tommy) also plays in Greys Anatomy? Yes! He's Dr. Owen Hunt. Quite the difference isn't it? And I'm a big fan of Robert Carlyle (Begbie) who plays Rumpelstiltskin in Once Upon A Time. I wouldn't recognize him if I didn't know it. Begbie is such a different character than Rumpelstiltskin! It's amazing how Robert Carlyle is able to lay such different characters. And did you know that Ewan McGregor played Obi-Wan Kenobi in Star Wars? He will also be playing Lumiere in the new Belle and the Beast movie that will be released in 2017. And do you remember seeing Johnny Lee Miller (Sick Boy) as Jordan Chase in Dexter? 
T2 Trainspotting
Now... Let's talk about T2 Trainspotting. After seeing the first was again, I was só ready to watch T2 Trainspotting! I was very curious if the style would be the same. Without giving spoilers, let's say T2 takes off where Trainspotting ended. Just 20 years later. Mark returns to Scotland and reunites again with his old friends. It's great they made a sequel and I like it that the movie continues after 20 years. The cast is great again and I'm thrilled to see how everyone is doing. T2 is interesting, emotional and dramatic but not as shocking as Trainspotting. I can feel the same style as in the first movie and the characters are great. I still recognize the old versions of them which make the connection to part 1 strong. They also show some flashbacks. Sometimes a bit too much in my opinion. But maybe that's because I had just seen Trainspotting again. 
Trainspotting had something though that T2 doesn't have.  I thought the story of Trainspotting was more natural. I really liked that. You really followed the group and their way of living. It wasn't even just a movie about Mark getting on the right path or not. It was about all of them. Just seeing how they live and how they tried to get out. Or didn't try. This permissiveness was something I really missed in T2. There was more of a predefined story. There was more of a beginning, middle, and end. They were working towards an 'end'of the movie. Making it really 'a story'. Where Trainspotting for me merely felt as watching a part of their lives. I think T2 could have been a totally different movie as well. It has its own complete story. Though there are a lot of references to Trainspotting if course. 
My conclusion is: They succeeded in making an awesome sequel to Trainspotting. The cast is great as ever and it really feels like Trainspotting. They maintained the style and look and feel. But I feel like Trainspotting was a better movie. It was more shocking and surprising. And the story felt more genuine for me. However, I really recommend watching T2!