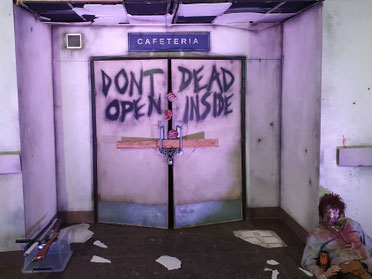 It seems ages ago with all that is going on, but just last month we went to Comic Con Brussels. We already wrote about meeting Holly Marie Combs, but we owe you a lot more meetings from Brussels! Unfortunately we could only be there for one day, but we made the most of it. Yes, at that time we expected to visit a lot more cons in the near future (little did we know) so we decided to go 1 day. Well, if we knew then what we know today... We would have went 2 days! We even had a 'royal' meeting and that is what we are talking about today. Why royal? Well, we had an audience with King. That's right we met King Ezekiel from "The Walking Dead". Or maybe we should say we met the wonderful man that has been playing the role of King Ezekiel for some time now: the one and only Khary Payton!
Who is Khary Payton?
Khary was born in Augusta (Georgia) on May 16, 1972. He graduated from high school in Athens and during his time in high school he was the winner of Showtime's Kid Talent Quest. After winning this talent show he knew he wanted to be an actor. This led him to attend the Southern Methodist University in Dallas (Texas), where he graduated with a Bachelor of Fine Arts Degree in Theater Studies. During his teenage years Khary also started doing standup comedy and after his time in college he spent a lot of time performing Shakespeare. At first his father (a pediatrician) was not happy with Khary wanting to become and actor. But when Khary was in his early 20s, his father came and saw him play in "Hamlet" and ever since he is his biggest fan. When he was in his 30s, Khary started doing a lot of voice over work as well as some acting in movies and TV shows. One of the voice roles he is mostly known for is the one of Cyborg in "Teen Titans" (2003-2007), "Teen Titans Go!" (2013 - present) and the "Teen Titans" movies. He also did a lot of voice roles in video games. For all of Khary's voice work check out his IMDb page. Before he got his big break in "The Walking Dead" he was also known for his role as Terrel Jackson in 24 episodes of the soap "General Hospital". Khary moved to Los Angeles to pursue acting, but when he landed the role of King Ezekiel in "The Walking Dead" he ended up back in Georgia (not for from where he was born). At first he couldn't tell his parents about the role, because it hadn't been announced yet. He says his mom is really bad in keeping secrets. He said he was shooting the first episode he was in only an hour and a half from where his mom and dad lived, but he couldn't visit them, because of this. He also says his work as a voice actor and his Shakespeare background helped him a lot in portraying King Ezekiel. 
An audience with the King!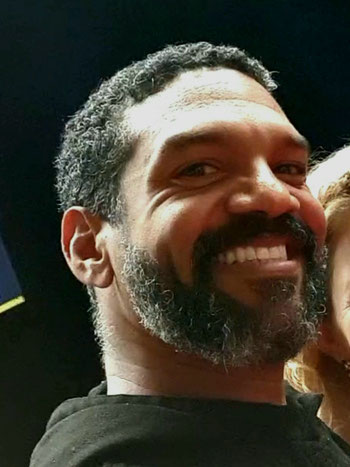 Carola and I have both been "The Walking Dead" fans for a long time and we were very happy when Brussels Comic Con announced Khary Payton. Yes, I already heard great things about him! I saw so many great photo/ photo ops with Khary on Instagram. And I love the character of Ezekiel. King Ezekiel is a very lovable character and has been a fan favorite ever since he made his first appearance in the show. We absolutely wanted to meet him, but we had a lot of things we had to do. We had some photoshoots we had to do and we also wanted to see some of the panels. Unfortunately Khary was not doing a panel on Saturday and his photo op was scheduled in the morning. Since we had been in queue to enter for a long time, there was not enough time to get the photo op. When we walked over to his table we saw that he was out for lunch and due to our busy schedule, we kind of thought we would have to give up our hopes of meeting him. Yes, it was such a busy day. It just didn't seem meant to be. After all of our scheduled things however we decided to have a look again (Never give up!), but we did not see Khary at his table. We did see some people standing there in the queue and I decided to walk up to the guy behind Seth Giliam's table (next to Khary's) and ask him if Khary was doing selfies and if we could both be in one selfie. It turned out he was and we could. That was one step closer to meeting the King. Yes!! And one step closer to getting more nervous! Would we be able to meet him? Since Khary wasn't sitting there I also asked the volunteer behind Seth Gilliam's table when Khary would be coming back. The man answered that he was already there, but he was standing in front of the table meeting people. We love it when guests are in front of the table, closing the gap between you and them. Yes and I instantly knew: We have to do this!!  It just feels much more personal in a way. Over the years we had this experience a few times, with Brian Krause and IronE Singleton for example.
Well that opened a lot of possibilities and for me it was a done deal, I wanted to meet the King. Carola asked me if I wanted to do this and I said YES! (I didn't expect anything else!) It didn't take much effort to convince Carola to come with me and do this together. So we got in the queue, which wasn't that long actually. While we were waiting it was awesome to see how Khary interacted with the fans and how he took his time for everyone. That way, queuing was even fun! It was so great to see everyone met Khary and how everyone was so happy about it. Amazing. It was also very strange to see him without his iconic dreadlocks. Then it was our turn and when we stepped up to Khary he immediately hugged us both. We told him that we loved his role in "The Walking Dead" and his story arch. We also talked about Shiva and the fact that .... SPOILER ALERT (if you haven't seen episode 5 of season 10, stop reading now and pick it up after the end of the spoiler)... the fact that Ezekiel seems to have cancer...(END OF SPOILER). He really took his time for us and when we told him we wanted a selfie, I mentioned that it might be best if he took my phone, because he had the longest arms...when I thought about this afterwards I laughed so hard. Hahaha yeah that was great! And just went along with it and took the pictures.  But well, we took the selfies and couldn't have been happier with them. Exactly! That was great. I really had a lot of fun and I love it did we did a few selfies and some crazy faces too. Absolutely great. You can see them below. If you ever have the chance to meet Khary at a convention, take it! You won't be sorry! He is very down to earth and very nice. LONG LIVE THE KING!!!