Oh yeahhhh! Next weekend, we're going to Heroes Made in Asia. Could we BE more excited? Heroes Made in Asia takes place on May 6th and May 7th in Gorinchem, the Netherlands and it's the place to be if you love Asian popculture! We visited the event already in 2021 and 2022 and we absolutely loved it! This year, we're going again and we have so many plans! Let's take a look at what to expect.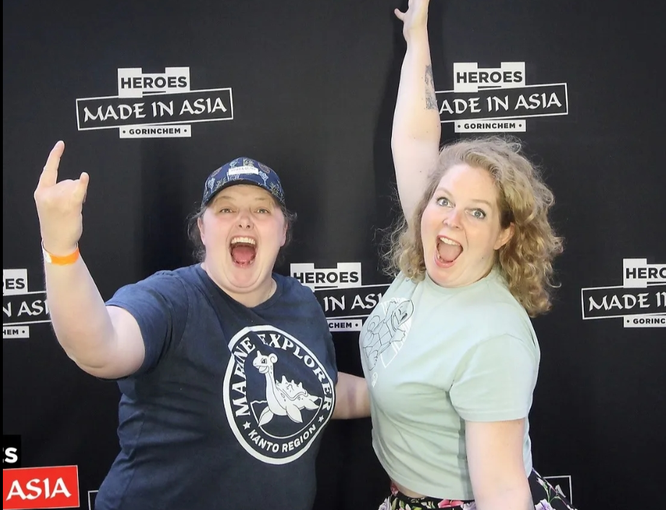 Workshops
 At Heroes Made in Asia, you can always participate in a various amount of workshops. In 2022, we wanted to do a couple of workshops and one of these was to attend a Japanese tea ceremony. The tea ceremony was organized by the same people who also did the Japanese lesson  that we followed in 2021. We were really excited about that, because we really enjoyed how they organized that lesson. We were happy to see them and speak again. The Japanese tea ceremony was wonderful. 
We also attended a Kendo lesson which was a great experience! I have to admit that we were definitely no natural talents. We were really afraid to hurt someone, so we were very (too) carefull. We did have a lot of fun though... The lesson was really well prepared and I liked all the information that was given and to learn more about Kendo. 
Another workshop we attended was a presentation about traveling to Japan. We both would love to visit Japan. We really enjoyed the workshop and learned some really important things about traveling to Japan. 
This year there are again many great workshops, so we are definitely looking forward to that. Now I really hope to do the Kyaraben workshop and I would love to do the workshop as well where you learn to eat with chopsticks. 
Exhibitors
There is always a lot of merchandise to buy at Heroes Made in Asia and we love that! We usually walk around a lot and buy so much!! This year, there will be over 165 different exhibitors at Heroes Made in Asia. We are already looking forward to that. Maybe I´ll buy a new Nintendo Switch game, some food, clothing, or a boardgame! The first edition, I bought for example Throw Throw Burrito, the outdoor edition. Love it. 
Food
We always love the food at Heroes Made in Asia.  The food market is quite big. And we always eat a lot, and try out many different things. It´s so fun (and tasty of course). We will show you some pictures from last year, just so have an idea of what to eat at HMIA. As you can see, we had a lot of fun and found some great food. I also really enjoy having a bubble tea (which I learned about for the first time at the first edition of Heroes Made in Asia) and the cheese corn dog was a huge success too. 
Guests
Heroes Made in Asia also always invites some special guests.... Excited is an understatement. What can you expect this year? These are the guests that have been announced:
Cristina Vee Valenzuela
Scott Burns
Artists: 
Gecko Chan
Xulia Vicente
Sara Soler
Konata
Cosplayers: 
Sakuraflor
Nomes Cosplay
Chris Minney
Pinyamiu
Moemoefever
Har_Fie
See you next week?
Whoop whoop! We're already so excited for Heroes Made in Asia. How about you? Will we see you there next weerk? Just a quick recap, at Heroes Made in Asia you'll find: 
Over 30 free workshops (and we recommend doing a few, it's really well organized and a lot of fun)
A food market (with delicious food!)
More than 165 different exhibitors
special guests to meet 
a cosplay village
And much more!