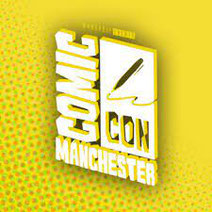 We love visiting the United Kingdom and we love comic cons, so why not combine the two? In the last weekend of July, we will go to the fifth largest city of England for another event by Monopoly Events. Yes! We are going to Comic Con Manchester and we are so excited! (which is of course an understatement). We have never been to this event before, but we did attend some of Monopoly's other events, like: For the Love of Horror 2018 and Comic Con Liverpool 2020. 
Comic Con Manchester will set up camp in Bowler's Exhibition Centre Manchester in the weekend of July 30-31, 2022 and we cannot wait. In the upcoming weeks, we will tell you everything you need to know about the con, starting with the movie and television guests. Today we will discuss the "Teen Wolf" part of the guest list. With an upcoming revival movie (set to be released this year), fans will finally be able to indulge themselves in the world of Beacon Hills again. I guess you can say that "Teen Wolf" is hotter than ever. Comic Con Manchester will have a whopping total of 4 "Teen Wolf guests and we will tell you everything about them.
About Teen Wolf (the tv show)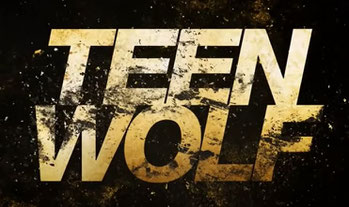 The show revolves around Scott McCall (played by Tyler Posey) and his best friend Stiles Stilinski (played by Dylan O'Brien). They live in Beacon Hills and they are both playing in the Lacrosse team, but they are not very good at it. You could say that they are social outcasts, they are not part of the popular crowd. Scott lives with his mother, who is a nurse. Stiles lives with his father, who is the sheriff of Beacon Hills. One night a body is found in the woods, but there is something strange about it. The body is cut in half and one half is missing. Stiles hears about this, because of his dad and convinces Scott to come with him, to search for the other half. At one point Stiles and Scott get separated. When Scott wants to head home, he gets chased by a mysterious monstrous animal. The animal catches up on him and Scott gets bitten. The morning after, when Scott wakes up, he notices that the wound has healed. However, that is not all that changed. Scott is stronger, faster and all of a sudden, he turns out to be a magnificent Lacrosse player. He shows Stiles and together they find out what happened. Scott was bitten by and got turned into a Werewolf.  In the meantime, there is a new girl in Beacon Hills and name is Allison Argent (played by Crystal Reed). Scott immediately falls in love with Allison and they become friends.  Soon Scott finds out that Allison comes out of a family of famous Werewolf Hunters. Her father Chris (J.R. Bourne) is one of the best hunters around. Stiles, on the other hand, has been in love with Lydia for most of his life, but Lydia (Holland Roden) is in a relationship with the aggressive Jackson (Colton Haynes), the star of the Lacrosse team. With Scott's newfound powers, he becomes a threat to Jackson, who now has to share the title with Scott and he does not like that at all. Besides all of this, Scott has to learn how to be a Werewolf, without hurting anyone. To help him control his urges and changes, he needs the help of a mysterious and notorious Werewolf called Derek Hale (Tyler Hoechlin) ...
In 2009 MTV announced a new TV series, loosely based on the 80s movie "Teen Wolf". The premise of the show was going to be the same (teenage bot gets bitten by werewolf and gets superpowers), but according to MTV there was going to be a bigger emphasis on romance, mythology and horror. The creator of the show would be Jeff Davis and he wanted to make the story darker and sexier than the 80s movie. MTV's "Teen Wolf" premiered on June 5, 2011. The show was an instant success and eventually ran for 6 seasons. The finale aired on September 24, 2017. Over the years, "Teen Wolf" built up a strong fanbase and after the last season fans kept asking for more... In 2021, however, the fans got what they wished for: Paramount + ordered a reunion film, which is set to be released later this year...
Teen Wolf guests
In 2017 and 2018 we went to WolfCon Amsterdam (organized by The Con Factory,), an event that is completely dedicated to "Teen Wolf". Of course we also visited a lot of other events and we already met quite some people from the cast (for example: Tyler Posey, Ian Bohen, Ryan Kelley, Max Carver, Charlie Carver, Gideon Emery, Seth Gilliam, Adelaide Kane and many more). At the end of this month, we get the chance to expand our list, as Comic Con Manchester is bringing Beacon Hills to Manchester, with no less than 4 "Teen Wolf" guests!
Tyler Posey (Scott McCall)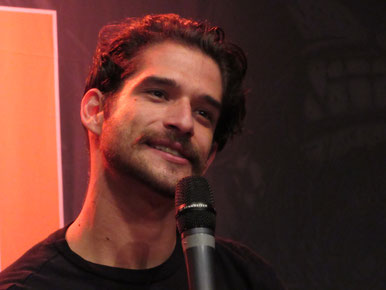 Tyler Garcia Posey was born on October 18, 1991 in Santa Monica, California (USA). Tyler is the second son of writer/actor John Posey and Cyndi Garcia Posey (who was of Mexican descent and passed away of breast cancer in 2014). He has to brothers: an older brother named Derek and a younger brother named Jesse, who is also an actor. Tyler grew up in the Santa Clarita and developed an interest in acting at a very young age. His father John, frequently brought him to sets and by the time he was 6, Tyler was already acting on stage, alongside his dad. He attended
Hart High School. Besides his passion for acting, he also loved playing the piano. Tyler began working on both TV and movies in the early 2000's.
Tyler's first major role was a recurring lead role in the medical drama series "Doc". He played the role Raul Garcia for 86 episodes between 2001 and 2004. He made quite an impression with his role as Raul, a little boy that gets orphaned when his mother falls ill and dies (he won several awards for this role).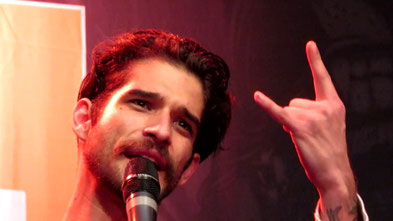 In 2002 (at the age of 12) Tyler got the chance to play alongside Arnold "The Terminator" Schwarzenegger, as Mauro in the action movie "Collateral Damage". Also in 2002, he played alongside Jennifer Lopez in the romantic comedy "Maid in Manhattan". In 2005 and 2006, Tyler Posey had roles in several TV shows and movies, like: "Inside Out" (2005, as Obert), "Into the West"(2005, as Young Abe Wheeler), "Sue Thomas: F.B.Eye" (2005, as Danny Abas), "Smallville" (2006, as Javier Ramirez) and "Brothers and Sisters" (2006-2007, as Gabriel Whedon). In 2007, Tyler auditioned for the role of Jacob Black in the "Twilight" film series, but he lost the part to his friend Taylor Lautner. Tyler and Taylor got to know each other while auditioning for the same roles over the years. Still in 2007. Tyler does get a role in "Veritas, Prince of Truth" (as Mouse). In 2009, Tyler plays the role of Andrew Ortega in several episodes of "Lincoln Heights" and in 2010 he plays a small role in the movie "Legendary". The year 2011 is the year of Tyler's big breakthrough, when he lands the leading role of Scott McCall in MTV's "Teen Wolf"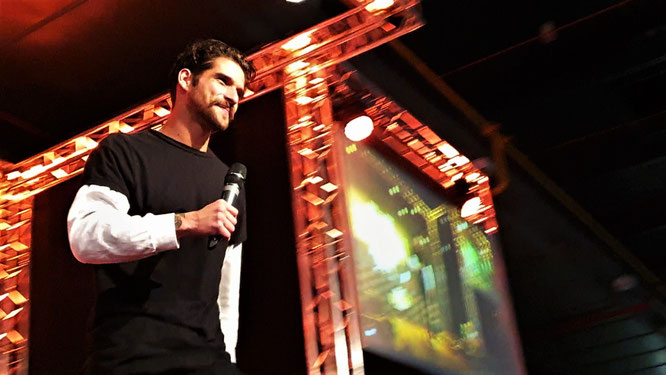 "Teen Wolf" turned out to be a big success and eventually ran for 6 seasons (from 2011-2017), but Tyler kept on playing other roles in movies and TV series. In 2012, he stars in the independent film called "White Frog". This comedy/drama film (directed by Quentin Lee) revolves around Nick Young (played by Booboo Stewart), a high school freshman with autism spectrum disorder. When his brother Chaz gets hit by a car and dies, his world seems to be falling apart. While Nick struggles with his grief, he finds himself being 'adopted' by Chaz's best friends, including Doug (Tyler Posey). They support him and he learns about the secret life and fears of his seemingly perfect brother. In the years following Tyler appears in movies and series like: "Scary Movie 5" (2013, as David), "Workaholics" (as Billy Belk), "The Exes" (as Eric), "Yoga Hosers" (2016, as Gordon Greenleaf). In 2018, Tyler lands the role of Lucas Moreno in the horror movie "Truth or Dare". In this movie, Tyler plays alongside Lucy Hale (Aria from "Pretty Little Liars") and Gage Golightly (who also appeared in "Teen Wolf" as Erica Reyes). He also got a recurring role in "Jane the Virgin" and does a lot of voice work, like the voice of Tony Toretto in the Netflix animation show "Fast & Furious: Spy Racers". Besides all of this Tyler is also a musician and he sings and played guitars in multiple bands over the years. We sure as hell can't wait to see him as Scott McCall again in the "Teen Wolf" reunion movie...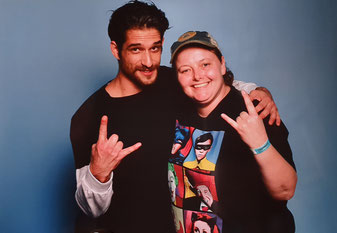 Our own experience: 
In 2019, Liv had the chance to meet Tyler Posey at Dutch Comic Con. Liv did a photo op with him. Carola & Liv also attended his panel and that was a hoot. He is so energetic and also a really nice guy! 
So, if you are a fan of "Teen Wolf", coming to Manchester and get a chance to meet him ... do it! You certainly won't regret it.
Tyler Posey will be attending Comic Con Manchester on both days...
Autograph: £68 (€79)
Photo Op: £68 (€79)
Teen Wolf Photo Op: £246 (€285)
Q&A: T.B.A.
Prices are subject to change
Holland Roden (Lydia Martin) CANCELLED
UNFORTUNATELY HOLLAND HAD TO CANCEL BECAUSE OF WORK COMMITMENTS...
Holland Marie Roden was born on October 7th 1986 in Dallas, Texas (U.S.), to father Jay Roden and mother Cheryl Roden. She has three siblings: a sister called Taylor and two brothers called Scott and Ryan. Both of her parents worked in the medical industry and she went to an all-girls private school (Hockaday School). From a young age, Holland had a passion for art and performing. In interviews she talks about another one of her childhood fascinations: The Queen of England (although it actually was Princess Diana, who was never Queen). Young Holland (6 or 7 years old) would put on one woman plays for her family and friends, where she would imitate her favorite royal. This was also when she really fell in love with performing, but at that time she didn't even think of acting for a living. Coming from a medical background, Holland wanted to pursue a career in medicine as a cardiothoracic surgeon. To achieve this, she spent three and a half years in pre-medical education, but moving to Los Angeles also reignited her passion for performing. She got herself an agent and all of a sudden, her acting career started to snowball. With this came busy schedules and commitments, which made it impossible for Holland to continue her full-time education in medicine. She switched her major to Women's Studies and eventually got her degree at UCLA. In the meantime, her acting career took off...
Just two months after getting herself an agent, she got her first break in the HBO comedy "12 Miles of Bad Road" (2008). She played the recurring role of Bronwyn, but unfortunately the show got cancelled before it even premiered. But Holland did not lose faith and she played some guest roles in TV series like: "Lost" (2008, as Emily aged 16) and "Cold Case" (2008, as Missy Gallavan). In 2009, Roden landed the role of Sky in "Bring It On: Fight To Survive" (the fifth installment of the popular "Bring It On" franchise). Holland played some more roles in TV shows and in 2011 she got her big break, when she landed the role of Lydia Martin in MTV's "Teen Wolf". She played this role in all 6 seasons of the show from 2011 until 2017. In the meantime, she also did some other projects, like: "House of Dust" (2013, as Gabby), "Cry of Fear" (2013, as Lydia) and a guest role in "Grey's Anatomy" (2012, as Gretchen Shaw). 
In May 2017, Holland was cast as the lead in the third season of horror anthology series "Channel Zero". Also in May 2017, she landed another lead in Amazon Prime's horror antholgy series named "Lore". Holland played Bridget Cleary. Over the last four years Holland has been working steadily, with roles in multiple horror movies, like: "No Escape" (a.k.a. "The Following", 2020) and "Escape Room: Tournament of Champions" (2021, as Rachel Ellis) and "Ted Bundy: American Boogeyman" (2021, as Kathleen McChesney). Holland also played the recurring role of Erin in 9 episodes of the third and fourth season of "Mayans M.C.". Holland will reprise her role as Lydia Martin in the upcoming reunion movie of "Teen Wolf". 
Linden Ashby (Sheriff Stilinski)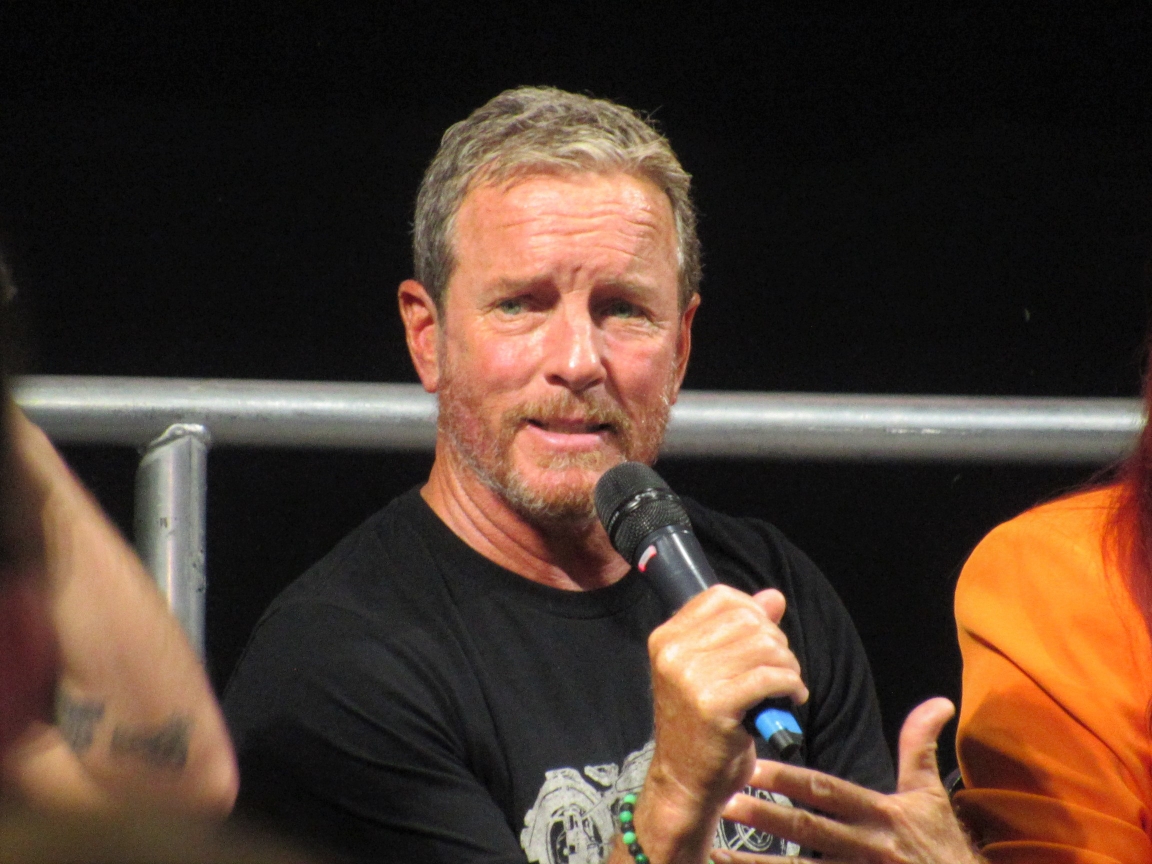 Linden Ashby was born: Clarence Linden Garnett Ashby III on May 23 1960 in Atlantic Beach, Florida (United States). His father (Clarence Linden Garnett Ashby Jr.) was a pharmaceuticals manufacturer and his mother Eleanor (née Johnson) was a civic organizer. Linden has two siblings: a brother named Stuart and a sister named Elizabeth.  Linden spent his early years in Atlantic Beach. Linden attended The Bolles School, a private school in Jacksonville, Florida. Fun Fact: Being born in Atlantic Beach, Linden had been surfing since he was 9 years old. When he was in high school, he surfed competitively and he got invited to the East Coast Championships three times. After his graduation he took a degree in Psychology and Business Administration at Fort Lewis College in Durango, Colorado. In his junior year, however, Linden dropped out because he wanted to pursue his real passion: acting. He moved to New York and took up a year acting study at The Neighborhood Playhouse School of the Theatre in New York City.
At the age of 21, he also took up martial arts. His career took off in 1986, with a recurring role as Curtis Alden in the soap opera "Loving". This was followed by the role of Lance Reventlow in "Poor Little Rich Girl: The Barbara Hutton Story". In this award-winning miniseries about Barbara Hutton, heiress to the Woolworth fortune and at one point one of the richest women in America, the role of Barbara is played by Farah Fawcett. Linden plays the role on the only son of Barbara. Linden got his first big break when he bagged the recurring role of Officer Honeycutt in the crime drama series "The New Adam-12" (1989-1991). In 1990 he made his debut film appearance as Craig in the horror movie "Night Angel", followed by the role as Ted in the thriller "The Perfect Bride" (1991) and as Dragon in the action comedy "Into the Sun".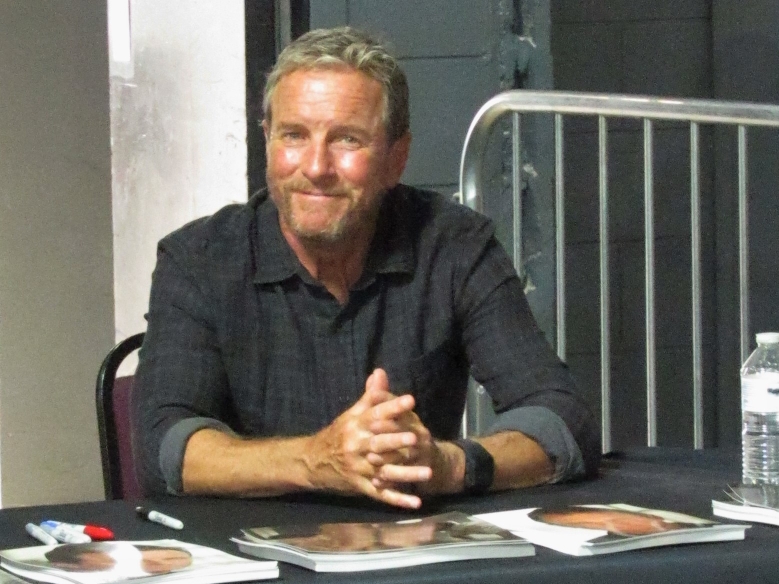 At this point, Linden was working steadily with an average of 2 projects a year. In 1994, he played opposite Kevin Costner as Morgan Earp in the western "Wyatt Earp". You might wonder why I mentioned the fact that Linden studied martial arts, well here comes the answer: in 1995 Linden drew on his martial arts background, when he bagged the role of Johnny Cage in the 1995 movie adaptation of the popular video game franchise "Mortal Kombat". The film was a huge box office success. In 1997, he joined the main cast of the popular young adult soap opera "Melrose Place", as Dr. Brett Cooper. In the decade that followed Linden kept on working steadily and he starred in both movies and TV series: like: "The War Next Door"(2000, as Kennedy Smith), "The Young and The Restless" (2003-2004, as Cameron Kirsten), "Resident Evil: Extinction" (2007, as Chase), "Days of Our Lives" (2008, as Paul Hollingsworth) and "Army Wives" (2009-2013, as Dr. Dan Seaver). In 2011, he joins the main cast of the new MTV series "Teen Wolf", where he played the role of Sheriff Stilinski. The show runs for 6 seasons until 2017. Over the past years you might have seen Linden Ashby in series like: "Lifeline" (2017, as Det. Grundy" and "Trinkets" (2019-2020, as Whit Foster). In 2019, he reprised his role as Johnny Cage, when he voiced the character in the video game "Mortal Kombat 11". He will also reprise his role as Noah Stilinski in the upcoming "Teen Wolf" reunion movie.
Linden Ashby will be attending Comic Con Manchester on both days...
Autograph: £32 (€37)
Photo Op: £32 (€37)
Teen Wolf Photo Op: £246 (€285)
Q&A: T.B.A.
Prices are subject to change

Dylan Sprayberry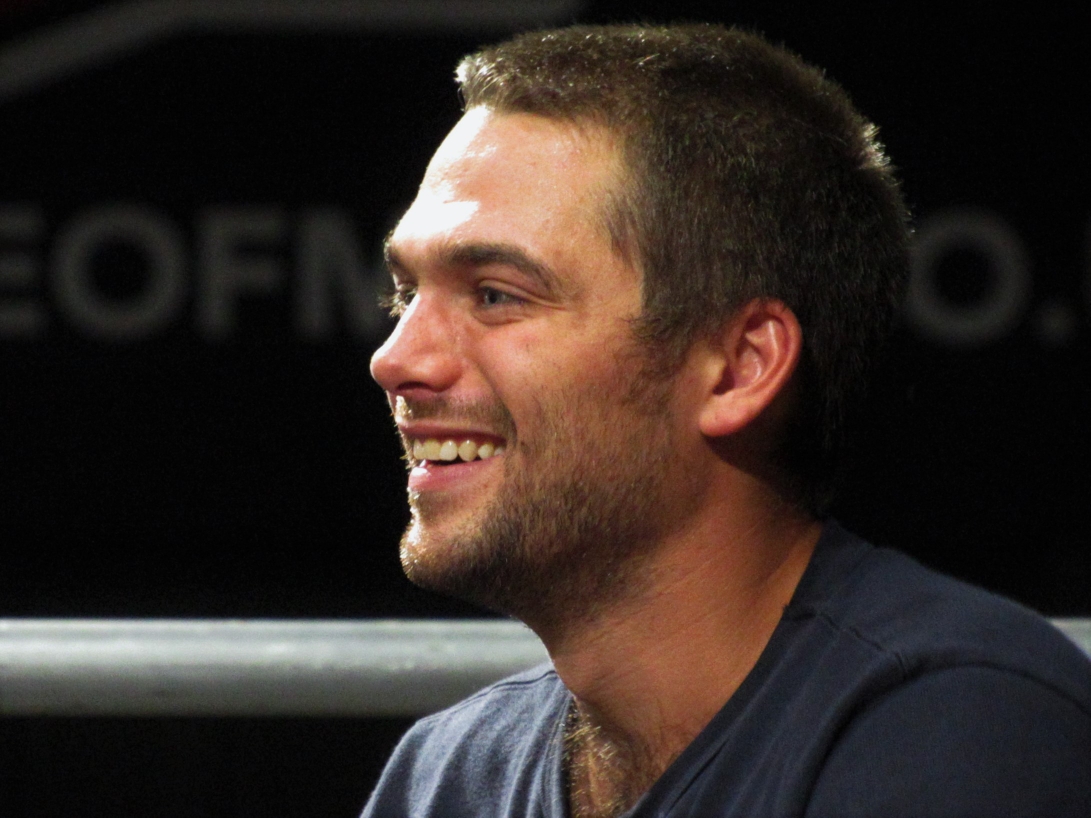 Dylan Muse Sprayberry was born on July 7, 1998 in Houston, Texas (US). Dylan is the oldest child of parents Carl and Dana Sprayberry and he has a younger sister named Ellery (also an actress). Dylan had his first role at the age of three in a PBS commercial. In the years that followed he kept on getting and accepting offers for commercials and photoshoots. He attended West University Elementary until 2006, when he and his family moved to Los Angeles, to pursue an acting career for Dylan and his sister. Dylan's parents saw the potential of both of their children and they wanted to give them both the opportunity to pursue their dreams in Hollywood. Young Dylan made his debut at the age of 9 in the short film "The Sunday Man" and soon offers came rolling in. He played guest roles in multiple TV series, like:  "iCarly" (2008, as Matthew), "Criminal Minds" (2008, as Sam Cunningham) and "State of the Union" (2008-2009, as Jesse).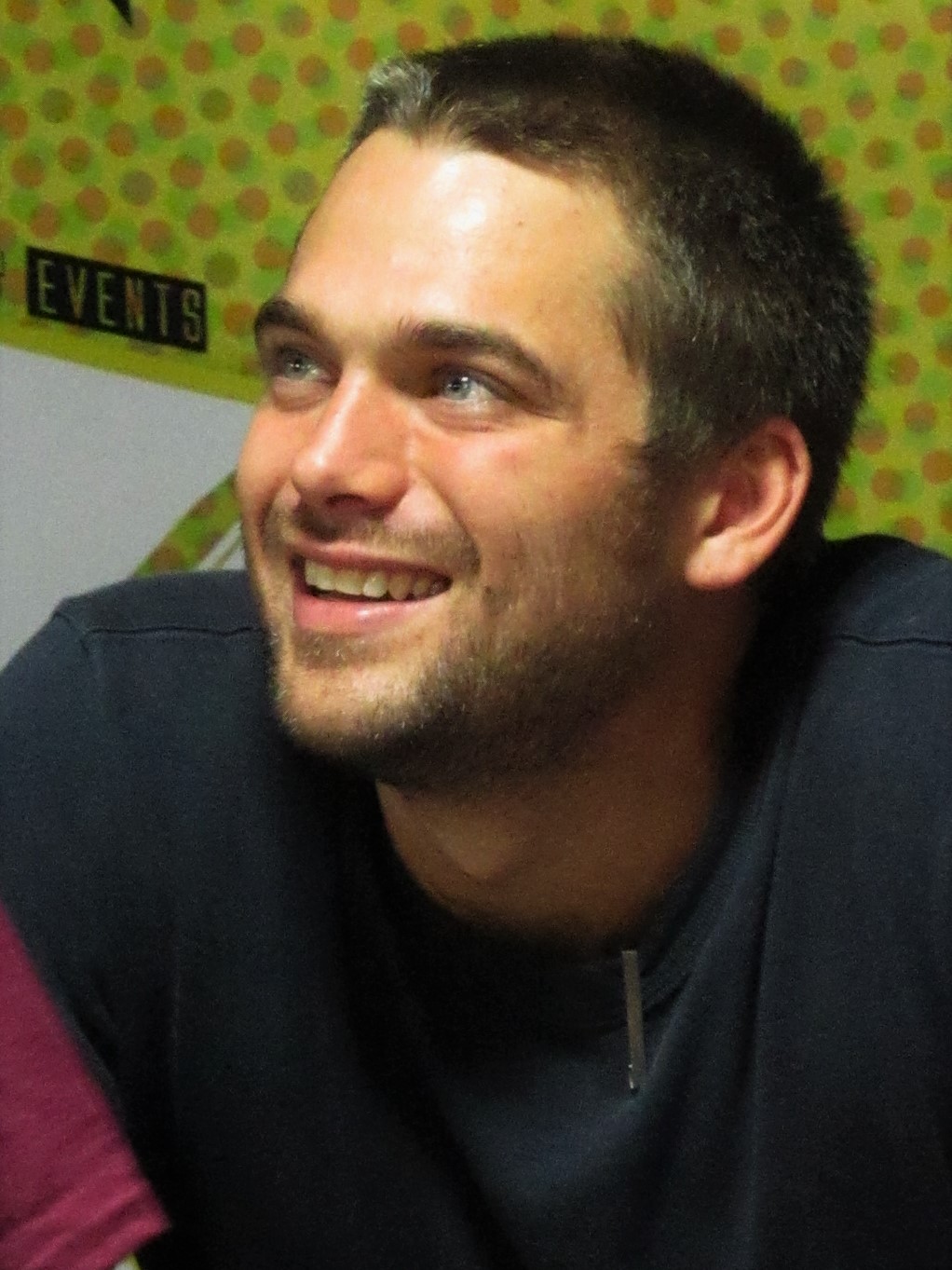 Besides his roles in TV shows, Dylan also played supporting roles in feature films, like: "The Three Gifts" (2009, as Mike Crane) and "Bedrooms" (2010, as Max). His breakthrough came when he landed the role in Zack Snyder's "Man of Steel" (2013). He played the role of the young Clark Kent in this first movie of the DC Extended Universe. Not long after this, in 2014, Liam joined the cast of "Teen Wolf" for its fourth season, playing the role of Liam Dunbar. Fun Fact: Dylan first auditioned for the role of young Derek. The role of Derek is played by Tyler Hoechlin (more about him later), who is also known for his role as Clark Kent in "Superman and Lois". Dylan also played Clark Kent...
Dylan played the role of Liam Dunbar from 2014 until 2017, when the show ended. After "Teen Wolf", he landed a role as Henry Richmond in "Light as a Feather" (2018-2019). Dylan is also set to reprise his role as Liam Dunbar in the upcoming "Teen Wolf" reunion movie.
Dylan Sprayberry will be attending Comic Con Manchester 2022 on both Saturday and Sunday.
Autograph: £37 (€43)
Photo Op: £37 (€43)
Teen Wolf Photo Op: £246 (€285)
Q&A: T.B.A.
Prices are subject to change
Tyler Hoechlin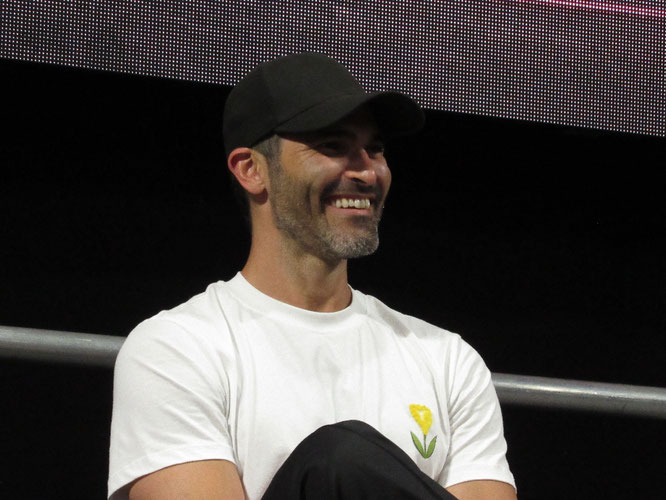 Tyler Lee Hoechlin was born in Corona, California (US) on September 11th, 1987.
He was the third born child of Don Hoechlin (a doctor) and Lori Hoechlin (a stay-at-home mom and former mountain biker). Tyler has a total of three siblings: an older brother named Travis, an older sister named Carrie and a younger brother named Tanner. The Hoechlin family is a sport loving family and Tyler started playing baseball at the age of 7 and he turned out to be very good at it. Tyler aimed for a career as a professional baseball player. In later interviews he mentioned that he loved playing baseball and that going to practice never felt like an obligation. Tyler had played in some TV commercials when he was a baby and one day when Tyler was 7 or 8 an audition letter for an acting school turned up in the mail.  The audition turned out to be on the same day as an important game, so Tyler chose baseball. When they were on their way to the game in Moreno Valley, the coach called and told them to turn around, because the game had been cancelled because of rainfall, which almost never happens in that area. This turned out to be fate, because with nothing else to do that day Tyler went to the audition and he got in. Six months or so later he also had an agent.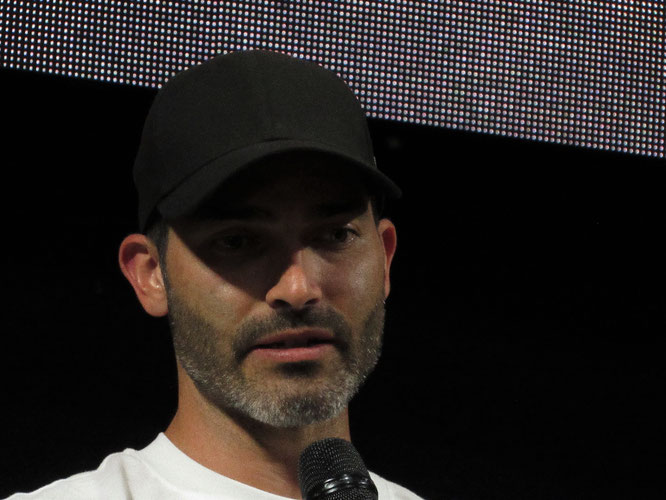 Throughout high school Tyler kept on balancing baseball and acting. When he was 13 years old, he bagged the role of Michael Sullivan Jr. in "Road to Perdition" opposite none other than Tom Hanks. Tyler was chosen out of 2000 candidates. This was the moment he knew he wanted to do this for a living, but after his baseball career, which was his main goal. Tyler played Scout Tournaments and Area Code Games (which feature the best young players of the country for coaches to choose from). Tyler got a scholarship to Arizona State, where he played for a year before he transferred to UC-Irvine. AT one point Tyler even turned down a job interview with Francis Ford Coppola and a role in the "Twilight" movies, because he had to play. In his junior year however, Tyler pulled his hamstring and from that point, he could not play for a 100 percent anymore. Because of this he took on more auditions. At a certain moment, the coach told him he had to make a choice between baseball and acting. Eventually he chose acting, but it was a hard choice. In the years before he had split his time and he did some acting jobs (besides his baseball career) and one of them was the recurring role of Martin Brewer in "7th Heaven" (from 2003 until 2007). 
Not long after Tyler decided to become a professional actor, he landed the role of Derek Hale in "Teen Wolf" and his career took off. From "Teen Wolf" he rolled into the DC universe, when he got the role of Superman in CW's "Supergirl". He didn't even have to audition, as he was the director's first choice. In 2019, Tyler got his own show as Clark Kent/Superman in the CW spin-off "Superman and Lois". And he is not the only one of the show, that will be attending Comic Con Manchester (but more about that in the next article). 
Tyler will be attending Comic Con Manchester on both Saturday and Sunday...
Autograph: £68 (€79)
Photo Op: £68 (€79)
Teen Wolf Photo Op: £246 (€285)
Superman and Lois photo op: £116 (€135)
Kent Family photo op: £176 (€205)
Q&A: T.B.A.
Prices are subject to change
Quite a list, right? Well it's just a small part of the complete guest list for Comic Con Manchester. We will be back with other articles about the guests for Manchester. Will we see you there? You can buy your tickets on the website of Comic Con Manchester!