This October Monopoly Events brings a brand new concept to Manchester. For the Love of Horror is an event that crosses scare events with a Horror convention and it will be held in the Bowlers Exhibition Centre in Manchester (UK) on Saturday the 20th and Sunday 21st of October.

Well, it just so happens that I will be in England for a family visit in this period, so this is a great opportunity to check this convention out. In this article we are looking forward to the event. We will (as always) focus on the Movie and TV guests in this article. In part 2, we will also talk about other things to see and do at the event.
First of all what is FTLOH?
For the Love of Horror is brought to Manchester by Monopoly Events, the company behind some of the biggest fan conventions and music-, sports- and food & drinks events in the UK. They also organized events like: For the Love of Sci-Fi, For the Love of Fantasy, For the Love of The Force, Awakening, Comic Con Liverpool and a lot more! For a complete list of events, check out the website of Monopoly Events.
As I already mentioned, For the Love of Horror seems to be a cross over between a Halloween Scare Event (like Gaia Zoo Animal Zombie Nights or Halloween Horror Nights at Universal) and a Horror convention (like Weekend of Hell). There will be multiple scare attractions with all kinds of Horror movie themes. Furthermore there will be a wide range of Horror actors and actresses, Q&A's, Horror Cosplayers, Horror Writers, Live Art and a lot more.
Movie- and TV guests

First of all we are going to talk about the Movie- and TV guests, that will make their way to Manchester in the weekend of 20-21 October 2018. 
Danny Trejo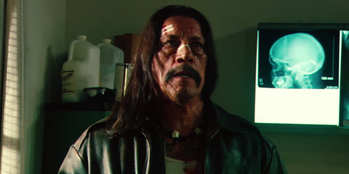 Now if you have never seen Danny Trejo in a movie before, that means you do not watch enough movies! Really, the man has a whopping amount of 368 credits (and still counting) to his name.
Trejo was born on May 16th 1944, in Echo Park (one of the toughest neighborhoods of Los Angeles at that time). His uncle (a drug addict and armed robber) mentored him and at a very early age Danny already was addicted to drugs and in and out of jail. At one point, in the aftermath of a prison riot (facing the death penalty), Trejo turned to God and swore to turn his life around if he got another chance. He got that second chance and held his promise ever since. From that day on he has been living clean and helping troubled youth. He joined Alcoholics Anonymous and Narcotics Anonymous. In 1985, through a twist of fate, he ended up on the set of "Runaway Train" starring Eric Roberts and Jon Voight. He got a job as a boxing trainer for Eric Roberts. When the director Andrei Konchalovski saw him box, he offered Danny a role as an extra in the movie (he played Roberts' opponent). In the years following, he got cast over and over again for supporting roles in movies, because of his very distinctive rugged look and posture. And now more than 3 decades later the man is still going strong. He worked together with great names like Tarantino and Rodriguez and gained a cult status. Fun Fact: Danny Trejo and Robert Rodriguez are second cousins, but they were not aware of that, until they stared filming "Desperado". Furthermore Trejo is known for roles in movies, like:  "From Dusk 'till Dawn" (he is the only one of the cast appearing in all three movies) , "Heat", "Anaconda", "Con Air", "Once upon a Time in Mexico", "Spy Kids", "Machete" and a lot more. 
Autograph: £41 (roughly €46)
Photo Op: £41  (roughly €46)
Alex Vincent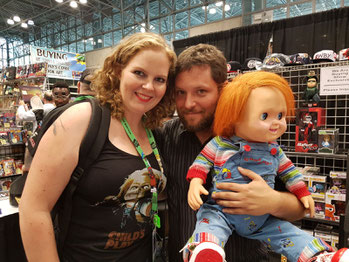 Alex Vincent will also be attending For the Love of Horror and of course he is bringing Chucky, "his friend 'til the end"! For those of you, who have no idea what I am talking about: Alex (born April 29th, 1981 in Newark, New Jersey) played the role of Andy Barclay in the "Child's Play"-franchise. He appeared in 4 of the "Child's Play" movies, being: "Child's Play" (1988), "Child's Play 2" (1990), "Curse of Chucky (2013) and "Cult of Chucky" (2017).
When Alex was 5 years of age, he saw a girl he knew in a commercial and he decided that was what he wanted too. He and his mom, moved to New York, found a manager and started auditioning). At the age of 6, Alex got the role of Andy in the first "Child's Play" movie and he remembers it as being a lot of fun and very exciting. Two years later he reprised his role in "Child's Play 2". After landing a few more roles Alex took a break from acting. In 1993, aged 12 years old, he moved from New Jersey to Florida to study sound engineering. He says he always had a thing for music. When he was younger, he did not get the chance to study an instrument, so learning how to make other musicians sound at their best, was the next best thing. In 2009, he graduated with an Associate's Degree in Recording Arts and he opened his own Recording and Production Studio, called AV Productions. But what about acting? Well in 2013 he returned to his old passion, for the role of Andy Barclay in the 6th installment of the "Child's Play" franchise:  "Curse of Chucky" and again in 2017 for "Cult of Chucky". Besides being an actor and sound engineer, Alex also loves to write screenplays and poems. If you want to meet this talented jack-of-all-trades and his friend 'till the end, make your way to Manchester in the weekend of the 20th and 21st of October!
Autograph: £21 (roughly €24)
Photo Op with Chucky: £31 (roughly €35)
Photo Op with Chucky and Christine Elise: £51 (roughly €58)
Christine Elise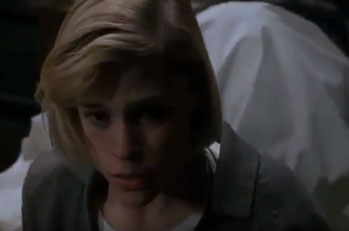 Why settle for one "Child's Play" guest, when you can have two? Christine Elise played the role of Kyle in "Child's Play 2" and reprised this role 27 years later in "Cult of Chucky" (2017). Besides her role in the "Child's Play" franchise, Christine played in a lot of other movies and TV shows, but more about that later.
Christine Elise McCarthy was born in Boston, Massachusetts on February 12th 1965. She has been acting professionally since 1988, but the role of Kyle in "Child's Play 2" was her first big role. Later she stated that she was insanely excited at the time and she spent a lot of time on the set (even when she was done for the day or had a day off). Fun Fact: In several interviews Christine stated that she did not have a lot of scenes together with Alex or Chucky. If they are not in the frame together, chances are they were not there. She shot a lot of scenes looking at pieces of colored tapes at the spots were Andy or Chucky would be. Why? Well Alex was a minor, so in accordance with the child labor laws, he had to be off the set in time. To get this done, they had to shoot Alex' scenes first. And then there was Chucky. Because it was very expensive to have the puppet and its puppeteers on set, they shot his scenes after Alex' scenes. So the only time Christine had a scene with the real Alex or Chucky was when she was in one frame with them. 
Besides her role as Kyle, Elise appeared in a lot of other TV shows and movies. When I was young, I was a big fan of "Beverly Hills 90210". Christine Elise played the role of Emily Valentine in season 2 and she made quite an impression. I remember her being a "bad girl" and she was a bad influence on Brandon Walsh (Jason Priestley). Christine Elise also played roles in: "E.R." (as Harper Tracey), "In the Heat of the Night" (as Lana Farren), "A League of their Own" (the TV series, as Kit Keller), "Body Snatchers" (as Jenn Platt) and a lot more...
Autograph: £21 (roughly €24)
Photo Op: £21 (roughly €24)
Photo Op with Chucky and Alex Vincent: £51 (roughly €58)
Tyler Mane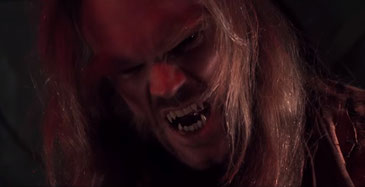 "Halloween" (1978) has always been one of my favorite Horror movies. I mean Michael Myers is a legend in the history of Horror. In 2007, Rob Zombie made a remake of the original movie with Tyler Mane in this legendary role.  Although it did not give me the feel of the original movie, I did enjoy watching it. Over the last couple of years, I saw the original Michael Myers (Tony Moran) two times at a Horror convention and I am looking forward to see the "new Michael Myers", Tyler Mane, at For the Love Horror in Manchester. Mane played the role of Myers in "Halloween" (2007) and "Halloween II" (2009). But that's not only because of his role in "Halloween", I am also a big fan of the "X-Men" movies and Tyler Mane played the role of Sabretooth in "X-Men" (2002). Oh and he also played Ajax in "Troy" (2004).
Tyler Mane was born as Daryl Karolat on December 8 1966 in Saskatoon, Canada. He is a former professional wrestler. As a teenager Tyler travelled to Calgary, where he trained with the famous Canadian wrestler Stu Hart. In 1986 he began his professional wrestling career, in Canada, under the name Skywalker Nitron. In the years following he travelled the world, participating in wrestling Tournaments. In 1993 he joined the WCW, under the name Big Sky. He retired from wrestling in 1996. During his time participating in Wrestling tournaments in Mexico, he got a role in the movie "Luchadores de las Estrellas". He played the role of El Vampiro Interespacial, the villain of the movie. Later during his time in the WCW, he auditioned for and got a role in the TV show "Smokey and the Bandit". After his retirement from wrestling, Mane appeared in a lot of movies, including the ones I mentioned before and other movies like: "The Devil's Rejects" "Devil may call" and many more.
Autograph: £21 (roughly €24)
Photo Op: £21 (roughly €24)
Richard Brake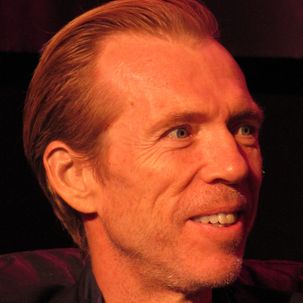 On to the next special guest and it's a good one! Richard Brake will attend For the Love of Horror. This Welsh actor has some roles in some great movies and TV shows on his account. What to think about; "Game of Thrones" (as The Night King), "Batman Begins" (as Joe Chill), "Doom" (as Portman), "Water for Elephants" (as Grady), Rob Zombie's "31" (as Doom-Head), "Ray Donovan" (as Vlad) and many more. A few years ago we saw Richard at Weekend of Hell in Oberhausen. He was there to promote Rob Zombie's "31" at that time. He seemed very friendly and we attended the "31" panel, where he was part of.
Richard Colin Brake was born in Ystrad Mynach, Wales (UK) on November 30, 1964. When he was only 3 years old, he and his family moved to the US, where they first settled in Atlanta, Georgia. The family moved around quite a bit and Richard spent his youth in several states of America, being: North Carolina, Tennessee and Ohio. He trained in The Science of Acting under Sam Kogan and also studied acting in New York under Beatrice Straight. Fun Fact:  Richard is close friends with actor Eddie Marsan, who is godfather to Richard's two sons.
Autograph: £21 (roughly €24)
Photo Op: £21 (roughly €24)
Eileen Dietz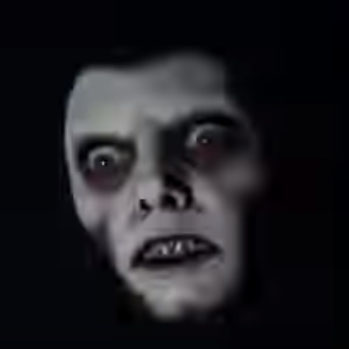 Eileen Dietz is known for her roles in many Horror films, but her most notable one is her role as Pazuzu's face in "The Exorcist" (Pazuzu is the name of the demon). Eileen played the scenes that were seen as too controversial to let Linda Blair play them, because she was a child. And with "The Exorcist" we come to another one of my favorite Horror movies. My preference in Horror movies goes out to the Horror movies of the 70s and 80s. I'm not really into the whole gore Horror, I love Horror movies that make you want to scream because the tension is unbearable.
Back to Eileen, she was born on the 11th of January 1944 in New York along with twin sister Marianne DeFossey. From a young age, Eileen and her twin sister appeared in commercials together and aged 12 she started studying acting at the Neighborhood Playhouse. In 1963, at the age of 19 she made her television with a small guest role in "The Doctors". Not long after this she landed a recurring role in the soap opera "Love of Life". In 1967 she played a role in the critically acclaimed mockumentary "David Holzman's Diary" as Penny Wohl. In the late 60s and early 70s Dietz appeared in numerous theater productions. Her appearance in one of these productions ("Ontological Proof of My Existence"), led to an invitation to do a screen test for the 1973 Horror classic "The Exorcist". She landed two roles in the movie as the face of the demon Pazuzu and as a stand in for Linda Blair (who played Regan), for the controversial scenes of the possessed Regan. Fun Fact: Although this is one of her most notable projects, she only appeared on film for about 10 seconds. Following "The Exorcist", Eileen appeared in numerous TV shows and movies. One of her bigger projects in the 80s was a role in the soap opera "General Hospital" and more recently she played a zombie in "Constantine" (2005). 
Autograph: £21 (roughly €24)
Photo Op: £31 (roughly €35)
Chad Rook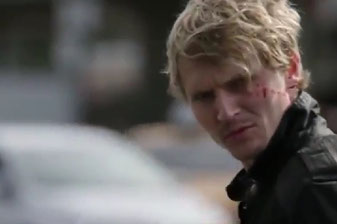 Chad Rook (born March 29, 1982) is a Canadian actor and former model. He knew he wanted to be an actor at a young age and left for Vancouver straight out of High School. He moved there to pursue an acting career, but not long after the movie he got a modelling job. He worked for several big names, like: Gaultier and Gucci. Although there were a lot of modelling offers, it was not what Chad wanted and he relocated back to Canada to pursue that acting career. After years of hard work and a lot of dedication, Chad build up quite a list of credits on the big and the small screen. He appeared in movies and TV shows, like: "The Flash" (as Clyde Mardon), "War for the Planet of the Apes" (as Boyle), "Timeless" (as Carl), "Supernatural" (as Desmond), "Siren" (as Chris) and a lot more.
Autograph: £21 (roughly €24)
Photo Op: £21 (roughly €24)
Ilona Six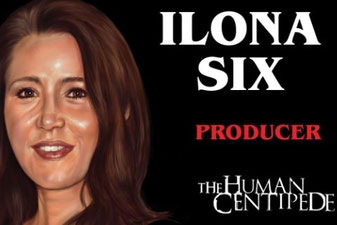 Ilona Six is a Dutch actress and producer, mostly known as co- producer for "The Human Centipede (First Sequence)". She produced this movie together with her brother Tom Six. They founded the film production company Six Entertainment together. In 2009 they produced the highly controversial "The Human Centipede". The movie is about a German surgeon, who kidnaps three tourists and uses them for a gruesome experiment. He surgically connects them (mouth to anus), to create a (what's in a name?) human centipede. The Six siblings made two sequels . "The Human Centipede II (Full Sequence) was banned in the UK and Germany. After some alterations the film was made fit for release in the UK, but it is still banned in Germany. The final part "The Human Centipede III (Final Sequence)" was released in 2015.
Autograph: £21 (roughly €24)
Photo Op: £21 (roughly €24)
Barbara Nedeljakova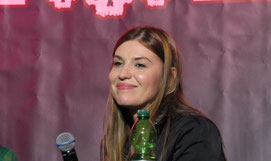 In 2005, Slovakian actress Barbara Nedeljakova, instantly achieved a cult status among Horror fans for her role in Eli Roth's "Hostel". She was born in Banska Bystrica, Czechoslovakia (now Slovak Republic) at May 16, 1979. Barbara studied acting in Prague (Czech Republic) and she also spent some time modelling. Fun Fact: During her time in Prague, she also worked in a puppet theater. She operated 3 or 4 puppets per show. After "Hostel", she has been cast in several Horror movies, like: "The Hike", Strippers vs Werewolves" and "Children of the Corn: Genesis"
Autograph: £21 (roughly €24)
Photo Op: £21 (roughly €24)
Ola Ray
Ola Ray was born on August 26, 1960 in St. Louis, Missouri (US) is an American actress and model. There is a big chance that you've seen her in her most notable role (and not just once). Ray is known as Michael Jackson's girlfriend in the legendary video clip for his song "Thriller". She also played some small roles in movies and TV shows, like: "48 Hours", "Cheers", "Beverly Hills Cop II" and "The Night Stalker".
Ola Ray will be performing "Thriller" on the Saturday of FTLOH, together with a Jackson tribute performer and a group of zombies!!
Autograph: £21 (roughly €24)
Photo Op: £21 (roughly €24)
Nathan Head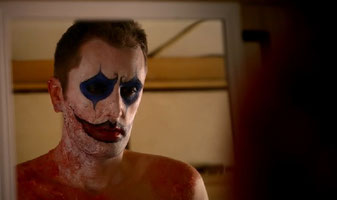 This British actor is a true Horror actor and is mostly known for his role as Trinculo Moreau in the 2014 Horror movie "Theatre of Fear", also known as "The Midnight Horror Show".
Fun Fact: He is also known for his role in the "Doctor Who: Christmas Special" with David Tennant. He is the passenger on the Titanic, who gets sprayed with Champagne by the Doctor.
Chris McCorkindale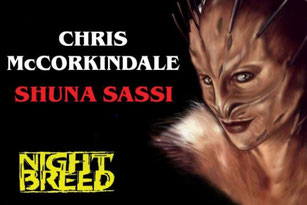 When I was Browsing IMDb for some more information about Chris McCorkindale, I noticed that she has only one credit on her name and that
is  the role of: Shuna Sassi in Clive Barker's "Nightbreed" (1990). 
Autograph: £21 (roughly €24)
Photo Op: £21 (roughly €24)
Well, that is quite a list, right? That's it for this first part of our "Looking forward" - article about For the Love of Horror in Manchester on the 20th and 21st of October.
For more info about tickets, check out: