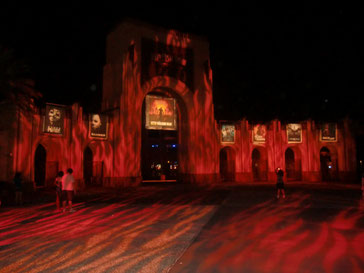 Because of Halloween, we decided to post today about the Halloween Horror Nights at Universal Studios. Sig and I went on holiday to Florida 2 years ago. When we found out about Halloween Horror Nights, we knew instantly we wanted to go. We both love horror movies and anything related to it. We bought the tickets online, when we were still in the Netherlands.  Halloween Horror night is an annual event that takes place in the Universal Studios theme parks of Orlando, Hollywood, Singapore and Japan. It took place for the first time in 1991 in Florida. Back then it was called Fright Nights.  At the event you can find haunted houses and scare zones. The Haunted houses / scare zone are mostly inspired by movies/ TV series. In 2014 there were eight haunted houses and 4 scare zones. There were also some live shows.  And of course you can buy a lot of merchandise during the Halloween Horror nights! 
Haunted houses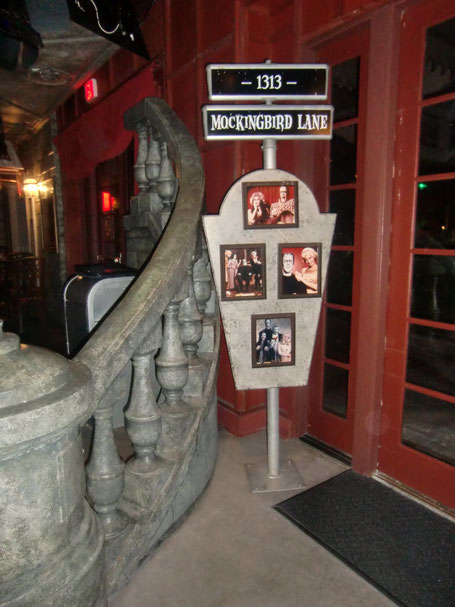 We  entered the theme park and first walked around a bit. Everything looked awesome and we were really excited. We just bought a pass for general admission. There was also an option to buy an express pass. With an express pass you can bypass the regular queue for all haunted houses and some attractions. 
We decided that general admission would be enough. Well, little did we know haha. I can tell you already: if I ever go again, I'm buying an express pass for sure. The queues for the haunted houses were huge. We went to the haunted house of the Walking Dead first (of course), but really had to wait a long time. (Since it's two years ago, I don't know it exactly anymore. But my guess would be around an hour. Part of the queue was outside. And it started raining. Before queuing we had decided we wouldn't need a poncho (big mistake 2). It rained harder than we thought. That made it feel like it was all taking longer. But of course we were still having fun. Enjoying looking around and see all the decoration. It really looked wonderful. In total, we visited 3 haunted houses that evening: The Walking Dead, Halloween and Dracula. I really enjoyed the haunted houses. That's why I would take an express pass if I'd go again: To have time to see them all. All the haunted houses looked incredible (Of course it was dark inside so I couldn't see everything very well). And it was very scary haha. They did an amazing job there. I screamed a lot (While I'm usually not the scream queen). But this really got me. I was constantly prepared for a scare, to be scared. And it might sound strange but i loved that feeling. I'll try to explain a bit: You know you are safe. I mean: This is an event. No one is actually going to hurt me. But because everyone is scaring you. you do get that feeling that there's something scary behind every corner. So I was alert and suspicious all the time. I was scared, bu also knew there wasn't a real threat. So I really enjoyed it. At one moment, I walked in a haunted house, looked around a corner and there was just a security guy standing. Doing nothing at all to be scary. But I screamed as loud as I could haha. At that time everything made me scream haha.  The houses were fun, looked great and there were some good scares! In 2016 they had the following houses: American Horror Story, the Texas chainsaw Massacre, the Walking Dead, the Exorcist, Krampus, Lunatics Playground 3D - You don't stand a chance, Ghost town: the curse of lightening Gulch and Tomb of the Ancients. 
Scare zones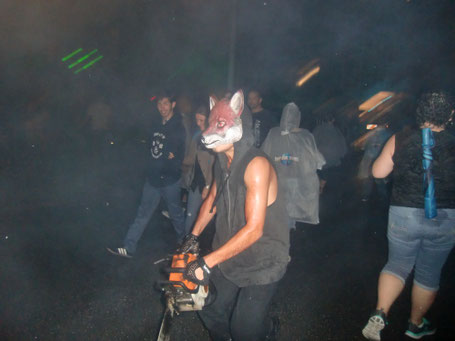 A scare zone is an outdoor area with also a theme. In the scare zone, or characters from the theme. Why are they in the scare zone? To scare you! And they did!! Definitely. We went to the scare zone with as theme the Purge. we loved it. DO you know the movie The Purge? I really like it. Recently I wrote a review about The Purge: Election Year. The scare zone was great. I must say: i felt surreal to walk on the streets and feel scared. Constantly looking around you if someone's coming after you. But like I said: You know your safe. So it's just fun! I always love this picture of the scare zone. I took this picture of one of the character/ actors with a chainsaw. Of course with that, I drew attention to us. This person came running after Sig. It was funny and scary at the same time haha. What would you like more? A care zone or a haunted house? This year (2016), Halloween Horror Nights has the following scare zones: Survive or die apocalypse, Lair of the banshee, Dead man's wharf, Vamp  '55 & A chance in hell. 
Shows and rides
During Halloween Horror Nights you can also visit some shows and go in some rides of the theme park. We didn't do either of them, because we already running short in time in visiting the haunted houses and the scare zones. Nevertheless, they seemed fun! And we tried almost all the rides when we visited the Universal theme park a few days later. In 2016, there were two shows: Academy of villains: House of fear and Bill & Ted's excellent Halloween adventure.  
What I thought about Halloween Horror Nights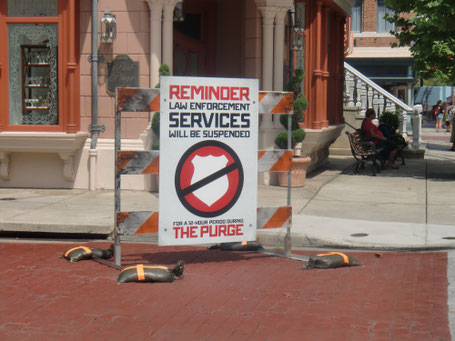 Even though it was raining and even though the queues were huge, I loved it!! And I really hope to again one day. I don't live close to any of these Universal theme parks so it's dependent on my holiday plans. I thought the haunted house were very well designed and I loved the scare zones as well. All the details were great and Sig and I had an awesome time. It was scary and it's meant to be scary. So I was very happy! Let us know in the comments, do you like scare events? Have you ever attended one?