As a preparation for Dutch Comic Con, I decided to watch Marco Polo? Why? Well, Benedict Wong is one of the guests of Dutch Comic Con Spring 2019. the series is about Marco Polo's early years. His father leaves him in the court of Kublai Khan (Benedict Wong). There, we follow Marco Polo's adventures.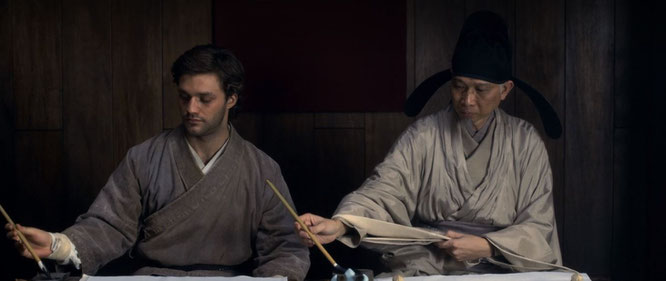 My thoughts
I had never heard of this series nor had a seen a trailer or anything. I was looking for some preparation work for Dutch Comic Con, when Liv told me Benedict Wong plays a big role in a series called Marco Polo. I looked up on Netflix and yes! it was on Netflix. So I started to watch it immediately. 
I really like the series. It's very different from what I watched recently (Elite, Dirty John, Charmed) but I like some variation in my series! I love the focus on travel & adventures. And how Marco Polo's stories and descriptions are so important. I love seeing how powerful words can be. I love how he is described as 'the foreign messenger who can paint pictures with his words'. 
There's so much to see adventure, politics, hopes & dreams and great actors! 
The actors
Well, I started watching Marco Polo for Benedict Wong. He has an incredible role in the series! I wasn't familiar with Benedict Wong as an actor ( I also haven't seen Doctor Strange yet). So this was the first time. I think his role in Marco Polo is awesome and he plays the role of Kublai Kahn very well. The main role is for Lorenzo Richelmy. He plays Marco Polo. I have to admit that I wasn't familiar with him either, the same goes for the rest of the cast. 
But that's also something I really like: getting to know other actors & actresses. And I was very impressed by the acting in this series. Lorenzo is very convincing as Marco Polo and I also  really liked Joan Chen as Empres Chabi. 
How many seasons?
There are 2 seasons of Marco Polo. It got cancelled after season 2. 
Grade