Remember "Happy Death Day"? I do. Or well, to be honest, I remember the trailer. I never watched the movie. I know it's about a girl waking up every day at the same day. She gets killed, and she wakes up again. And it's the same day. Over and over again. The movie was on my watch list, until I heard someone talking about it on TV recently explaining the plot and ending. Well, that's that. I don't have to watch it  anymore (no worries, I won't spoil it for you!). Movies with a repeating day, or timeline, are not new. Just think of "50 First Dates" and "Groundhog Day". Okay, in "50 First Dates", the day doesn't repeat itself, the girl just always forgets the day before. But you get the idea. I'm not particularly fond of the concept, but I don't hate it either. It depends how well the story around it is.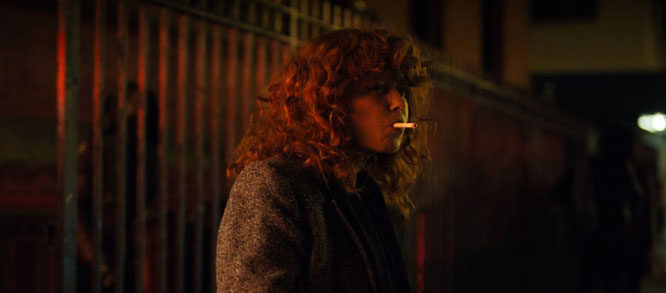 The series "Russian Doll", fits in this genre. It's about a woman, Nadia, who relives her birthday. She keeps dying and then she returns to her birthday party again. She finds out about it and tries to discover how this time loop is happening. 
The actors
"Russian Doll" caught my attention mainly for the cast. Not so much for the story actually. In the trailer on Netflix I saw Nadia, played by Natascha Lyonne. I know her for "Orange Is The New Black", where she plays the role of Nicky. I thinks she's awesome in "Orange Is The New Black" and in "Russian Doll", she also plays a cynical woman. So I was willing to give the series a try, just based on this. 
I was also happy to discover that the series is also starring Dascha Polanco (as Beatrice). She is known for "Orange Is The New Black" as well. She plays the role of Daya. An awesome role! 
Other actors in this series are:
Charlie Bennett as Alan
Yul Vazquez as John
Greta Lee as Maxine
Elizabeth Ashley as Ruth
Rebecca Henderson as Lizzy
Jeremy Bobb as Mike
My thoughts on Russian Doll
So far, I have seen a few episodes of "Russian Doll" (not a complete season yet). Like I already mentioned, I picked this series based on Natascha Lyonne having the lead role. I enjoy watching her in "Orange Is The New Black" and I was interested in seeing her in another role. I have to say that I really need to get used to this series. I am not addicted immediately (like I was with "The Vampire Diaries"). So I really need to push myself a bit to watch more episodes. I know I don't have to, but I do want to know where the series is going. 
It's just that it's not very exciting up until now . It's funny and I like the cast. But it doesn't make me curious enough to wonder abut the plot when I can't watch (something I definitely did while watching "Oz"!). I haven't made up my mind yet about this series.. I will watch some more episodes (I'm now watching episode 6) and see what I think after the first season. 
How many seasons?
Grade