We went to New York and attended 2 days of New York Comic Con! It was amazing to be at such a big con. We went to New York Comic Con on Friday and Sunday.We ordered the tickets in June. On the day the tickets got available for sale, we bought these tickets. We just wanted to be sure that we would be able to attend the convention!  New York Comic Con had a nice guest list. But when we walked around at the convention on Friday, I was surprised to see an extra guest: Alex Vincent! 
Alex Vincent
Alex Vincent is an American actor, known for he Child's Play movies. He played the role of Andy (the kid). And returned as adult Andy in the latest Child's Play movie: Cult of Chucky. As some of you might already know, I'm a big fan of Chucky! I didn't like all of the movies (The one I liked the least was Seed of Chucky), but as for Chucky in general: I love it!! I own a Chucky doll (It's in my living room!), I've seen Fiona and Brad Dourif at Weekend of Hell a couple of years ago and I own all the movies. Chucky is so awesome! 
New York Comic Con
We entered New York Comic Con on Friday and started at the show floor. Checking out the merchandise. I wore a Chucky shirt & a skirt. While we were walking around on the showfloor, I noticed Alex Vincent sitting there with a Chucky doll. I had no clue he would be a guest! He wasn't even in the artist hall. He was just sitting there at the show floor, talking to people, signing and promoting the new Child's Play movie. A woman noticed my Chucky shirt and immediately starting pointing at Alex Vincent. That he was there and that I should talk to him. I was excited to see him there. What a surprise. He was quite busy at that moment and I was just too surprised, so I didn't talk to him immediately. We walked by and just walked around on the show floor. 
Chucky, Chucky, Chucky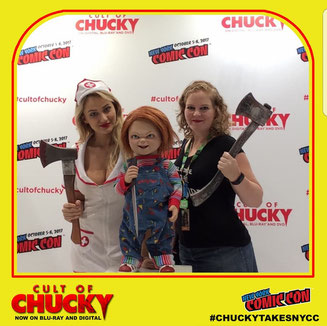 There was a lot of Chucky at New York Comic Con. The DVD of Cult of Chucky (also starring Alex Vincent) had just been released. I loved being surrounded by so many things of Chucky. As you can see here, I also made a picture with a Chucky doll & nurse, for the promo of Cult of Chucky. There was also some merchandise at the con. Love it! Unfortunately I couldn't find the DVD of Cult of Chucky. It wasn't for sale at the con. I bought the movie immediately a day later in a store in New York. It was the first movie I watched when I got home again. The movie wasn't released yet in the Netherlands and I was happy to have bought it in New York. If you want to know our thoughts on the movie, check out Sig's DVD review. 
Meeting Alex Vincent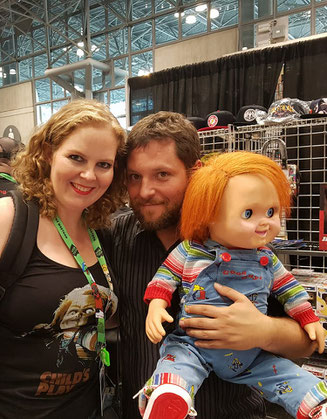 After walking around for a while on the show floor, I attended the Dirk Gently panel. I totally loved it and had a great time. Then, I had some lunch and after that I joined Sig again on the show floor. A bit towards the end of the day, I started to panic. We almost wanted to go to the Once Upon A Time panel and I realized I really wanted a picture with Alex Vincent. So panic, panic haha. We rushed towards the other side of the show floor again! Luckily for me, there wasn't a queue. I walked towards Alex and he was very friendly. I asked for an autograph and a picture. It was great! I really love Chucky, so this was a great experience for me. Alex' role as Andy in Child's Play was epic and so important for the movie. And I love that Alex Vincent also returns in the latest movie: Cult of Chucky. We talked a bit about that movie, I hadn't seen it yet at that time. 
As you can see on this picture, he also brought a Chucky doll! That was extra fun for the picture! And you can see my Child's Play shirt. Alex Vincent was very kind and it was a big surprise to be able to meet him at New York Comic Con!