Liv and I will be going to Bloody Night Con in May. For people who aren't familiar with BNC: It's a series convention, organized by KLZ Events. Bloody Night Con is specifically about The Originals and The Vampire diaries. Today we want to talk about the Originals! 
There will be three Originals guests at BNC: Nate Buzolic (Kol), Daniel Gillies (Elijah) and Claire Holt (Rebekah).  I've said to Liv a few times: The Originals is a real quote machine. Especially the things that Klaus says: You can put every sentence on the wall. Therefore, we thought it would be fun to share our favorite quotes with you. Looking in general at the TV Series. But also looking at Kol, Elijah and Rebekah. Are you ready? Here we go!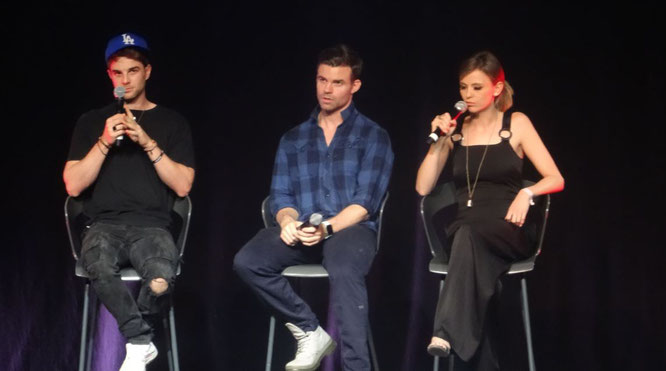 BNC favorites
Let's start with our Bloody Night Con guest favorites (The quotes can be from The Originals or The Vampire Diaries)! We will only use quotes from epsiodes we have seen. We both finished The Vampire Diaries and we are currently in season 2 of The Originals.
Carola
Rebekah
"Go right ahead. Laugh at the girl who loved too easily. But I would rather have lived my life than yours, Nik. No one will ever sit around a table telling stories about a man who couldn't love." 
"If the definition of insanity is doing the same thing repeatedly and expecting different results then surely my quest for your salvation ranks me as one of the maddest of men." 
Kol 
"That's the other problem with people today. They've lost faith, and in that loss, they no longer know who they should fear."
Liv
Rebekah
" He ruined me too, that's what you forget. Centuries later, each of us is broken. You with your anger and paranoia, me with my fear of abandonment, and poor Elijah, he dedicates himself to everyone but himself. We are the strongest creatures in the world, and yet we're damaged beyond repair. We lived without hope, but we will never die. We are the definition of cursed, always and forever." 
Elijah:
"Family is power, Niklaus. Love, loyalty; that's power. This is what we swore to one another a thousand years ago, before life tore away what little humanity you had left, before ego, before anger, before paranoia created in this person before me someone I can barely even recognize as my own brother. This is us. The Original family, and we remain together, always and forever. I am asking you to stay here. I will help you and I will stand by you. I will be your brother. We will build a home here together. So save this girl. Save your child." 
Kol
"Well, I could kill you. But then I'd have to deal with the hunter's curse. And I, I don't particularly feel like being haunted for the next century. Better idea. I'll just rip off your arms."
Originals favorites!
We just can't talk about the originals and just quote these three! That would wrong in so many ways. I mean: we just can't leave out Klaus! It's Klaus! So, we'll share a few general favorite quotes from the originals with you!
Carola
"Is it evil to take what one wants, to satisfy hunger even if doing so will cause another suffering? What some would call evil, I believe to be an appropriate response to a harsh and unfair world." (Klaus)
"In every moment a choice exists. We can cling to the past or embrace the inevitability of change and allow a brighter future to unfold before us. Such an uncertain future may call for even more uncertain allies. Either way, a new day is coming whether we like it or not. The question is will you control it, or will it control you?" (Klaus)
"Drink deep, but beware. What you broke is past repair. All your oaths you betray. Your sacred vows you sever, and now you see that nothing lasts for always and forever." (Alexis)
"If I tell you who I really am and you refuse to believe me then I can hardly be blamed for your disappointment."(Klaus) 
""That's what family is. It's the people you're born to and the people you choose who stand beside you when things get hard. There's no place I'd rather be than right beside you, okay?" (Jackson)
Liv
"You declared war when you came after my family and for that, I will make you suffer as only I can. After all, I am my mother's son." (Klaus)
" I`m a little behind on the times, but I believe the term you`re looking for is OMG. " (Elijah)
"They say the passage of time will heal all wounds, but the greater the loss, the deeper the cut and the more difficult the process to become whole again. The pain may fade, but scars serve as a reminder of our suffering and make the bearer all the more resolved never to be wounded again. So as time moves along we get lost in distractions, act out in frustration, react with aggression, give in to anger, and all the while we plot and plan as we wait to grow stronger, and before we know it, the time passes. We are healed. Ready to begin anew." (Klaus)
"You said I had nothing. You were wrong. I have the same thing I had when I rebuilt the city from the ashes the first time. Everything to gain and nothing to lose." (Marcel)
"In times of need, even the devil eats flies." (Mikael)
"And I want to make you a promise, three things that you will have that I never did. A safe home, someone to tell you that they love you every single day, and someone to fight for you no matter what. In other words, a family." (Hayley)
Well we could go on and on, but what's your favorite quote from the Originals?