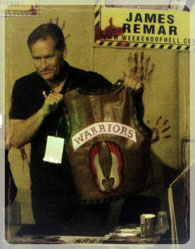 One of our favorite conventions is Weekend of Hell in Oberhausen, Germany. Several years ago Weekend of Hell was the first convention we attended several years ago. You can read all about this in our article about  "How it all started".  Weekend of Hell mainly focuses on the horror genre, but they also have guests from popular TV shows. Last year they had a pretty amazing guest list and one of the guests was James Remar. James Remar is mostly known for his role as Harry Morgan (Dexter's father) in Dexter, but you may also know him from roles in The Warriors (Ajax), The Cotton Club (Dutch Schultz), Sex and the City (Richard Wright), The Shannara Chronicles (Cephalo), 48 Hours (Albert Ganz), Guiseppe Salvatore in The Vampire Diaries and many more. I was pretty excited about his announcement (because I love him in Dexter) and I knew I wanted to meet him. But we will talk about that later, first we will talk a little bit about the man behind Harry Morgan.
Who is James Remar?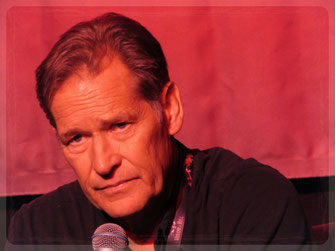 James Remar was born William James Remar on December 31st, 1953 in Boston, Massachusetts (US). At age 7 James saw the movie Spartacus and he knew he wanted to be an actor. He grew up in Newton, Massachusetts and he attended the Newton North High School. During his high school period his love for acting kept on and he did some theater while he was in school. When he was 20 years old James started studying acting at New York's Neighborhood Playhouse. His big breakthrough year was 1979. In this year he got the role of gangster Ajax in the 1979 cult movie The Warriors directed by Walter Hill (in 2005 Rockstar Games released a video game based on the movie; James did the voice of Ajax in this one). In the same year (1979) James made his Broadway debut in Bent as an opposite to Richard Gere. Bent is a play that concentrates on the persecution of gay people in Nazi Germany. The play obtained a lot of critical acclaim. After their collaboration in The Warriors, Remar worked together with director Hill for three more movies: Windwalker (1980), 48 Hours (1982) and Wild Bill (1995). During the eighties James also played the notorious gangster Dutch Schultz in The Cotton Club (directed by Francis Ford Coppola). Remar played in a lot of movies and series throughout his career, so I won't be talking about all of them. What stands out in his career is that he is great in playing the bad guy and even if he does play a good guy or a hero, he always has a dark side to him. One of his best roles, however, is the role of Harry Morgan in Dexter. Harry is a good guy; he is a hardworking member of the Miami Police Department and a loving father to his daughter Deb and his adoptive son Dexter. When he finds out that the young Dexter has an uncontrollable urge to kill, he tries to manage this by taking him hunting and letting him kill small animals. When he finds out that Dexter's urges go beyond killing animals, he tries to control it and trains his murderous son to become a vigilante. He trains him to kill murderers without leaving any clues. When Harry falls dies, Dexter tries to do good by his father and he goes on living his life and ending other people's lives by "Harry's Code".
Q&A at Weekend of Hell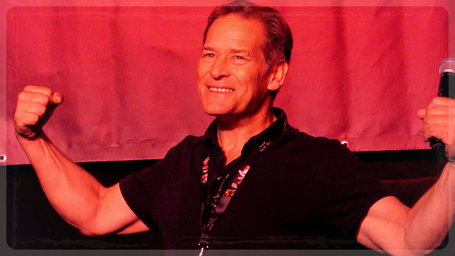 As I said I was pretty excited when James was announced as a guest at Weekend of Hell. We would be going for two days and attended his Q&A on the first day. He talked about The Warriors and the mythical side of it. The Warriors is loosely based on a novel with the same name written by Sol Yurick and draws inspiration from Greek mythology (Anabasis by Xenephon or The March of the Ten Thousand). He said he had to do a lot of preparation for his role of Ajax, because he didn't grow up with gangs: "I wasn't really a street kid; I grew up in the suburbs of Boston, Massachusetts and had a pretty nice, easy life. Not this street life where you have to fight for every square inch of turf. Being an actor in New York, you always have to go and ask questions to people who are live models. You have to find a frame of reference, not an exact thing, because you're not making a documentary. And so I went down to Coney Island and I looked around, I observed. And there was one guy at one of these ball toss games...He was about my size and build, so I put down a quarter, I played the game a couple of times and I started talking with him. I was talking with him about Coney Island and my final question was: What kind of people live down here? And he stretches his arms out like this (see picture) and he says: "The worst kind!" And that was my key into the part.."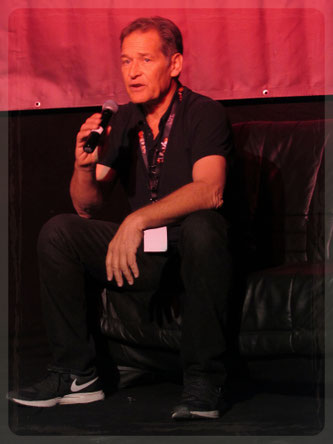 Of course Remar also talked about his role as Harry in Dexter: "The character in Dexter does have a precedent in Drama in Shakespeare's Hamlet. Prince Hamlet lost his father, King Hamlet and is talking to him.King Hamlet is telling him how he was poisoned and how he was betrayed. And it has become Prince Hamlet's mission to avenge his father...So it has happened before".
When he was asked if it was different to play Harry as a human and Harry as a ghost (in Dexter's mind), he answered: "You have to follow certain rules. If we are playing a scene together and I am in Dexter's mind, I can't pick this bottle up and give it to you (...) It was a certain kind of choreography so that it was a person that existed in Dexter's mind. I touched him a few times, in some of the more intimate, intense moments for Dexter; I'd put my hand on his shoulder. But that's it... we were very mindful not to do things that would have direct physical interaction." Furthermore James talked about how Dexter made the public like a serial killer and why that is: "That is a question for every individual. People like Jeffrey Dahmer and Ted Bundy (both American serial killers), those were all people that were described as very likeable, very good looking. That's how they lured their victims. They were likeable, they gave people something that they thought they wanted and they made them feel safe. Michael C. Hall played the character with a great deal of warmth. And if Michael C. Hall would kill your brother or sister, you would not like the character. But it's more of an analogy for the death penalty. I mean fathers have been sending their sons out to kill people from the beginning of time. If you're on the right side, than whoever you kill is on the wrong side; that's a good thing. So if Dexter is killing rapists and child molesters and people that do vile things to women, everybody loves him.."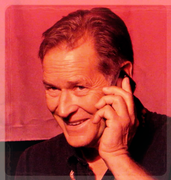 A few minutes before the planned end time of the Q&A, Remar's phone rang and he picked it up kind of embarrassed.  It turned out to be someone that was also attending the convention and it turned out that they were waiting for James to arrive for the groups photos. He said it would only be a few minutes and he took his time to answer the last question of someone from the audience. It was a very interesting Q&A and when Remar was talking I hung on his every word. He has a lot of experience in the movie and television world and it's nice to listen to him talk about his roles. He seems to know a lot about other things (like mythology and history) too. I was glad that we were able to catch his Q&A on day 1. After this Q&A I knew I wanted an autograph and it was nice to have a second day to do so.
Getting the autograph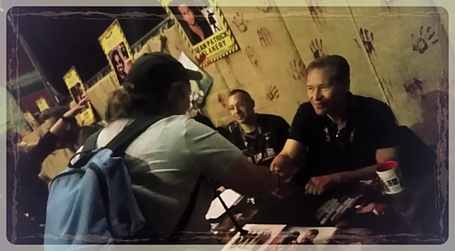 Our last day (day 2) of Weekend of Hell was coming to an end And I still had to go for my autograph. It was a very busy day at our favorite horror convention and there was a constant queue at James' table. At one point we were talking to Sigmund and Tristan and I saw my window of opportunity. So when we were finished with our talk, I said to Carola: "I'm gonna do it!". Carola took the camera and started filming, but at that moment two people seemed to walk up to the table. I waited and when I saw they were doing something else I walked up to Mr. Remar. While he shook my hand he mentioned that I had a nice t-shirt (I was wearing my Dexter shirt). I told him I loved the show and he was very nice. There were a lot of pictures to choose from. There were two pictures of Dexter and the picture I chose (to have signed) shows one of the spare moments of physical contact between Dexter and his dad. I liked the picture a lot and I remembered him talking about it in the Q&A the day before (the other one was one of the promotional pictures for the show, with the whole cast on it; as you can see on the picture below).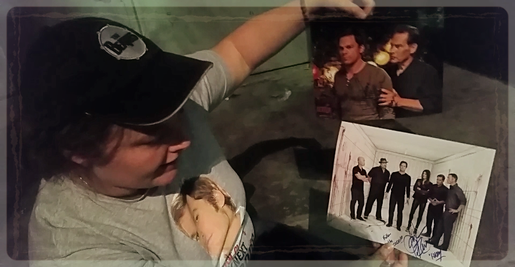 While he was signing my picture I asked him if he enjoyed Germany and the convention and he answered "So far, so good". He also told me he didn't attend a lot of conventions. When he was finished I asked him about one of the other pictures (one of The Warriors) and then he said: "I'm gonna give you another one". He took the other picture of Dexter and he started signing that one too. I was over the moon. That was one great moment. Mr. Remar was so nice and now I had both pictures of Dexter (and they were both signed). Well I can tell you they will get a very prominent place on my "wall of fame".
Thank you,  Mr. Remar for being such a nice guy (although you play a lot of bad guys). You really made my day and every time I think of it, it puts a smile on my face. I hope to meet you again some time and keep up the good work!