Hi Everyone! Did you celebrate Christmas? We did. On Sunday the 26th of December we were together and had dinner, gave each other presents and it was a lot of fun. The other days we celebrated as well with family. It was very nice!  Liv and I made a vlog together on Christmas. You can check it out below! In this post I'll also share with movie presents we got!  
Presents - Carola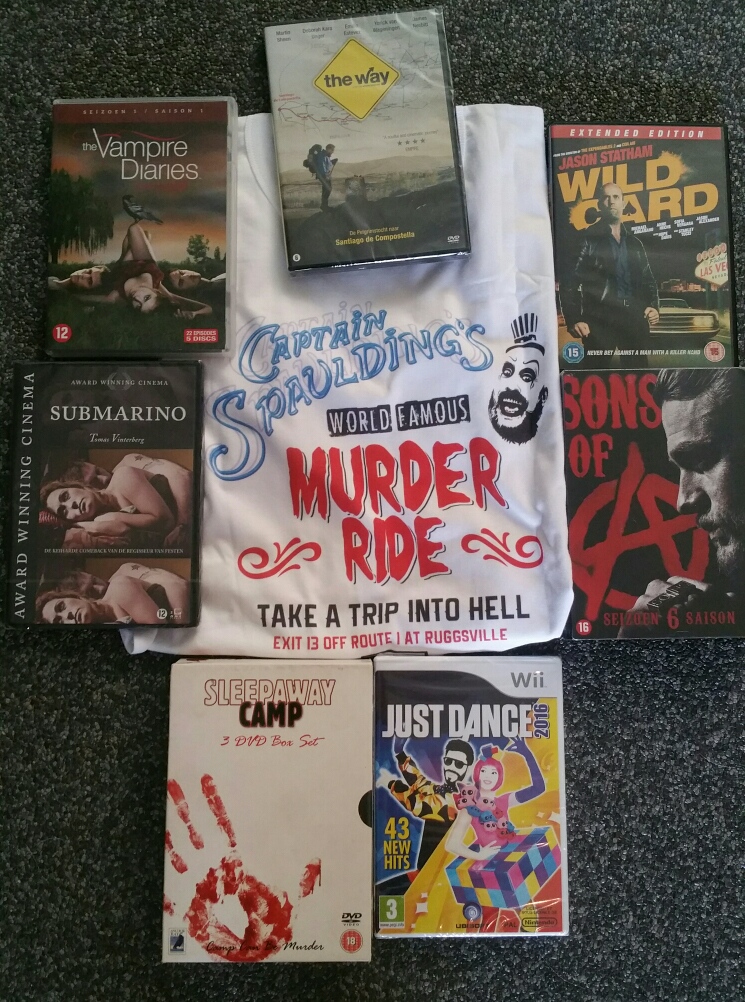 Here you can see the movie presents I received this year during Christmas. I'm very happy with it. Yay! I got season 1 of the Vampire Diaries. I've seen the series on Netflix, but when I really like a series I love to have it on dvd as well. And in May Liv and I will go to a Vampire Diaries Convention: Bloody Night Con! You can also see one game, for the wii. It's Just Dance 2016. I love the Just Dance games on the wii! I also received the sixth season of Sons of Anarchy! Really glad with that. It's a great series. And we've already met quite some people from the cast. We already wrote about meeting David Labrava & Mark Boone Junior and  Kim Coates! We also met Tommy Flanagan this year and will writ about that soon! I also got some movies I haven't seen before: Submarino, the Way, Wild Card, and the Sleepaway Camp 3 DVD box set. Submarino is a movie directed by Thomas Vinterbeg. He also directed Festen and Jagten. I consider especially Jagten as one of the best movies I've ever seen. WIld Card is a movie that stars Jason Statham. Well, that's exactly the reason why I wanted this movie :). Have you seen any of the movie/ series I received?
I am REALLY happy with the t-shirt Sig bought me: A Captain Spaulding shirt. I've been looking for a shirt like that for ages. It's because I love the House of 1000 Corpses and the Devil's Rejects. And Captain Spaulding is definitely my favorite in this movies. 
Besides this I also got some awesome other things like make-up (primer, lip scrub,  concealer, eyeliner and more) and some other things as well!  
Presents - Sigmund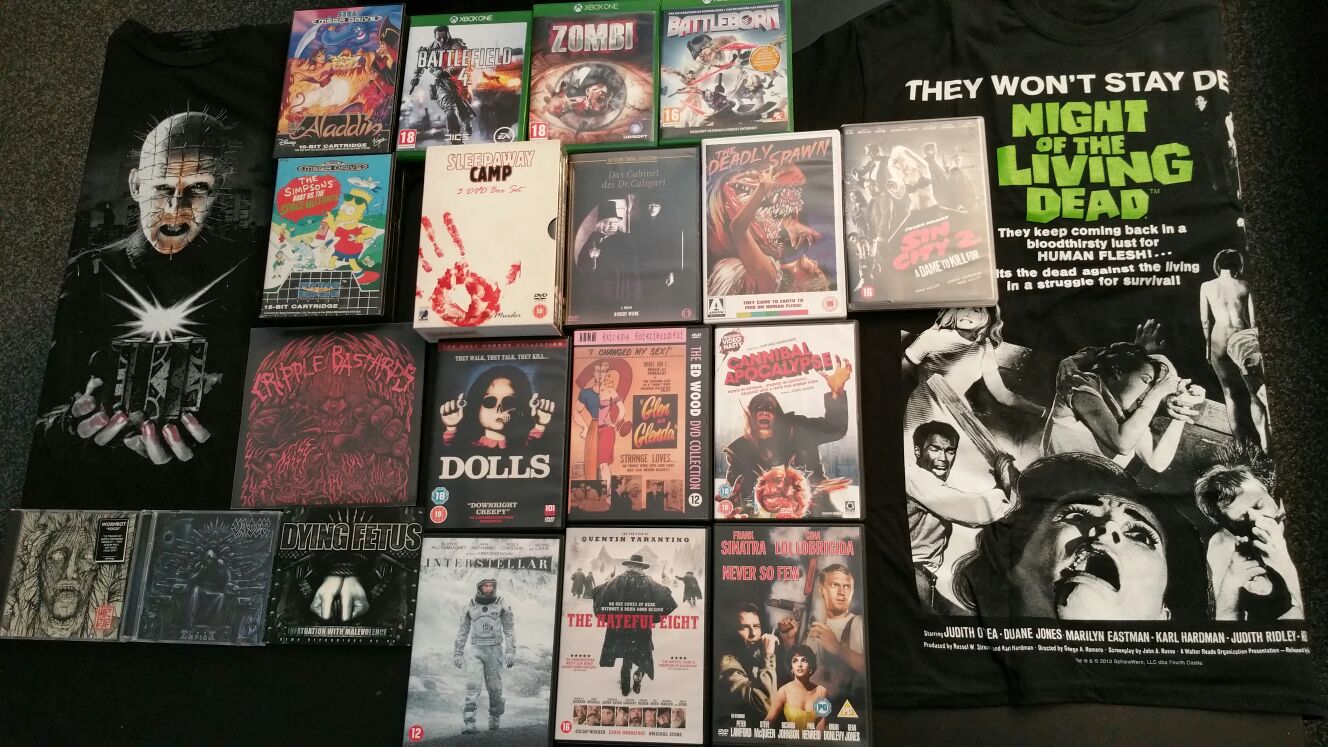 Here's a complete overview of the presents Sigmund received. You can see Sigmund received some cd's, t-shirts, dvds and games! A t-shirt from Hellraiser and one from the Night of the Living Dead! And some awesome DVDS. I have seen Sin City 2 and the Hateful Eight. I haven't seen the rest yet. It's a nice addition to our collection! I'm curious to see Interstellar! Have you seen any of these movies? Did you like them? 
Presents -Liv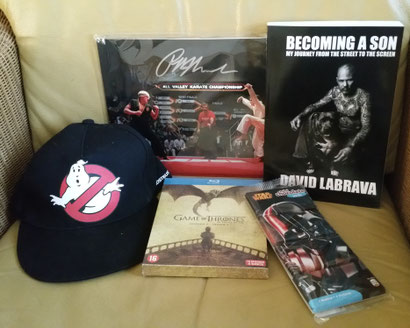 Santa did good this year! As you can see I got a lot of movie related presents. "Becoming a Son" written by David Labrava was very high on my list. David plays the role of Happy in "Sons of Anarchy" and that happens to be one of my favorite TV Shows. I can't wait to start reading. As you can see I also got the BluRay of "Game of Thrones" season 6. Since I collect DVDs and I love "Game of Thrones", it's a great addition to my collection. And then there is the signed picture of Ralph Macchio ( "The Karate Kid"). I've always had a special place in my heart for the "Karate Kid" movies and I must have seen them a hundred times by now, but I still love to watch them. I guess it's one of my guilty pleasures, lol. With this in mind, you can imagine how happy I am with this wonderful present. I also got a "Ghostbusters"cap. As you may know I'm also a cap collector and I love the "Ghostbusters" movies, so this present is just a win-win! And last but not least there are the "Star Wars" chocolates. Well Santa, you can never go wrong with "Star Wars", so all in all I'm very, very satisfied with the presents I got this Christmas.