Here's an overview of the movies we watches in November! What did you watch? Do you have any nice tips for us? 
Carola
The Howling 2
The Howling 2: Your Sister is a Werewolf is a horror movie from 1985. It's a sequel to the movie the Howling. I decided to watch the movie because Sybil Danning (In this movie: Stirba) was attending Weekend of Hell. I met her there and got an autograph. I will write about that seperately. In the Howling II, the sister of a man gets killed by a werewolf. He decides to help an investigator track them down and help him battle the werewolf queen (Stirba). The movie has a duration of 81 minutes. 
At Weekend of Hell, we met Sybil Danning (Stirba). Did you already check out our article about meeting her? 
Night of the Creeps
Night of the Creeps was another we watched in preparation of Weekend of Hell. At the convention, we met Tom Atkins and Jason Lively! In the movie, alien brain parasites turn people into zombies. A couple of teenagers decide to fight them! 
Eat
Eat is a 2014 horror movie. I bought the dvd at Weekend of Hell at the stand of Zeno Pictures. The movie is about an actress, Novella McClure. She hasn't landed a role in the last 3 years. That's giving trouble. She can't pay her rent anymore and her landlady might evict her. She develops a disturbing disorder: She eats her own flesh. She tries to hide it by telling she had an accident. But that's hard. She's not in control and keeps eating more and more of her own flesh.. The duration of the movie is 92 minutes. I'm actually not familiar with any of the actors in the movie. Novella is played by Meggie Maddock. I like her acting in Eat. She's also known for the Ridiculous 6, Dear Eleanor, a Remarkable life and the TV series Flock.  Sig also wrote a review about this movie. 
Alice Sweet Alice
Alice Sweet Alice is a horror/ mystery/ thriller movie from 1976. It's directed by Alfred Sole. In this movie, a girl gets killed during her first communion. The prime suspect is her sister.. Brooke Shields stars in this movie. It's actually one of her first roles! 
Good Morning Vietnam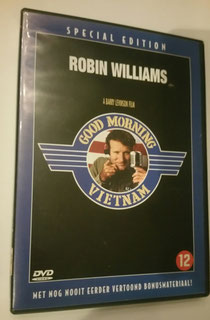 I've watched Good Morning Vietnam before. But that was when I was way younger. Sig bought this DVD recently, so we decided to watch it. I was very excited to watch it again. I remember I really watching it before. It stars Robbin Williams (I wrote an 'In the spotlight' about him before). 
Good Morning Vietnam is a biography/ comedy/ drama/ movie. The main role is for Robin Williams. He plays a DJ who goes to the US Armed Services Radio Station in Vietnam. He becomes very loved by the troops. He tries to bring in some humor on the radio. But: he also infuriates his superiors, by always choosing his own path. He talks about what he wants, and doesn't let them tell him otherwise. He sees more and more of the background of and incidents that happen in the war. And reporting about it on the radio. 
The movie is loosely based on the experiences of AFRS Radio DJ Adrian Cronauer. Most of the radio broadcasts during the movie were improvised. Have you guys seen this movie? I really love it and do recommend it to everyone! 
May
One night, Sig and I wanted to watch a movie. But we didn't know which one. So we looked through our dvds and found one named 'May'. May is a horror/drama/comedy movie with a duration of 93 minutes. We both didn't remember where we had bought this movie. My guess is that it's been in our collection for a quite while now. We decided to watch it! It's a bout a girl who has no friends and feels very lonely. She works as an assistant in an animal hospital. She becomes sort of friends with a colleague and she even falls in love with a guy. They go on a couple of dates, but it ends soon because of her strange behavior. When she was young, she got a really scary doll from her mom with the idea: If you can't find a friend, make one. She still has this doll.  At a certain moment, the doll breaks and this is devastating for May. She decides to repair the doll and find new (human) parts.. 
The tagline of the movie is: There are no good wholes, just parts. The movie stars Angela Bettis (as May), Jeremy Sisto (as Adam) and Anna Faris (as Polly). You all might know Anna already from Scary Movie. I have to admit immediately that this movie didn't make it back to our collection. It wasn't awful. But I didn't think it was a good movie either. I get what it tries to accomplish, but it's not completely right. I didn't like it too much. So we won't keep the dvd. I have to admit: I'm not really into the combination of horror and comedy. And Anna Faris just reminds me too much of her role in Scary Movie. 
Marthy Marcy May Marlene
Yeah, this is quite a name for a movie isn't it? I think it's quite hard to remember! Marthy Marcy May Marlene is a 102 minute long drama/ mystery/ thriller movie. It stars Elizabeth Olsen (She's the younger sister of the Olsen twins), Sarah Paulson and John Hawkes. 
Short plot: Martha runs away from an abusive cult. She has spent there 2 years, without contacting her family. Now, she runs to her sister and her husband. The movie shows how Martha is having a hard time to adapt. Her relationship with her sister isn't easy and she has changed a lot during the two years in the cult. 
Vertigo
Yes, we watched this classic! Both Sigmund and me hadn't seen this movie yet. And we both like Hitchcock movies. So this was an easy choice! Vertigo takes 2 hours and 8 minutes to watch and can be classified as a mystery/ romance/ thriller movie. 
Just by looking at it for a few minutes, I really saw that this is a Hitchcock movie! And I love that. 
In this movie, police detective John is being forced into early retirement because he suffers from acrophobia and vertigo. The, he gets hired as a private detective to keep an eye on an acquaintance's wife. But John gets obsessed by the woman.. 
Who Can Kill a Child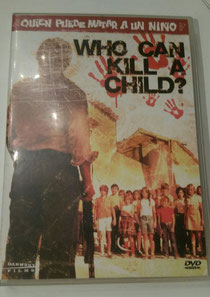 Yeah, this is a weird title isn't it? I can already imagine that a lot of people won't like this movie, just by reading the title. Well, the movie has been released with some other titles as well. In the UK for example as Would You Kill a Child and Death is Child's Play. In the USA, it's also been released as Trapped and as Island of the Damned. 
This is a fantasy/ horror movie (1 hour 52 minutes). It's about an English coouple that visits the island Almanzora. When they arrive at the island, there's one thing that's really odd: They only see children. These kids don't say anything, they just stare at the couple with glassy eyes and creepy smiles. The couple finds out that the children have gone crazy. They are killing all the adults. And the adults don't defend themselves, because.. who dares to kill a child? 
I had never heard of this movie before we watched it. It contains some references to Alfred Hitchcock's The Birds. Which is a movie I really liked. Nice to know: even though the setting of the movie is an island, the town scenes were filmed in Ciruelos (250miles from sea). 
Phantasm
Phantasm (1979) is a fantasy/ sci-fi/ horror movie of 1 hour and 28 minutes. It stars Michael Baldwin (Mike) and Reggie Bannister (Reggie). The director of the movie is Don Coscarelli. 
At a funeral, Mike witnesses the mortician (Tall Man) lifting a coffin on his own. Mike investigates it and finds out that the Tall Man shrinks dead bodies. The Tall Man reanimates them as slaves. 
The tagline of the movie is: If you're looking for horror that's got balls, it found you! 
The movie wasn't completely my taste. It was okay, but I won't watch the sequels. A nice quote from the movie: "You play a good game boy, but the game is finished. Now you die."
Liv
Re-Animator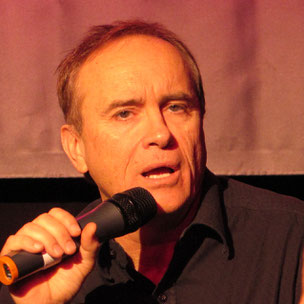 "Re-Animator" was one of the movies on my Weekend of Hell-watchlist. It's a 1985 horror movie, that is based on the Re-Animator stories by H.P. Lovecraft. The main character of the movie is Herbert West, played by Jeffrey Combs (he was a guest at Weekend of Hell 2016).  West has invented a "medicine" for death; when this fluid is injected into a recently deceased person (or animal) it causes the body's living functions to return. Sounds pretty awesome right? Wrong! The side effects of the "re-animation" medicine are pretty devastating. The subjects become very violent and that's an understatement. 
I really liked the movie. It's a cocktail of eightees horror and black comedy and Combs is great in his role of the eccentric Dr. Herbert West. 
Tagline: Herbert West Has A Very Good Head On His Shoulders... And Another One In A Dish On His Desk
Duration: 104 minutes
The Boondock Saints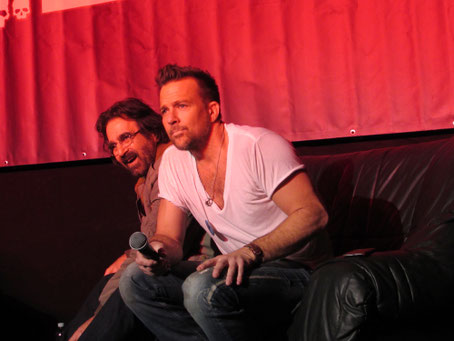 "Boondock Saints" is one of my all time favorite movies. I just love the on screen chemistry between Sean Patrick Flanery and Norman Reedus. But that's not the only reason. There are some magnificent actors in supporting roles. For example: Billy Connolly as Il Duce, David Della Rocca as Rocco and of course the amazing Willem Dafoe as Special Agent Paul Smecker. I also love Gerard Parkes (yes that's the man from "Fraggle Rock") as Doc, the bartender at McGinty's Pub. He is a very loveable old man with a small problem, he has Tourette's Syndrome. 
I don't need a reason to watch this movie, but when Sean Patrick Flanery and David Della Rocca were announced for Weekend of Hell, I had a very good reason to watch it again.
"The Boondock Saints"  revolves around the McManus Brothers. They live and work in Boston and they accidentally kill a group of criminals. They decide to turn theirselves in, but soon they are released and turn into heroes. Connor and Murphy see it as a calling from God and they decide to hunt down and kill all evil residing in Boston. Soon Special Agent Smecker arrives in Boston to help catch and turn in "The Boondock Saints" and he goes to work in his own special way.
In nomine Patri, et Filii, et Spiritus Sancti.
The Boondock Saints 2: All Saint's Day
The McManus Brothers are back for the sequel to "The Boondock Saints". Ten years after the events of the first movie, the McManus Brothers are leading a quiet life on a sheep farm in Ireland with their father. When a priest in Boston is violently murdered, someone tries to frame them for this crime.Of course they can't let this happen and they travel back to Boston to clear their names. Like I already said before I love these movies and although this sequel is not as good as the first movie, it's still nice to see the McManus Brothers in action again. Just like in the first movie the supporting roles are very cool, I especially like Clifton Collins Jr. as Romeo (their new sidekick) and Julie Benz as Special Agent Eunice Bloom. There are a lot of rumors about a possible third installment of "The Boondock Saints" and I for one can't wait until they make it!
Duration: 117 minutes.
Suicide Kings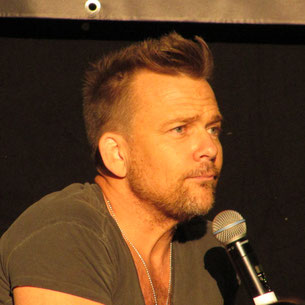 Another movie on the big Weekend of Hell watch list and another movie I loved when I was younger. I saw it a long time ago, so Weekend of Hell was a perfect reason to re-watch it. It was released in 1997 and there are a lot of big names on the cast list. One of them is Sean Patrick Flanery as Max Minot (who was a guest at Weekend of Hell). Other names on the list are Christopher Walken as (ex-)Mafia Boss Charlie Barett, Denis Leary as his right hand Lono Veccio, Jay Mohr as Brett Campbell, Jeremy Sisto as T.K. and Johnny Galecki (also known as Leonard Hofstadter from The Big Bang Theory) as the nerdy Ira Reder. The movie is about a group of young men, who kidnap ex mobster Barett to try to get money to pay the ransom money for their kidnapped friend/sister.
Although the movie was seen as a box office flop, it gets pretty good reviews from the movie fans. I loved watching it again. Walken and Leary are just brilliant in this one.
Duration: 106 minutes
The Fog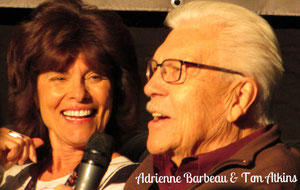 Well this John Carpenter horror movie (1980) is one of the classics. It stars Adrienne Barbeau and Tom Atkins (both attending Weekend of Hell), but it also stars a young Jamie Lee Curtis and her mother Janet Leigh. The movie revolves around the people of Antonio Bay on the eve of the centennial of this village. At midnight a luminous fog occurs on the sea and approaches the village. When it reaches the village people are getting murdered. It soon turns out these murders have to do with something that happened 100 years ago.
What I love about this classic horror movie is the soundtrack and the photography in it, as well as the ongoing suspense throughout the movie. If you haven't watched this yet and you are a fan of the genre just give it a go. You won't be disappointed. 
John Wick
November was a cold and wet month in the Netherlands and the inevitable happened: I got sick. And what do you do when you are recovering: browse Netflix and pick a movie to watch. I stumbled upon "John Wick" and I  remembered my brother telling me he liked this movie, so I watched it. The movie is about John Wick (surprise!), a retired hit man played by Keanu Reeves. After the death of his wive he receives a last present from her: a puppy. When he goes for a ride in his Mustang the dog goes with him. At a gas station three Russian mobsters, led by  Iosef Tarasov (Alfie Allen). Iosef expresses his interest in the Mustang, but John tells him it's not for sale and drives away. Later that night the men show up at John's house, beat him up and steal his car. When John recovers from the beating up he notices they also killed his dog. This drives John to take up his weapons for one last time to get his revenge. 
Although it's a pretty standard story, the movie kept me interested until the end. Keanu Reeves is solid as Wick and Alfie Allen is even more annoying in his role as Iosef, than he is as Theon Greyjoy in "Game of Thrones". I guess he is very skilled in playing characters who are all but lovable.
Duration: 101 minutes
Cartel Land
This 2015 documentary is the absolute must-see for this month! Filmmaker Matthew Heineman gives a very impressive insight into the ongoing drug problem in Mexico and along the US-Mexican border. I'm not gonna tell you more about it, because you just have to see it for yourselves. WATCH THIS!
Duration: 100 minutes