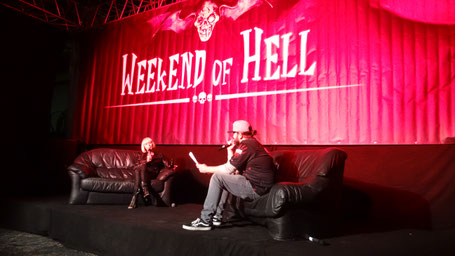 As you all know we went to Weekend of Hell. And they had an amazing guest list. I'm also happy to tell you we also met Sybil Danning. We wrote about her before. And now we will share our experience with you. 
I'll refresh your memory. Sybil Danning is an Austrian actress, best known for playing in many, many awesome movies during the 1970s and 1980s. In 1978 she moved to Hollywood to proceed her career. There, she got a role in "Battle Beyond the Stars". In 1983, Sybil Danning appeared on the cover of Playboy Magazine and had a ten-page pictorial. She had an absence in acting from 1990 - 2002 (due to an accident). After 2002 she returned to acting again.  She played the evil nazi villainess in "The Werewolf Women of the SS" (the mock trailer for Tarantino's Grindhouse). Besides that, she also played a nurse in Rob Zombie's "Halloween" and much more. (And you all know how much I love Rob Zombie movies!!)
Panel Sybil Danning
Sybil Danning also did a panel on Friday at Weekend of Hell! Of course, we attended the panel to hear more about her. Since Sybil Danning is from Austria, the panel was in German. That was a bit harder to understand for us (since we're Dutch). But we managed to understand a lot of it! She told she loves playing in movies and she likes anything related to action. She also talked about her future projects: There will also be a video game of the character Ruger from her comic book! That's sounds good. We're very curious about that one. 
She also talked about her time on and off set with the late Christopher Lee. They starred in five movies together (which include: "Whispering Death", "The Salamander", "Howling II"). Lee was a true movie icon and he played memorable roles like Dracula, Frankenstein and Saruman. Danning talked about how Christopher taught her to always give 200 % for your fans. She also talked about their time on the set of "Whispering Death" (also known as "Albino"). They shot the movie in Africa and talked about her time off the set. Sybil Danning befriended Christopher's wife. And while the two women drank, smoked and played cards; Christopher just sat at the table and told great stories. It was very nice to hear her talk about this great actor and you could feel she considered him a great friend.
December 1st to 4th, Sybil Danning will be at the Other Worlds Austin SciFi Film Festival in Texas! There she will receive the Defender of the Universe award. How cool is that?   We will make sure to follow her future plans! 
Getting an autograph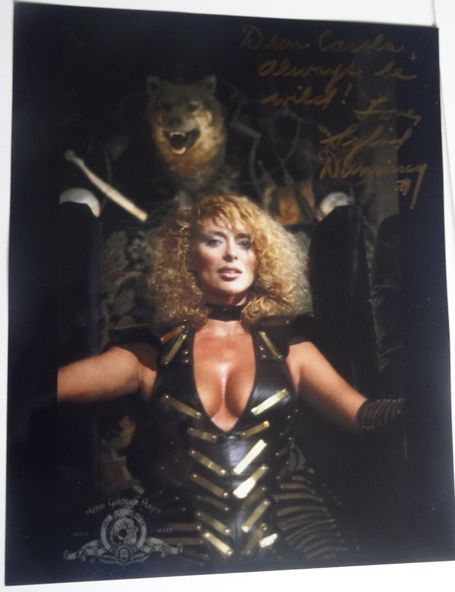 During the writing of the first article, we were in contact with Michael Boersma from Exult TV. He arranged the European tour for Sybil Danning. So we went to see them both at the table where Sybil was signing. It was very nice to talk to both of them. Everything was arranged very well and it was easy to talk to both of them and ask questions. 
Sybil Danning signed this autograph, it's a great picture isn't it? We talked to Sybil for quite a while, which was great. I could see that she was a popular guest at Weekend of Hell. Many people came to see her and I saw her talking to everyone with a lot of enthusiasm. 
Sybil Danning actually had a larger table than the others which was great. She had a lot of space to display all of her photos and she also brought some DVDs. She and Michael were standing up most of the time. I liked all of this together. Because there was a lot of space, it was very inviting to check out the table. Besides that, it also felt very informal and Sybil Danning just chatted with everyone. 
Our experience of getting the autograph was great. I liked  talking to her and she was very open. We talked for quite a long time. She really took the time for us and it was great to meet one of the biggest cult actresses of the last decades. We talked about the movies she played in (I watched the Howling 2 in the week before attending Weekend of Hell). And she told us a lot about her future plans. I was happy to hear that has has a lot of great plans! She's working on another comic book. Are you already familiar with her comic book with the character called Ruger? Ruger is based on the movie "L.A. Bounty" that Sybil Danning created. Be sure to check out IMDb for an overview of Sybil´s impressive career and the amazing movies she played in. I´ll bet you have seen a lot more of them than you think! 
We loved meeting Sybil Danning at Weekend of Hell! She's very talkative and kind. You can see she cares about all of her fans. And we love that. If you get the chance to meet her, go for it and have a chat! We'll keep an eye on her future work and keep you updated! Have you ever met her? Let us know you experience in the comments below!