This week we have another in the spotlight. This time we're writing about Robin Williams! Is there anyone who doesn't know him? I can't imagine! He was such an amazing actor. He could literally play ANY role. Comedy, serious, scary. He also played a woman ("Mrs. Doubtfire"). Robin Williams always makes me laugh. His movies are so much fun to watch. But also his serious and creepy roles are a must see. 
Robin Williams was an American actor, stand-up comedian, director, producer, writer, singer and voice artist. He's known for playing in a lot of comedies. But he did many sort of movies and played a wide variety of characters. Movies he's best known for are for example "Jumanji", "Mrs. Doubtfire", "Good Will Hunting", "Good Morning Vietnam", "Flubber" and "Hook". Robin Williams committed suicide in 2014.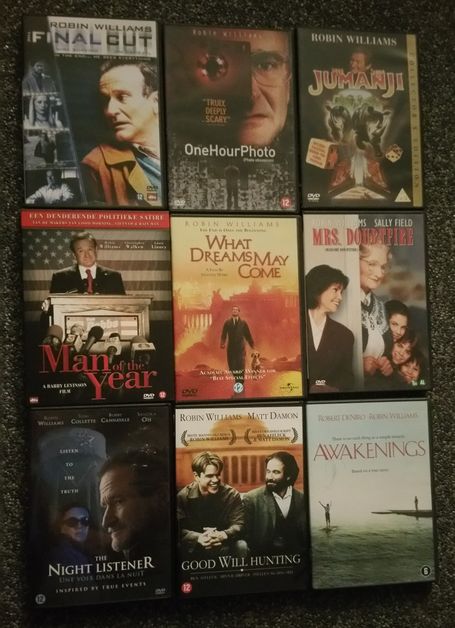 I've seen quite some Robin Williams movies. And I really like a lot of them. Luckily for me, I haven't seen them all yet. So I still have something to watch and to look forward to. The first movies I saw were "Mrs. Doubtfire" and "Jumanji". I thought both were nice. However I do prefer "Jumanji". For those of you who are not familiar with "Jumanji": Two children play a magical board game. While playing, they release a man who was trapped in the game for decades. But they also release many dangers that can only be stopped by finishing the game.. So I grew up seeing movies with Robin Williams starring in it. After "Mrs. Doubtfire" and "Jumanji", I watched "Good Morning Vietnam". Robin Williams shows some amazing acting in that movie. After these three, I started to watch more and search for his movies. 
One of the movies that is less known is "What Dreams May Come". Have you ever heard of it? I've even owned this movie on VHS. Finding it on dvd was quite the challenge. It was on a Belgium flea market where I was lucky enough to find it. I've seen the movie twice now and it's a beautiful movie. Robin Williams plays doctor Chris Nielson. He and his wife lose both of their children in an accident. A few years later, Chris also dies in an accident. He finds himself in an amazing heaven. With more beautiful things than he ever thought of. But: His wife is desperate after losing their two children and her husband. She takes her own life. But she doesn't end up in heaven. Chris desperately wants to find his wife and what follows is an tough journey through heaven and hell. 
The movie I liked least was "Death to Smoochy". You won't see the dvd in the picture because I don't have it anymore. (I really didn't like it). I had hoped for a funny movie. And it looked very promising ( It stars Robin Williams and Edward Norton). But for me it just wasn't funny at all. Not my kind of humor. 
My top 5 Robin Williams movies? Here we go! 
1. "Good Morning Vietnam"
2. "What Dreams May Come"
3. "Good Will Hunting"
4. "One Hour Photo"
5. "Jumanji"
My favorite one is "Good Morning Vietnam"! Have you seen that movie? In short: It's about a DJ that gets assigned to the U.S. Armed Services Radio station in Vietnam. Who can't recall Robin Williams saying "Goooood Morning Vietnaaaaaam!" I won't tell any more about it. Just watch the movie!
Liv: I couldn't agree more "Good Morning Vietnam" is a true classic and a perfect example of the talant of Robin Williams. I would like to include my top 5 (more or less) in random order: 
   1. "Good Morning Vietnam"
2. "Jumanji"
3."Hook"
4. "Good Will Hunting"
5. "Dead Poets Society"
What's your favorite Robin Williams movie?