As always the normal font is Carola speaking, the italic one is Liv speaking...
Enjoy!
We already wrote about meeting Euene Simon, who plays Lancel Lannister in Game of Thrones. That was very nice. But how about someone who plays a really mean character? Do we dare to meet him? Well, at Dutch Comic Con we discovered this! As I'm a big fan of Game of Thrones, I was really excited when Dutch Comic Con announced that they would have 4 guests from this great show. One of them was Ian Beattie. In Game of Thrones Ian plays the role of Ser Meryn Trant (5 seasons). Ser Meryn Trant is a member of the kingsguard and he is a bad, bad guy. Since I only know Ian Beattie as Ser Meryn Trant, I did not know what to expect. He doesn't play a very likeable character. (And that's a mild statement). I'm very happy to tell you right away that Ian Beattie is nothing like that.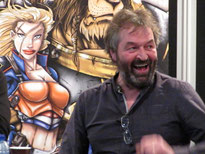 When we arrived at Dutch Comic Con we marched to the artist alley to get a first glimpse of the guests. And there he was. At first I was a little bit in awe, because there he was!( And yeah I knew it was not Ser Meryn Trant but Ian Beattie, who was sitting there, but still he playes a really bad guy lol). But soon after that I saw him joking around with other guests. He also seemed to be very nice to everyone who came at his table. And throughout the day he appeared to be a very nice guy!  I think the pictures on this page say everything: He had fun, was always smiling and kind! 
Ian Beattie's Q&A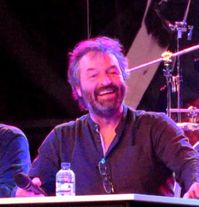 At the end of day 1 we attended the Game of Thrones panel. And right from the beginning there was a great atmosphere. I loved how they joked around and especially Ian Beattie was absolutely fabulous. 
At the start of the Q&A the guy who led the panel, told the audience that they could come up and ask questions . He did this in Dutch and because of this Eugene Simon thanked the audience for speaking English. After this Ian grabbed the mic and said:
                                             "We can actually barely speak English. We've got a problem with English, so let alone Dutch, so thank you"
And that set the tone for the rest of the Q&A. It was really funny and I loved the way they interacted with eachother and with the audience. I think the panel deserves an article of it's own, so I'll leave it with this and you can read about that one in a few days. All I can say is that after it I knew I absolutely wanted to meet Ian Beattie. But the day had come to an end too fast, so we decided to do this on day 2. I also remember that they talked about favourite characters.  According to Ian, your favourite character is the one you can't wait for to appear on screen! Because you just can't wait to see what they're up to. Ian's favourite is Cersei! 
Meeting Ian Beattie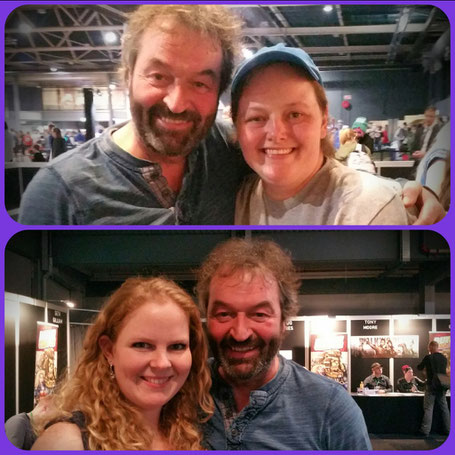 When we got in line for an autograph on day 2,  Ian just got called away for an interview. We decided to wait in line until he came back. It took a little bit longer than expected and when we stepped up to the table, he immediately apologized for this. He started talking about how he loved the Netherlands and we spoke about Game of Thrones. He really took the time for us and he even came to our side of the table so we could take a picture with him. After that he told us about how he was taking selfies on the set of Game of Thrones all the time. Yeah, it was great to meet Ian! He was so spontaneous. I always get nervous standing in line. But it all went away very soon. Ian started to talk, asked us questions and told stories about Game of Thrones. It was one of the first times that an actors starts the talk, asks questions. That was so awesome. You get over your nerves and black-out way quicker like this :). 
Spoiler alert: I remember that he told about the scene where Arya kills him. He had to wear something to cover his eyes all day. So, he couldn't see all day! Just being in the dark. It makes me look at that scene in a total different way. 
After this I had to get in line for my photo op with Billy Dee Williams. As I stood in line, Ian walked past me on his way to his Q&A. At the moment he saw me, he smiled and waved at me. To make along story short: Mister Ian Beattie, you are a great guy and you really made my day. This was the day the bad guy became the best guy (ever)! I really hope to see you again on another convention and I will certainly pass by to say hello. Thank you for your kindness! Absolutely: If you go to a convention that he's attending and you love Game of Thrones: Go visit Ian! You won't regret it. He really takes time for his fans, shows a great interest and he tells great stories about the series. What else can we wish for? 
Cheerio!