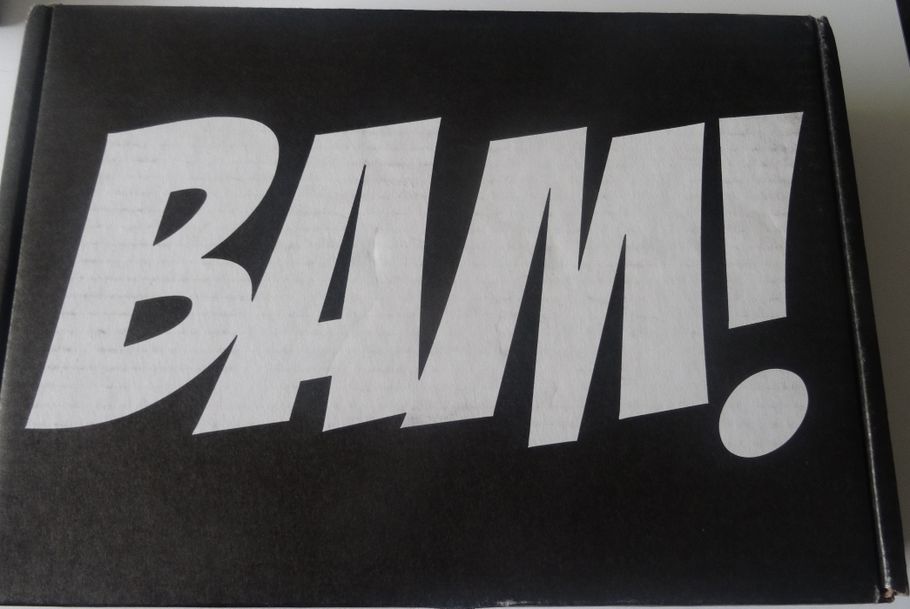 The BAM box is a monthly mystery subscription box. It contains collectibles, limited edition items, exclusives and autographs. They guarantee at least 1 autographed item in every box. I saw some videos and reviews last month (May) and I loved the box. So I decided to get a subscription. This my second BAM box.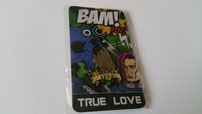 This month's theme was: Galactic! In an e-mail we already received a hint about this box: "We teased you with the "Alien" and "Star Wars" in the title. Let's just say that there is going to be a limited edition MOVIE item from one of the Alien movies and something from a few of your favorite Star War's characters that we know you don't have on your shelf." I love both "Alien" and "Star Wars" so was really excited. 
Let's check out the contents of this box! The first thing I saw in the box was the pin and a yellow 1 up card. You might wonder, what's a 1 up card? It means that I have an upgraded or limited edition item in my box! Awesome. The BAM BOX includes a pin in the box every month. This month, it's the exclusive "True love Groot" pin! You would either get the Groot pin or the Rocket Raccoon pin. I got the Groot pin. For the ones who don't know: "Groot" is from the movie "Guardians of the Galaxy". It is a humanoid plant from Taluhnia   
Star Trek: The Next Generation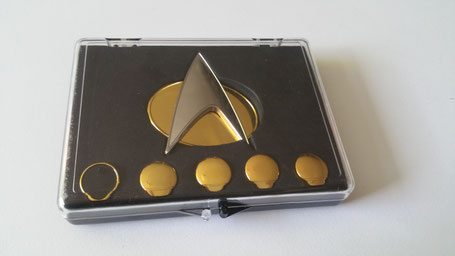 The next item I saw was a custom Star Trek: The Next Generation Badge and Rank pin set! Bam Box' flyer says: "Step aboard the Starship Enterprise and choose your ranking with this custom badge and ranking pin set. Die struck from a sheet of copper and individually hand polished, these badges are cosplay quality. I can imagine that a lot of people were very happy with this! I wasn't very excited. Mainly because I haven't watched anything of Star Trek. So it's obvious that this one is less appealing for me.What I also think is a pity is that on the box, there's nothing that says it's from Star Trek. I know, you can obviously see this is a StarTrek item. but it's more that I like it to be more official on the package either.
Alien: Resurrection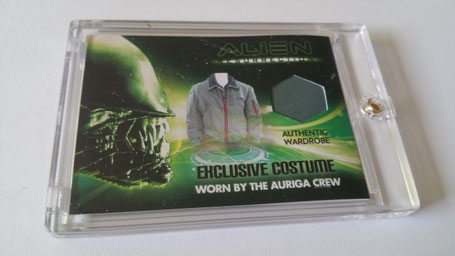 On to my favourite item of this box!! I have watched the first 3 Alien movies over the last 2 weeks. (For the first time). And I loved the movies. I was very excited that there would be something from Alien in the BAM box. And I love it! I'll tell you more about it: Its a BAM box exclusive authentic wardrobe card from the movie Alien: Resurrection (The one I steel need to watch :) ). Each box contains a an authentic piece of the jacket worn in the movie. It's a BAM box exclusive limited edition piece. I really really love this! This really feels like a unique item from the movie and I like the way we received it in the package/ card. It looks very nice and it wil certainly get a very special place in my house!  
Mars space sand
The next item that caught my eye was 'Mars sand'. This is a bit of an odd item. The package says you can put this sand into the water and form shapes and figures with it. But when you get the sand out of the water, it will be dry! Of course I had to try it out immediately. You can see the pictures below. It truly works. I put the sand in the water and I could make figures with it, form it. As soon as you would pick some up and get it out of the water,  it was just sand again (dry). But: It would still stick to my fingers a lot and it wasn't easy at all to get the sand out of the water (to get all of the sand out). On the package, they recommend using a spoon. But the water also just lies on the spoon, with the sand on top of it. It took me a moment to remove all the sand from the water. My conclusion about this item: it's funny. But just for once. I won't use it more often. It's an okay item, but I'd rather have seen something else in the BAM Box. For me this was the least interesting item of the box. 
Star Wars and more!
There's more! Here's another item I really, really loved. It's a custom handmade steel Star Wars silhouette statue. Most boxes have either Yoda or Boba Fett. But 500 boxes got a Yellow 1 up card and received the 8 inch Darth Vader. I was one of the lucky ones! I'm rally happy to have received the Darth Vader silhouette statue. I love the Star Wars movies. I already have a R2D2 made out of cardboard in my living room and I'm glad to have this statue now as well! I'll find a nice place for it. 
The last item in my box is the print "Thanos" by Logan Pack. Logan Pack is a Roswell, New Mexico based artist whose unique style has become a favorite at Cons nationwide. I have number 488 out of 1999. 
That was my second BAM box! (Have already read about my first BAM box?)  What do you think of it? What would be your favorite item? My favorite is the Alien wardrobe card and the Darth Vader silhouette! I didn't really like the sand (as an item in this box). But I think overall it's a nice box again. I'm happy I took a subscription and I'm looking forward to the next box. Next month's theme is: Crazy!! Do you also want the BAM Box? Subscribe here! The complete box: