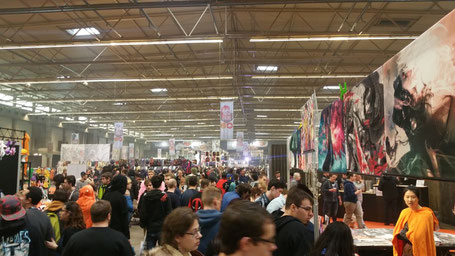 Sigmund: So this year was the First spring edition of FACTS . And was my second time to visit the convention, we also went in October. Last year the merch section was huge and a bit overwhelming actually. This year I felt like there weren't as many vendors as last year. But none the less it was still huge. We went for 2 days and it took me the whole first day to see all of the stands. There was a lot of variety in what was being sold, but most of what you saw were t-shirts, action figures, funko pops, and accessories for cos playing. Also there were quite a lot of video game and DVD vendors. Unfortunately I didn't buy any DVDs, but I did manage to get my hands on some great video games and some shirts. Great to see the guys from Darkside Goodies being there as well.Again I think this was an awesome edition of FACTS. I'd recommend anyone who likes to go to cons to go check out FACTS.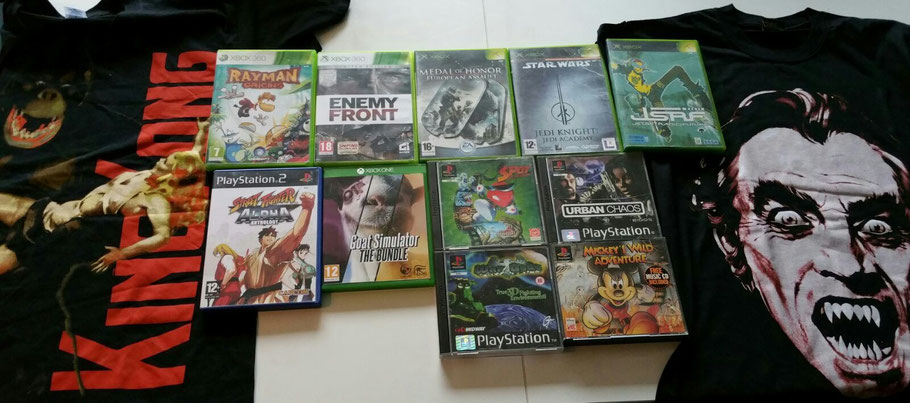 Carola:
Merchandise and stands, very important for a convention. It's so nice to just wander around and look at all the great things you can buy! At FACTS, it was quite busy at the merch section. Though the path wasn't narrow, it was still too busy to take a good look at everything. But, luckily for us, we had the whole weekend to check out everything! 
I liked the merch at FACTS. There was a wide variety in merchandise. I saw may t-shirts and action figures, but also postcards, kawaii, manga, food, jewelry, comics and so much more.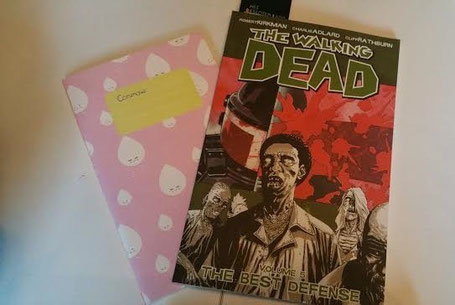 Here are two things that I bought this time at FACTS: The first one, a Walking Dead comic book. I've read the ones that I already own, so I really needed the next one :). (It's volume 5, I haven't been reading for too long yet). I bought this at "Het Besloten land". I was happy that they had the "right" comics. Because often I can only find either Dutch comics or hardcovers. And I like them to be all the same. The second thing I've bought is a small notebook. To make sure I can make notes for Conmose whenever I'm at a con or watching a movie or a series. I bought this at the stand of Mostcutest.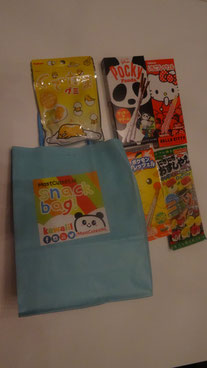 And I bought something else at Mostcutest. It's not movie/ series related, but I did buy it at FACTS convention. A snack bag! Who has read the blog about merch at Dutch Comic Con knows I was thinking about buying a movies/series goodiebag at Dutch Comic Con. These dealers were also at FACTS convention and ofcourse doubts kicked in. Then I decided to buy one with Sherlock Holmes things. But when I got there, there were only 3 bags of Sherlock Holmes. And I could already see there was a poster in it. I touched and pressed the bag a bit, and it felt like there was only one other thing in it. So, I decided not to buy it. Instead, I bought this snack bag, at Mostcutest. 
I like it! It contains some strange candy, which I've never eaten before. So, I'm curious to try it out! I already tried the Pikachu pocky: We went to the Richard Dean Anderson Q&A and I hadn't eaten all day (except for breakfast), so I couldn't resist to try one. And it tasted very nice!  
So, FACTS was very successful for me. For a next convention I would like to find a shirt of Child's play, Captain Spaulding or of the Penguin (from Gotham).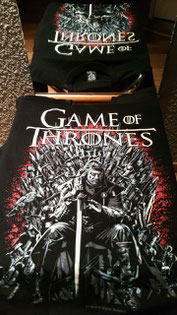 Liv: I love walking around in the merchandise section of a convention. Given the fact that Louise Brealy was a guest at FACTS, I thought this was the perfect opportunity to find a Sherlock-shirt. But boy oh boy are those difficult to find. Finally at The A Factor shop I found one, but my size was sold out. The girl behind the stand was very helpfull and told me to keep an eye on the website and Facebook, because they expected that they would get new shirts soon. So thank you for the tip and I'll be watching the website.
We had some coffee and stumbled upon a stand that was also present  at the previous edition. I knew they have cool shirts, because last time I bought a very cool "The Crow" shirt at this stand. Since in my opnion "Game of Thrones" is one of the best shows ever and we had planned a photo op with Tom Wlaschiha I was looking for a cool "Game of Thrones"shirt. I was browsing through the shirts when I saw the shirt in the picture. It was love at first sight!  What I love about this shirt is that Ned Stark is on it. I haven't seen much of these, so I knew I had to buy this. The guy from the stand was really nice (I remembered him from last time) and I could even try the shirt on. The quality of the shirt and print is great, so I hope to see this seller again on another convention.
And then there was the Cool 2U stand. I bought some shirts at their stand at Dutch Comic Con the week before and they had a great sales section. I  looked through these shirts only last week but I couldn't resist to look through them again. And then I saw the "Alien" shirt (left picture below). I didn't see this last time and I bought it immediately. The "Alien"movies are iconic movies and I loved the print on this one. I also saw an Arrow shirt, that I really liked (right picture below) but I was hesitating to buy this, since my bankaccount had been drained enough the past week. On sunday we walked past the stand a few times and it was like Oliver (for people who don't watch Arrow: that's the guy on the shirt) was calling my name every time...So at the end of the day I couldn't resist Oliver anymore and I bought the shirt. Although I already own an Arrowshirt and a flash shirt, I convinced myself I needed it for ArcCon  (this is an Arrow/Flash convention which Carola and I will attend in June). Hey whatever gets my mind at ease, right? Haha.
Cheerio!
<a href="http://www.bloglovin.com/blog/14833457/?claim=pfztcjw8y4s">Follow my blog with Bloglovin</a>