Last year, the merch section at Dutch Comic Con wasn't too big. Although it was the first edition, I still expected it to be a bit more. I wasn't disappointed, but I just had different expectations. And it was way too crowded and cramped. This year though, was a big improvement.  The merch section was a lot bigger and there were more vendors. So the crowd was more divided. It was still crowded but at least you could still see what the vendors were selling, unlike last year.
There was much variety in what was being sold, although popular things like Funko Pops and Marvel/DC/Star Wars merch and of course comics were the majority of things that were being sold. Even though this isn't what I'm particularly interested in, it doesn't bother me since a lot of people at the con like it. And it is a good thing to have a lot of variety.
 I'm always trying to find DVDs and (retro) video games to add to my collection. This year I expected to see a bit more vendors with video games, but there weren't.  Only a few vendors had some games and there was one big game stand,  Magix Buttons, who were also there last year. I bought some games from them, although they have some strange prices. Some of it is quite cheap and some of it is way too expensive.  The other vendors who sold games only had a few of them. And unfortunately the prices were a bit high. There were some vendors with DVDs, but not as many as last year. But I saw some real cool and rare DVDs. Again some of 'em cheap, some expensive. One vendor even had an awesome laser disc collection for sale. And there was a dealer who only sold soundtracks. Saw a lot of cool and rare stuff there. There were also many t-shirts for sale. But most of them I already own or had no interest in in buying. Most shirts that were being sold were Marvel, DC and Star Wars shirts.
I also saw a lot of awesome old action figures, some even still in the box. The Thundercats and Turtles action figures always bring back so many childhood memories (I feel old haha). I just think it's great to see how much of that stuff is still around.
The placement of the vendors at the beginning of the dealer hall felt a bit chaotic, but the rest was more structured. Even though I didn't buy too much this year at Dutch Comic Con, my overall impression of the merch section is very positive. It definitely kept me occupied the whole day.  Dutch Comic Con has improved quite a lot in most sections, hope they keep it up and come back even better next year!
This is what I bought: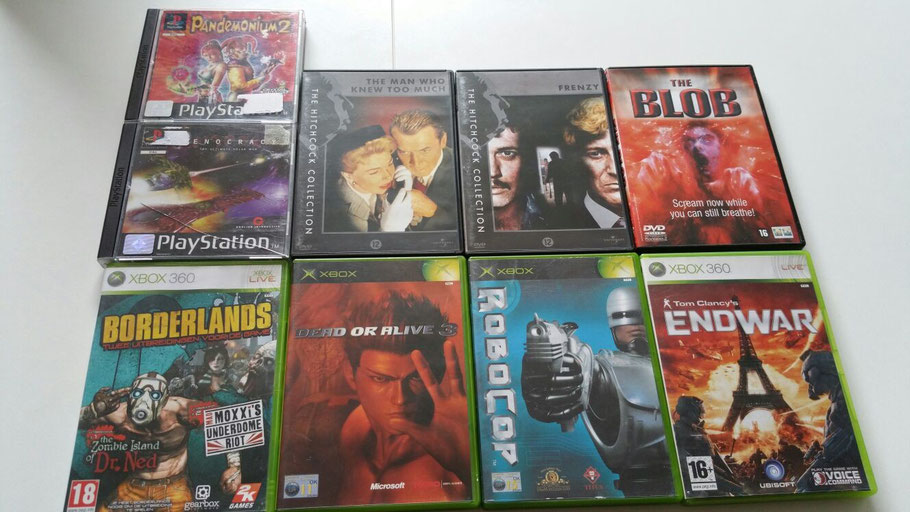 Carola: I totally agree! Last year, it was way too crowded. I didn't even see all the stands, it was just too busy. This year I could actually take a good look. I loved that. I spent more time there than last year. I'll start by telling I didn't really buy a lot. Well, just 1 thing. A "Star Wars: T-shirt you can see below my text. I actually already have enough "Star Wars" shirt, but I couldn't ignore this one! I'm very happy with it. 
I doubted about a lot of things! I think I'll probably buy more at FACTS. I doubted about a notebook. There were these notebooks of "The Walking Dead", "Game of Thrones" and "Star Wars". With a binder, the price was 5,-. Without (deluxe), 10,-. With a binder it takes so much place in my purse. But 10,- was a bit expensive. (The notebook was not so special on the inside). I didn't really make up my mind, so I didn't buy one. 
Than there was this stand with some kind of goodiebags. From all kinds of movies/ series. You'd pay 10, 15 or 20 euro and you wouldn't know what was in the bag. (You could the pick the series it was about). Sounds nice (I really have weak spot for subscription boxes and goodiebags), but I wanted to know a bit more. Unfortunately, I haven't found anything on the internet about these bags, so I don't know if I made the right choice by not buying this. Anyone who bought one? Let me know what you thought! I believe they will also be at FACTS, so maybe I'll have a second chance. 
The same idea was at another stand, but then with Kawaii. Well, I also am a sucker for Kawaii. But I still resisted the temptation and didn't buy it yet. Anyone who tried these? 
All in all, I was too busy getting autographs, pictures and seeing props. But the merchandise was awesome and there was enough choice! I liked it way better than last year and am looking forward to the next edition! 
Liv bought 3 shirts: One of the Gremlins, One of the Big Bang theory and a t-shirt of Gotham (OMG I love that T-shirt of the Penguin!!)